Nexus 7700/7000 License
Posted on Jan 23, 2020
(0)
Nexus 7700/7000 License
This topic contains detailed information related to licensing types, options, procedures, installation, and management for the Cisco NX-OS software. Once you install the appropriate license for certain feature, it allow you to enable that particular feature and allow you to configure that feature. In Nexus 7000 when we install license, it is installed and managed in default VDC only, for all other VDC, we don't require any separate License for various features.
There are certain types of license available:
Tier-Based Licenses

Feature-Based Licenses

Module-based Licenses

Bundle/Chassis-based Licenses
Tier-Based Licenses:
Tier based licenses helps to provide Consistency across ACI and NX-OS licensing.In this a group of license can be purchased in one or two package, Package available are Essentials or Advantage.
This type of license is applies to both Cisco Application Centric Infrastructure (ACI) and NX-OS standalone architectures where Cisco Nexus 9000 Series switches can be deployed.
Feature-Based Licenses:
By installing the feature based license, the feature can be enabled for entire device. This feature based license is only one copy of license for a device.
Any feature that is not included in a license package which is installed in the device is bundled with the Cisco NX-OS software and is provided at no extra charge.
The licenses are independent of each other. If you want to use any another features that are covered by different licenses, you must install all the appropriate licenses.
Feature based license for Nexus 7000/7700 is described below: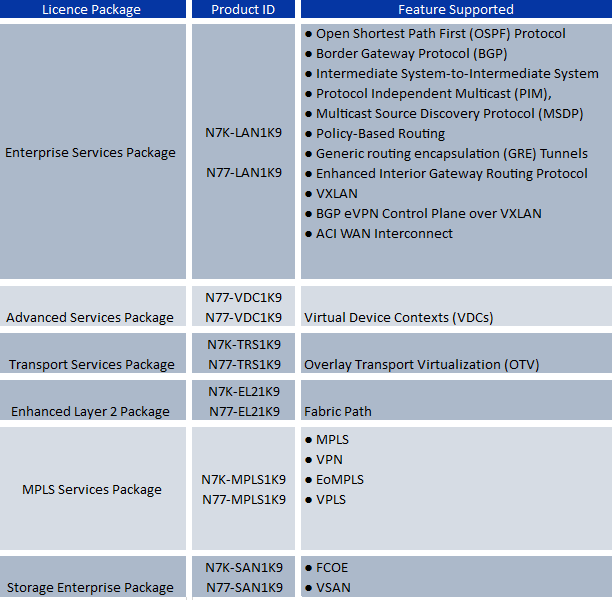 Module-based Licenses:
Module-based licenses make features available to one per module on the physical device, so you need one copy of the license for each module that you want to enable the features on.
Example : FCoE Services Package : Fibre Channel over Ethernet (FCoE) ---