AWS Certified Network Specialty
Posted on Feb 17, 2022
(0)
AWS Certified Advance Networking
This is the Best AWS CERTIFIED NETWORK SPECIALTY Training , in which you will learn all Advance Concepts of AWS Networking Exam. This Course Covers Exam objectives including AWS network designing, Deploying Cloud based Solutions, implementing core networking Services using best-practices, Leveraging tools to automate Network Configurations.
This Course enable you to pass AWS Advance Networking Exam: ANS-C00. This AWS Advance Networking LABS Course has been designed in such a way that, it includes not only theory but also traffic flow of each related topics and its associated LAB in AWS CERTIFIED NETWORK SPECIALTY Training
The Course Pedagogy will help you to learn the following concepts on AWS Advance Networking Exam and provides you Best AWS CERTIFIED NETWORK SPECIALTY Labs also.
AWS enabled Advance Cloud Networking
Amazon Virtual Private Cloud and its Fundamentals
Advance Concepts of AWS VPC
AWS Virtual Private Network
AWS Direct Connect
Amazon Elastic Load balancing & its Types.
Amazon Cloud Front.
AWS Network Security Fundamentals
AWS Network Performance & Optimization
Automation on AWS Network
AWS Network Hybrid Architecture
AWS Networking Fundamentals:
In AWS, global infrastructure, Security and Compliance play major role. Here we will discuss both AWS global infrastructure, Security and compliance one by one.
Global Infrastructure:
AWS provides a high available technology platform infrastructure that scales across multiple location worldwide. This AWS Global Infrastructure enables traffic to move across or between Regions, Availability Zones, Edge Locations and Customer cross-connect locations.
AWS Global Infrastructure are divided in to Regions and Availability zones.
Below Figure explains AWS Global Infrastructure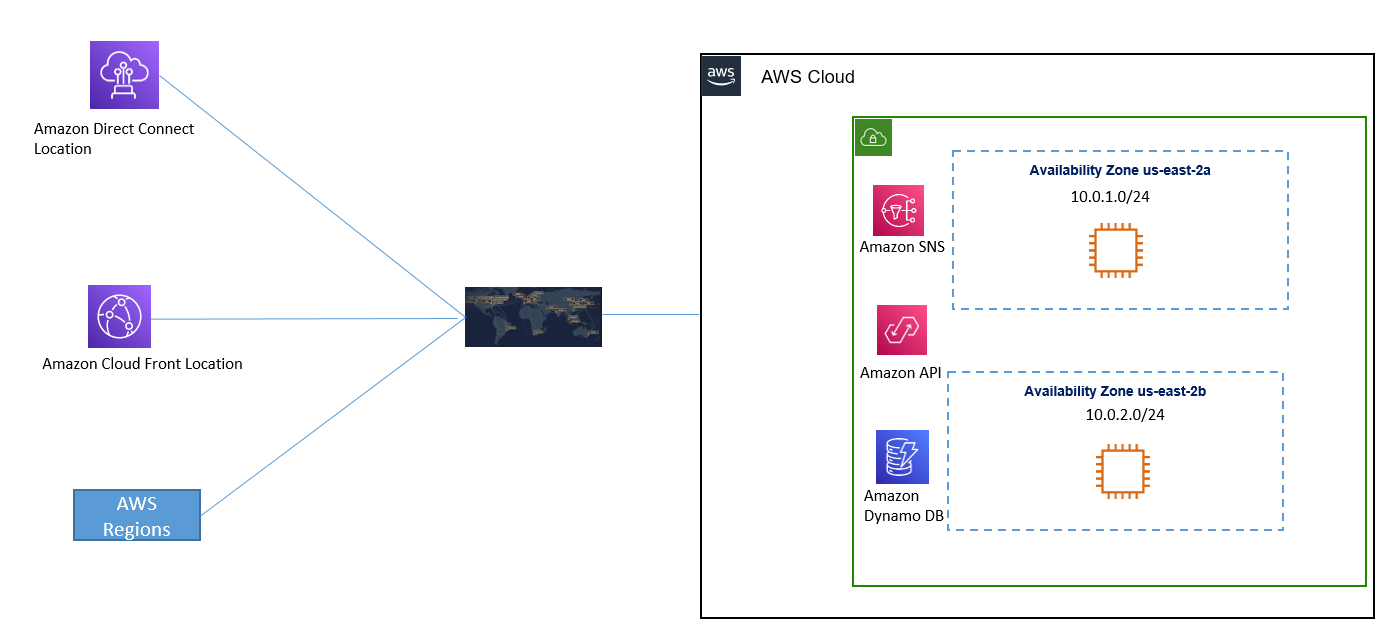 Regions:
A region is a separate geographical area where AWS operates all of its cloud services (Like EC2, Database, Storage, Network & Security and many more) as whole.
Each Regions are completely independent of each other in terms of:
Fault Isolation
Fault tolerance
Availability & Stability
Availability Zones:
Each region has multiple, isolated location called as Availability zones having one or more DC. Each availability zones are also isolated and are connected to each other via low latency, High Bandwidth fibre link. Each availability zones are powered by independent power grid to have power redundancy. Each Availability Zones are connected via redundant multiple tier-1 service providers.
The latency Between Each AZ are less than 2 ms.
By placing resources in separate availability zones customer can easily protect website or application from service disruption.
Below Figure describes the physical design of network devices places in each AZ. ---