ACI
Posted on Nov 16, 2019
(0)
Application Centric Infrastructure (ACI)
ACI is Application Centric Infrastructure designed and developed by CISCO, which is used to implement SDN capability in our Data Center Fabric. In this Cisco ACI Training Course Content you will learn how to design, deploy and configure ACI environment in our Data Center. This Cisco ACI training Course Content enables you to learn the core concepts of ACI, configuring multiple ACI components like APIC, Tenant, Bridge-Domain, and Contract.
This course also helps in enabling the capabilities of individual to learn to deploy ACI in multitenant or Multipod environment. With Cisco ACI LABS you will also learn how to integrate the existing network to ACI environment and how network centric or application centric migration is done on ACI environment. This Content has discussed end to end Cisco ACI Scenerios along with its recorded Solution for all topics covered in this course.
This Cisco ACI Course provides Best Cisco 350-601 Implementing Cisco Data center Core Technologies DCCOR training and helps in passing Cisco DCCOR 350-601 Exam. This ACI LAB course also provide Best Cisco 350-601 Implementing Cisco Data center Core Technologies DCCOR labs along with Cisco 300-630 DCACIA training labs material.
Course Pedagogy:
Learning these ACI Course & its Lab material will help you to prepare Cisco ACI techonology which as a part of Cisco 350-601 Implementing Cisco Data center Core Technologies DCCOR & Cisco 300-601 Designing Cisco Data center Infrastructure DCID Exams.
ACI Bluprint in Cisco 350-601 Implementing Cisco Data center Core Technologies DCCOR & Cisco 300-630 DCACIA training , Implementing Cisco Application Centric Infrastructure 300-620 DCACI training labs.
ACI Introduction and its benefits
ACI Hardware components and its configuration
ACI Fabric Discovery Process and Its Terminology
ACI VXLAN Traffic Forwarding along with Layer 2 and Layer 3 Traffic Forwarding

ACI Traffic Filtering concepts

How to configure tenants, Bridge-Domain, Contracts and Filters
ACI Layer 2 Traffic Forwarding in details via L2OUT
ACI Layer 3 traffic forwarding along with MPBGP-EVPN transit routing concepts
ACI Inter Tenants communication
Configuration & deployment in ACI Multi-Site and Multi-Pod environment
Learn about Network Centric and Application Centric Migration in ACI

Learn how to configure ACI components via Scripts

Service Chaining or How to configure Service Graphs for ASA Firewall and Load Balancer
How to integrate ASA Firewall with ACI
How to integrate Load Balancer in ACI
Integrating VMware in ACI via VMM domain.
Full Cisco ACI Labs
ACI : Application Centric Infrastructure (ACI) , a big evolutionary step in data center networking, because it adds programmability to the network and because of the increased compatibility between vendors.
The Problem: Traditional approaches take a long operational view, with no common operational model between the application, network, security, and cloud teams. It took months from application team to make application ready and put in production .
Due to Static Infrastructure , Below are some granular tasks performed for application deployment process.
Configuration of Physical Infrastructure like Switches, Ports etc.
Configuration of Logical topology like VLANs, L2/L3 Interfaces, Protocols etc.
Configuration of ACL (Deny/Permit) for Application Integration & Common Services
Service Integration like LB, Firewall, and so on
Application Connectivity work load Configuration like Physical Servers, VMs, and Containers etc.
QOS & Multicast Configuration
Management & Device Access Control Protocol Configuration.
With this type of Static Configuration Process, Application hosting Cycle takes months & Months or even more.
The Solution:
To solve this Problem, Cisco innovated a model called Automated Policy Model, which allows an Enterprise to define policies, Necessary Configuration to automate the network and make it Programmable. This Innovated Automated policy Model is called ACI.
Below are some Goals and Objective of ACI which enable Business Growth & rapid application deployments.
ACI Provides Application Driven Policy Modeling
It Provides Centralized Policy Management
Helps in Application Health & Infrastructure Visibility
Automated Infrastructure Configuration
Provides Open Interface to Integrate to enable flexible Software, and Partner Eco System
Consistent Policy Model for Multi-cloud Network
Following are the benefits using ACI in our Data Center Infrastructure.
Applications delivered in business time
Reduction in time to service delivery , Application readiness (days to minutes)

End-to-end application health score helps meet service level agreements (SLAs)

ACI makes the infrastructure in such a way that as application changes network changes.
Network - Security & Cloud Deployment
Greater productivity, accuracy, and easier scaling.

ACI promotes consistency of policies and services for on-premise and cloud apps.

Automated network provisioning reduces overhead and errors, accelerates deployment.

Automates security policy while allowing security teams to retain control over policies for compliance.

It reduces the complexity of the network with respect to deployment, management, and monitoring, and does this through a common policy framework.
Massively Scalable Data Center
ACI increases the DC capacity,Designed and optimized for scalability:

From 10 Gb to 40 Gb, and 100 Gb-ready.

Up to one million IP addresses and 64,000 tenants

Hardware VXLAN routing and gateway
Service Provider,Cloud and Enterprise DataCenters
ACI is very much used in Cloud and multi tenant environment .

ACI helps in Self-service automated provisioning of apps, network services, and security

Fully-deployable private-cloud solution with visibility, troubleshooting, and mobility for physical, virtual, and distributed apps
These are some above Benefits of using ACI in DC. In Nut shell through ACI , the data center can be configured rapidly as the application demands, and this includes physical and virtual network elements from multiple vendors.
Through ACI, we can automate and program the network. We have a singular platform through which we can configure and integrate services such as virtualization (VMWare and Hyper-V), firewalls, load balancers, and a whole range of infrastructure that would previously have meant many hours being spent configuring and re-configuring as the demands of the application changed.
ACI makes the network ready as it demands , as example , a new switch is added in DC and New servers with new subnet , along with security , load balancing policies needs to be configured in order to install application on those new servers , so before ACI each network devices on path on servers ( Routers , Switches , Firewalls, load balancers etc) needed to be configured individually and then finally application is installed to make server ready for clients . But in ACI environment , all network , security and load balancer policies are configured on centralized Controller called APIC and as soon as server is connected to switch , APIC controller detects the network and puts all policies required to access those servers on all networking devices or we can say that APIC makes data-plane ready for those news subnets.
ACI is typical deployed with spines and leafs. The Nexus 9500 modular switches are deployed at the top of the topology and act as spines, which in a traditional three-tiered network design would be the aggregation or core switches. Line cards are used to provide the ASICs (application-specific integrated circuitry) required for ACI. There are different line cards available, so make sure you are not purchasing a card that is NX-OS mode only.
The next component is the leaf switches. These are the Nexus 9300-series switches.The spines connect to the leaves through 40 GE ports, but the spines and leaves are never connected (spine to spine or leaf to leaf).
Below is the architectural Diagram.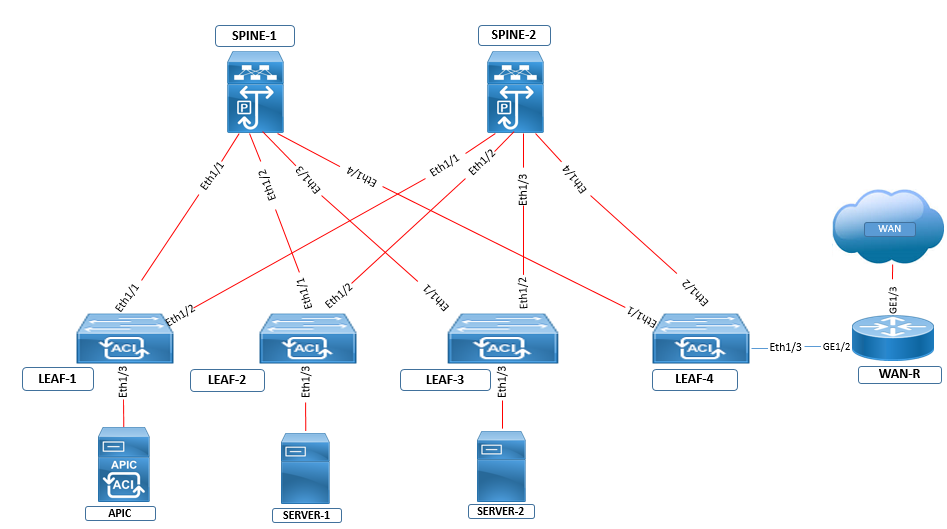 This ACI Course will help you to learn and understand all the ACI concepts related to DCACIA Implementing Cisco Application Centric Infrastructure -Advance Training and its Labs along with Implementing Cisco Application Centric Infrastructure 300-620 DCACI training labs
Note: ( Refer before Purchase )
We don't offer Any Hands-On labs for practice in this course.
Lab discussed here contains different Scenarios, task & Its recorded Solutions.
Content of each page is 30-40% visible for Customer verification about content.
Before any purchase , verify content then proceed,VLT is in progress,No refund Policy.
For More Detail : Mail dclessons@dclessons.com , FAQ & TC page.
You can get basic Sandbox lab access , Please mail us for more details related to its access and list of task which can be achieved.This lab can be used to configure Basic ACI task with Control plane Verification only. No Advance task or Integration is possible in this sandbox lab.
---