Cisco Viptela
Posted on Nov 16, 2019
(0)
Cisco SD-WAN Viptela Overview
Cisco SD-WAN is a WAN Solution which enables digital and cloud transformation for Enterprise. It uses all the routing, Security, along with Centralized policy with orchestration facility for large and medium scale networks. This Course will help you to prepare for Implementating Cisco SD-WAN Solution ENSDWI v2.0 exams. This course is rated as best Implementating Cisco SD-WAN Solution ENSDWI v2.0 Training.
In this Cisco SDWAN Viptela Training you will learn Cisco SD-WAN Viptela concepts and will make you learn how to Configure Cisco Viptela components and its features via Implementating Cisco SD-WAN Solution ENSDWI v2.0 labs section.
There are some summery benefits and need to understand why we deploy SD-WAN Solutions:
Cisco SD-WAN is multi-tenant, Cloud Delivered, secure, automated and application aware solution used for WAN environment.

Cisco SD-WAN provides centralized management and policy management which helps in reducing change control and deployment times

Cisco SD-WAN is a WAN independent solution and uses mix of MPLS and low cost broadband or any combination of transport in active/active method

It is transport independent overlay that can be used to extend the Data center, any branch and cloud

It has a separate Control plane and data plane, due to which controller ( which handles control plane ) can be deployed on premises or in cloud or combination of either and vEDGE ( which handles data plane ) can be used as physical or virtual can also be deployed anywhere in cloud

It provides deep end security by encrypting data from source to destination or we can say that from end to end network. All the devices in SD-WAN uses certificate to trust each other which protect control plane, provides firewall for application,

SD-WAN solution can also be integrated with Cisco Firewalls along with other network Services

It not only provides application-aware policies with real time service level agreement enforcement but also provides application visibility and recognition

For SaaS application, it does dynamic Optimization which further results in improvement of application performance.

Full Cisco SD-WAN Viptela labs Scenerios ( Implementating Cisco SD-WAN Solution ENSDWI v2.0 labs) ,Task & Solutions along with Cisco SD-WAN Viptela Training Materials.
There are some unique feature and benefits for SD-WAN solution
Cloud First Architecture:
Cisco SD-WAN solution provides connectivity across Enterprise WAN from Single Console or dashboard to connect Cloud Platform as well as Data Center and branch providing greater Speed, reliability and efficiency.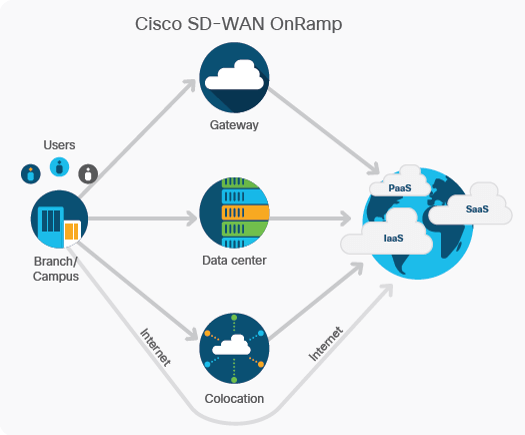 Via Cisco SD-WAN vManage Console, a virtual private gateway can be deployed in infrastructure-as-service (IaaS), PaaS environment by automation.
With vManage dashboard, it monitors underlay performance and thus automatically selects the fastest and most reliable path to reach to Cloud applications or anywhere they are located.
Robust Security:
Cisco SD-WAN solution uses Certificate based trustworthy platform which provides right security in right place.
With Cisco vManage Single dashboard, all network can be hardened, which further reduces risk, and ensures business compliance, continuity and Security.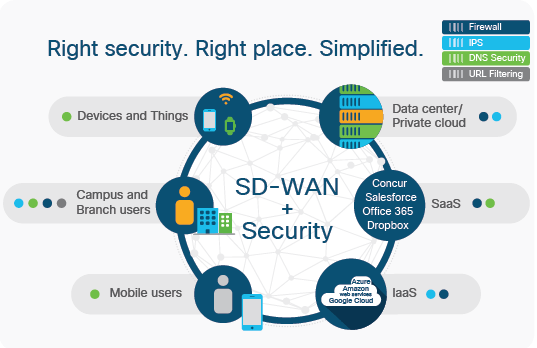 With Cisco SD-WAN solution, routers in WAN can be transformed in multilayer security device, with an application-aware enterprise firewall, IPS, URL filtering with continuous DNS monitoring.
It can also segments end to end network traffic, which protects business against data exfiltration and insider threats.
SD-WAN advance analytics dashboard:
With vManage advance analytics dashboard engine it provides following:
End to end application visibility and infrastructure visibility across fabric

It provides real time information for application performance and also forecast application performance

It provides assistance in application provisioning, bandwidth increases and branch extension

Helps is deployment of templates based policies and its preferences
To achieve predictable performance, it also provides application QoS categorization and policy changes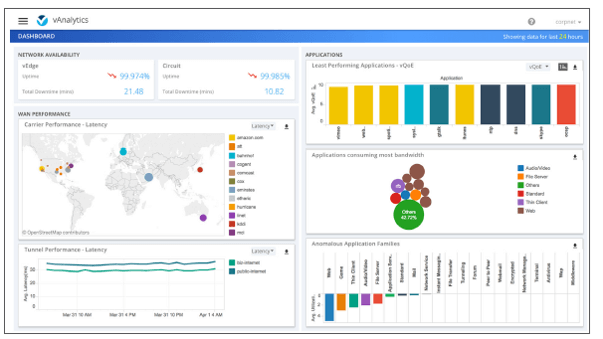 Al these above features we will see in how to configure Cisco Viptela Components section or Configure Cisco Viptela labs which prepare for Implementating Cisco SD-WAN Solution ENSDWI v2.0 Exams.
Note: ( Refer before Purchase )
We don't offer Any Hands-On labs for practice in this course.
Cisco Viptela Lab discussed here contains different Scenarios, task & Its recorded Solutions.
Conent of each page is 30-40% visible for Customer verification about content.
Before any purchase , verify content then proceed,VLT is in progress,No refund Policy.
For More Detail : Mail dclessons@dclessons.com , FAQ & TC page.
You can get Sandbox lab access from Cisco , details and its access information is available in SDWAN Sandbox Labs Section for Basic lab configuration only.
---