LAB:Configuring vPC & its Components
Posted on Jan 24, 2020
(0)
LAB:Configuring vPC & its Components
Topology: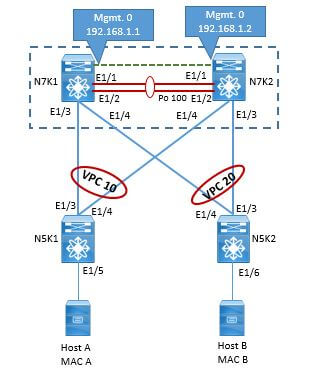 Task:
Configure the vPC system as per topology and as per task given below.
Configure vPC domain 100 between N7K1 and N7K2

Configure N7K1 with Role priority 10 and N7K2 with Role Priority 20

Configure Peer-keepalive link between N7k1 and n7K2 on mgmt0 link.

Configure LACP port-channel port Eth1/1 and Eth1/2 on both N7K1 and N7K2 and use it as peer-link

Configure Eth1/3 on vPC 10 and Eth1/4 on vPC 20 on N7K1 and same on N7K2.

Configure Eth1/3 and Eth1/4 on N5K1 on Port channel 10 and Eth1/3 and Eth1/4 on N5K2 on Port channel 20.

Configure Layer 2 VLAN VLAN 10, VLAN 20, and VLAN 30 on All Four Switch

Configure N7K1 as STP Root Bridge.

Configure Eth1/5 on VLAN 10 on Both N5K1 and N5K2. Assign HOST 1 with IP 10.10.10.4 and Host with IP 10.10.10.5

Verify the Connectivity vPC and Connectivity between Host 1 and Host 2.
Solution:
TASK 1: Configure vPC domain 100 between N7K1 and N7K2, Configure N7K1 with Role priority 10 and N7K2 with Role Priority 20 and Configure Peer-keepalive link between N7k1 and n7K2 on mgmt0 link. Configure LACP port-channel port Eth1/1 and Eth1/2 on both N7K1 and N7K2 and use it as peer-link
NEXUS 7K1 Configuration:
N7K1(config)# feature lacp
N7K1(config)# feature vpc
N7K1(config)# feature interface-vlan
N7K1(config)# vpc domain 100
N7K1(config-vpc-domain)# role priority 10
N7K1(config-vpc-domain)# peer-keepalive destination 192.168.1.2 source 192.168.1.1 vrf management
N7K1(config-vpc-domain)# exit
!
N7K1(config)# int eth1/1-2
N7K1(config-if-range)# switchport
N7K1(config-if-range)# switchport mode trunk
N7K1(config-if-range)# channel-group 100 mode active
N7K1(config-if-range)# no shut
N7K1(config-if-range)# exit
N7K1(config)# int po100
N7K1(config-if)# switchport
N7K1(config-if)# switchport mode trunk
N7K1(config-if)# vpc peer-link
N7K1(config-if)# no shut
N7K1(config-if)#exit
!
NEXUS 7K2 Configuration:
N7K2(config)# feature lacp
N7K2(config)# feature vpc
N7K2(config)# feature interface-vlan
N7K2(config)# vpc domain 100
N7K2(config-vpc-domain)# role priority 20
N7K2(config-vpc-domain)# peer-keepalive destination 192.168.1.1 source 192.168.1.2 vrf management
N7K2(config-vpc-domain)# exit
!
N7K2(config)# int eth1/1-2
N7K2(config-if-range)# switchport
N7K2(config-if-range)# switchport mode trunk
N7K2(config-if-range)# channel-group 100 mode active
N7K2(config-if-range)# no shut
N7K2(config-if-range)# exit
N7K2(config)# int po100
N7K2(config-if)# switchport
N7K2(config-if)# switchport mode trunk
N7K2(config-if)# vpc peer-link
N7K2(config-if)#exit
N7K2(config-if)# no shut
vPC domain Verification and Peer-link verification: ---