Nexus 9000 Hardware Platform
Posted on Nov 12, 2021
(0)
Nexus 9500 Switch Series
In this section, we will learn about different Nexus 9500 Switch series along with its Various Supervisor modules , and Line cards.
Nexus 9500 Series switches have three Form factors
Nexus 9504 Switch
Nexus 9508 Switch
Nexus 9516 Switch
Below table describes the Nexus 9500 Chassis along with its Hardware capabilities.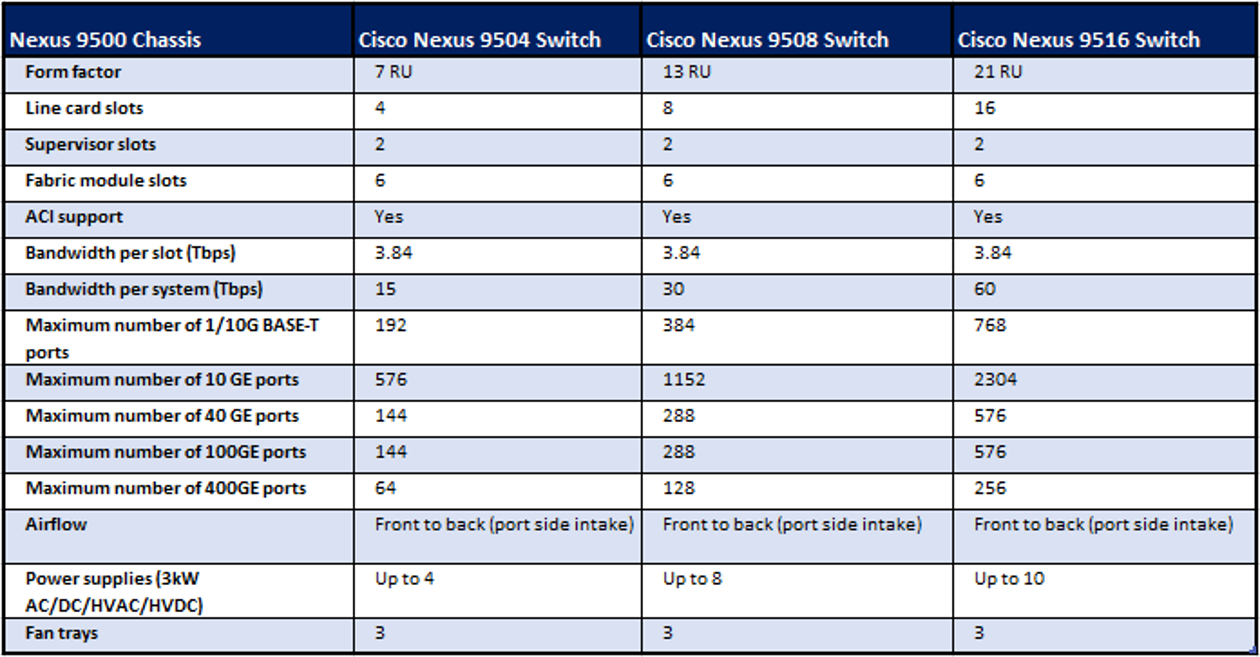 Once we see the Nexus 9500 Switch Chassis Capabilities, let's talk about Nexus 9500 Supervisor Module
Nexus 9500 Supervisor
Nexus 9500 Series support Four types of Supervisor
Supervisor A
Supervisor B
Supervisor A+
Supervisor B+
Below table shows the capabilities of each Supervisor

Nexus 9500 Line cards
Nexus 9500 Series Switch supports line cards in 100GE, 40GE, 10 GE. Each Line cards have different capabilities, let's see one by one.
Nexus 9500 100GE Modules
It supports both NX-OS Agg and ACI Spine
Provides High Performance Interconnects.

Nexus 9500 40GE Line cards
Below are nexus 9500 40 GE Line cards capabilities
Leaf, Aggregation, ACI Spine
NX-OS and ACI
FEX Aggregation

Nexus 9500 10GE Line cards
Below are nexus 9500 10 GE Line cards capabilities ---