NEXUS
Posted on Nov 16, 2019
(0)
Cisco Nexus DataCenter Products
In this Cisco Nexus Training , we will learn about Cisco Data Center Nexus switches Hardware Models like Cisco Nexus 7700, Nexus 7000, Nexus 5500, Nexus 9000 Switches , their hardware Architecture and its related topics.
This Cisco Nexus Training, Course enables you to have complete knowledge about Cisco Data Center Core, Distribution and Access Layer family. This Course also helps you to prepare for CCIE DC, CCNP – DC and CCNA –DC exams. This Nexus Course provides Best Cisco 350-601 Implementing Cisco Data center Core Technologies DCCOR training and helps in passing Cisco DCCOR 350-601 Exam.
This Cisco Nexus LABS Course has been designed in such a way that, it includes not only theory but also traffic flow of each related topics and its associated LAB. This Nexus LAB couse also provide Best Cisco 350-601 Implementing Cisco Data center Core Technologies DCCOR labs along with Cisco 300-601 Designing Cisco Data center Infrastructure DCID labs material.
Course Pedagogy for Cisco 350-601 Implementing Cisco Data center Core Technologies DCCOR & Cisco 300-601 Designing Cisco Data center Infrastructure DCID Training
The Course Pedagogy will help you to learn the following concepts on Cisco Nexus Data Center Switches Hardware Platform which are part of Cisco DCCOR & DCID Exams.
Cisco Nexus 7K , 9K , 5k , 2K Hardware Platform, its Architecture , Hardware Components details like Supervisor, Line cards, Fabric Module , VOQ.
Cisco Nexus Virtual Device Context concepts and its design Scenarios
Cisco Virtual Port Chanel on Nexus 7000 & 5500 and Nexus Fabric Extender 2000 scenarios like EVPC, Back to Back VPC , VPC failover Scenarios , VPC spanning tree behavior, Split Brain Scenarios, loop avoidance mechanism
Nexus Layer 2 technologies like Rapid PVST+, MST, Bridge Assurance
Nexus Layer 3 technologies like configuring EIGRP, OSPF, BGP on Cisco Nexus Platform
Cisco Fabric path design deployment and traffic flow along with vPC+ concepts
How to configure Multicast (PIM, IGMP, CGMP,) on Cisco Nexus switch Platform
Configure QOS on Cisco Nexus 7000 and Cisco Nexus 5500 series switches
Overlay transport virtualization (OTV) design deployment and traffic flow and OTV Configuration
Configuring HSRP, VRRP, and GLBP on Cisco Nexus 7000 switch platform
Configuring security Features on Cisco Nexus Data Center Switch platform
Full Cisco Nexus 7000 Labs
All above Course pedagogy you will find in Menu section after buying the subscription plan.
Data Center architecture
Data Center combines the following components which includes Network Infrastructure, Storage Infrastructure, Computational Power, Applications, and End User Computing, Management Systems, Operating system and server virtualization technologies, Security Infrastructure, Desktop virtualization solutions and access clients.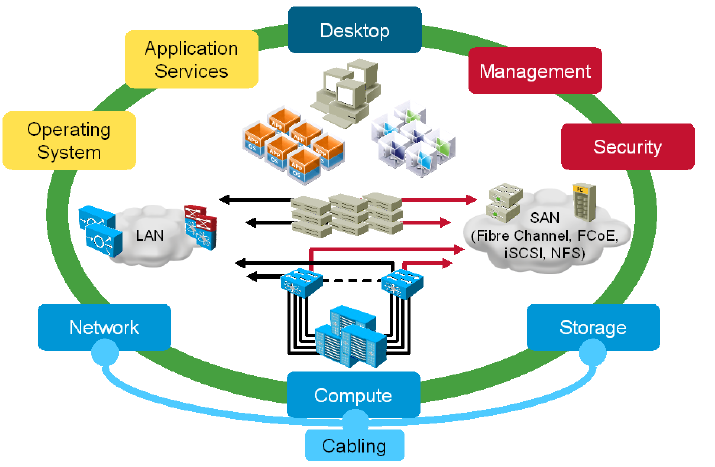 Following are the Cisco Datacenter Fabric Family Switches and its brief description and its usage.
Cisco Nexus 9000 Series Switches
Provide the switching platform for Application Centric Infrastructure (ACI)
Per slot Switching capacity Support up to 1.92 terabits
Deliver high-density 1GE ,10GE , and 40GE and 100 GE in the future
Operate in following mode standard Cisco NX-OS and in ACI mode
Full virtual extensible LAN (VXLAN) bridging, routing, and gateway support
Cisco Nexus 7000 Series Switches
Used for Data Center access, aggregation, and core deployments
Switching capacity up to 1.3 Tb per slot and more than 83 Tb per chassis
Provides advanced services, high availability, hitless In-Service Software Upgrade (ISSU), vPC, Fabric path, OTV.
Provide high 1,10, 40, and 100 GE scalability
Cisco Nexus 6000 Series Switches
Best Suited for access- and space-constrained aggregation deployments
Provide line-rate and low-latency support for up to 96 ports of 40 GE or 384 ports of 10 GE and up to 160 unified ports
It support hardware VXLAN (Layer 2 and 3, gateway) function and is also Generic Routing Encapsulation (NVGRE)-capable
Support Cisco Fabric Extender architecture and true 40 GE Fiber Channel over Ethernet (FCoE) for LAN and SAN convergence
Cisco Nexus 5000 Series Switches
Suited for 10 GE top-of-rack access deployments
Provides connectivity support which includes GE, 10 GE, 10GBASE-T, 40 GE, unified ports, Fibre Channel, and FCoE.
Support of Layer 2 and 3 features for LAN and SAN traffic
Cisco Nexus 3000 Series Switches
This Model used for Python scripting, Energy Efficient Ethernet (EEM), and XML management tools
A comprehensive SDN solution, including Open Flow and Cisco One PK
Flexible, high density, and provide high performance for top-of-rack deployments
Mobility Support and tenant isolation with VXLAN
Cisco Nexus 2000 Series Fabric Extenders
It has100 MB, and 1/10/40 Gigabit Ethernet server connectivity with 10/40 GE uplinks
Used for fabric extensibility with single point of management
Reduce data center cabling costs and footprint; optimize inter-rack cabling, Top of the rack Solution.
Supports LAN and SAN deployments and Cisco Nexus and MDS switching families
Offers high availability, virtualization services, and convergence
Platform use in the different Data Center layers
This section helps you to identify how Cisco Unified Data Center Products such as Nexus, Storage, and UCS are placed in different layers of Cisco Three tier Architecture as Core, Distribution, and Access layer. These products are now categorised below as per layer
Cisco DC Products in Single-Tier Ethernet Architecture
All core, aggregation and access layers devices are at one layer.
Cisco Nexus 7000 switches can be used for both access and core layer connection.
Nexus 5500 platform can also be used as core layer for L3 , but not support advance features such as MPLS.
The extension of single tier architecture can be done by connecting Nexus 2200 platform extender as TOR ( Top-Of-Rack ) design
Cisco DC Products in Dual -Tier Ethernet Architecture
All core, aggregation layers are used at one layer.
Cisco Nexus 7000 could be used for both aggregation and core layer connection in DataCenter Connectivity.
For EoR (End-Of-Row) design Cisco Nexus 5000 or 5500 could be used for access layer connection.
Nexus 2200 platform extender can be used to extend dual tier architecture by connecting it as TOR (Top-Of-Rack) design.
For Storage Layer Cisco MDS 9000 series Multilayer switches is used for San connection at storage core layer.
Cisco Products in Three -Tier Ethernet Architecture
At Access layer Cisco Nexus 5000 or 5500 Platform along with the Nexus 2000 series Fex Extender solution for server or host connectivity.
Cisco MDS 9000 series Multilayer switches at access layer for San connection.
At core layer Cisco Nexus 7000 Platform is used for L3 and connectivity between Core and distribution layer.
At distribution layer Cisco Nexus 7000 Platform (VDC) or Cisco 5000/5500 platform is used.
Learning these Nexus Course & it Lab material will help you to prepare Cisco Nexus techonology which as a part of Cisco 350-601 Implementing Cisco Data center Core Technologies DCCOR & Cisco 300-601 Designing Cisco Data center Infrastructure DCID Exams.
Note: ( Refer before Purchase )
We don't offer Any Hands-On labs for practice in this course.
Lab discussed here contains different Scenarios, task & Its recorded Solutions.
Content of each page is 30-40% visible for Customer verification about content.
Before any purchase , verify content then proceed ,No refund Policy.
For More Detail : Mail dclessons@dclessons.com , FAQ & TC page.
---