VDC Management
Posted on Jan 23, 2020
(0)
VDC Management
VDC management is important concepts which helps in proper Management of VDC. Here we will learn about various topics which will make us understand how VDC can be managed.
Role Based Access Control
Role based access control helps in managing the VDC based on roles allocated to particular user. There are four types of pre-defined roles which can be allocated to User for VDC management.
Network-Admin: As soon as first user account is created in default VDC, it is admin. This user is automatically assigned Network-admin role.
It can full control over default VDC of switch

It has power to create, delete ,, change non-default VDC
Network-Operator: It is the second default role on nexus 7000 series switches, it provide users to read-only right in default VDC. If any user get allocated to this role, he can issue switch-to commands to traverse across non-VDC and can be able to see the configuration or read the configuration file of particular VDC. By default no users are assigned to this role.
VDC-Admin: When a Non-Default VDC is created, first user account on that VDC is user admin. And this admin user gets VDC-Admin role automatically. The user having this role has full control over that particular VDC but have no right in any other VDC and cannot access them by switch-to commands.
VDC-Operator: This is to provide read only right to user to read configuration of only that particular VDC on which he has been allocated this to.
When a network administrator or network-operator switches to a Non-Default VDC, it inherits the role of VDC-Admin or VDC-Operator.
VDC Management Access
VDC management can be done via virtualizing the management port so that, each VDC will get logical instance of management port and where we have to provide the separate IP address to each Virtual management Port present in VDC from same subnet. Each VDC in Nexus 7000 Chassis share same supervisor out-of-band management interface. You can understand this by following diagram: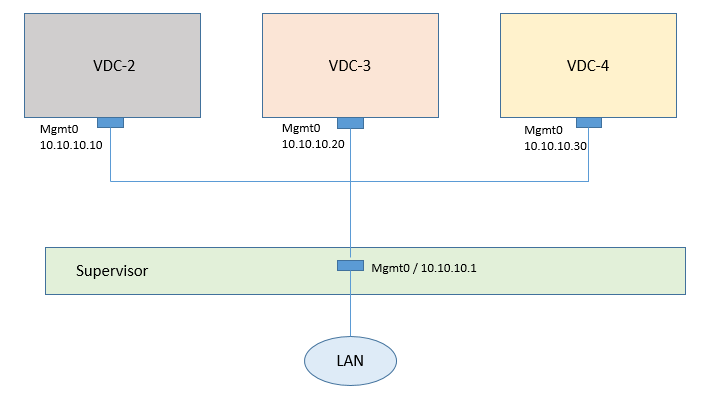 The OOB Ethernet management interface on the active supervisor of the Cisco Nexus 7000 Series switch is shared among the various VDCs.

Cisco NX-OS Software provides a virtual management interface-mgmt 0-for OOB management for each VDC.

You can configure this interface with a separate IP address that is accessed through the physical mgmt 0 interface on the supervisor. ---