OOB & In-Band Management
Posted on May 12, 2021
(0)
Out of Band Management
In ACI, with the help of RJ45 Management ports on APIC, OOB connectivity is provided. These APIC OOB Ports will be connected to any OOB management network with 10/100/1000BASE-T connectivity options.
OOB management address can either be statically assigned to fabric nodes, or let APIC assign the IP address dynamically from Management Subnet.
Below are the steps which is required to configure OOB Management from APIC.
Create Static Management Address:
Go to Tenants | mgmt. | Node Management Addresses | Static Node Management Address | Right click to create State Node Management Address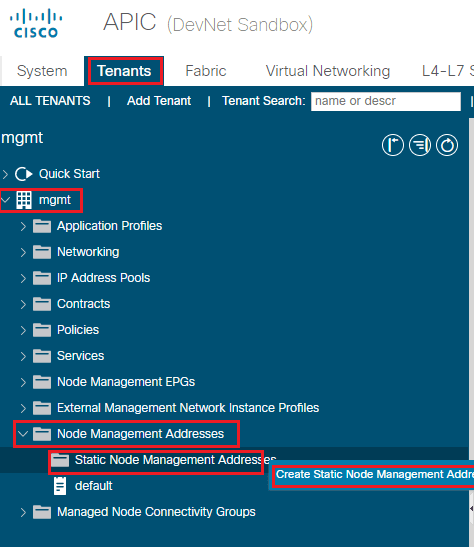 Configure below parameters on this section
Node Range: 101-101
Config: Select Out of Band Management
Out-of-Band- Management Epg: Select default
OOB Ipv4 address: 10.30.22.86/24
Gateway: 10.30.22.254
Refer below figure to configure these above Parameters.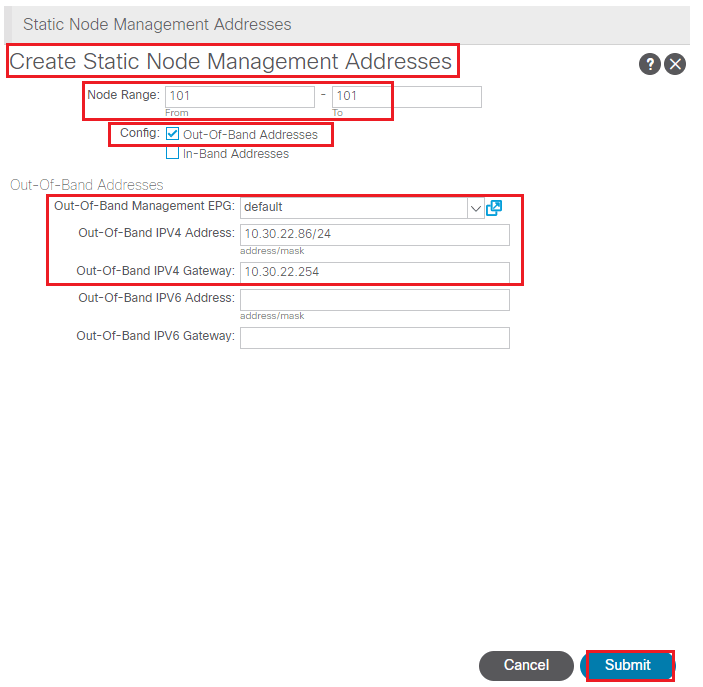 Create Management Contract
In order to create the Contracts, we need to create Filter, Follow below figure to configure the appropriate Filters for OOB Management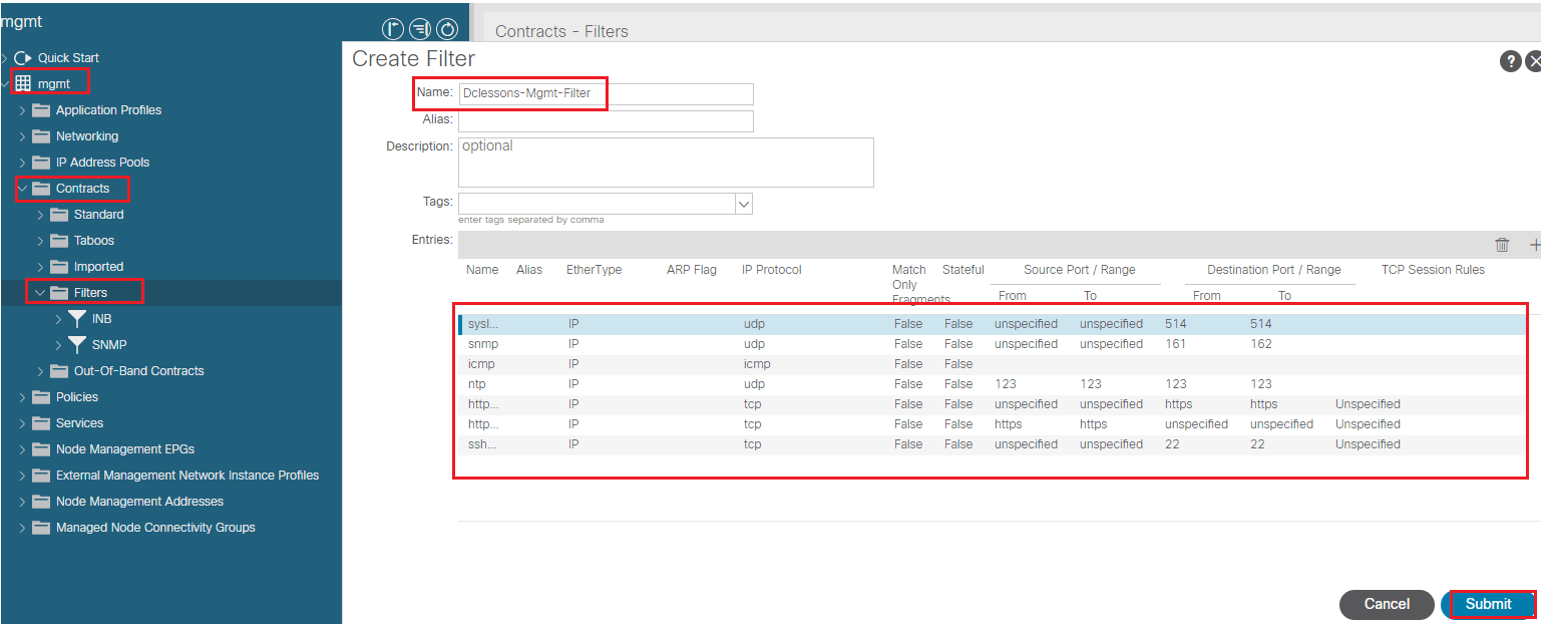 Below figure describes ports details that has to be open in ACI Filter

For Contracts, Go to Tenants | mgmt.| Contracts | out-of-Band-Contracts and use following Parameters.
Name: dclessons-OOB-Contracts
Scope: VRF
Subject Name: dclessons-OOB-SUB
Elect Filters which we have crated above and select OK
Refer Below figure to configure Contacts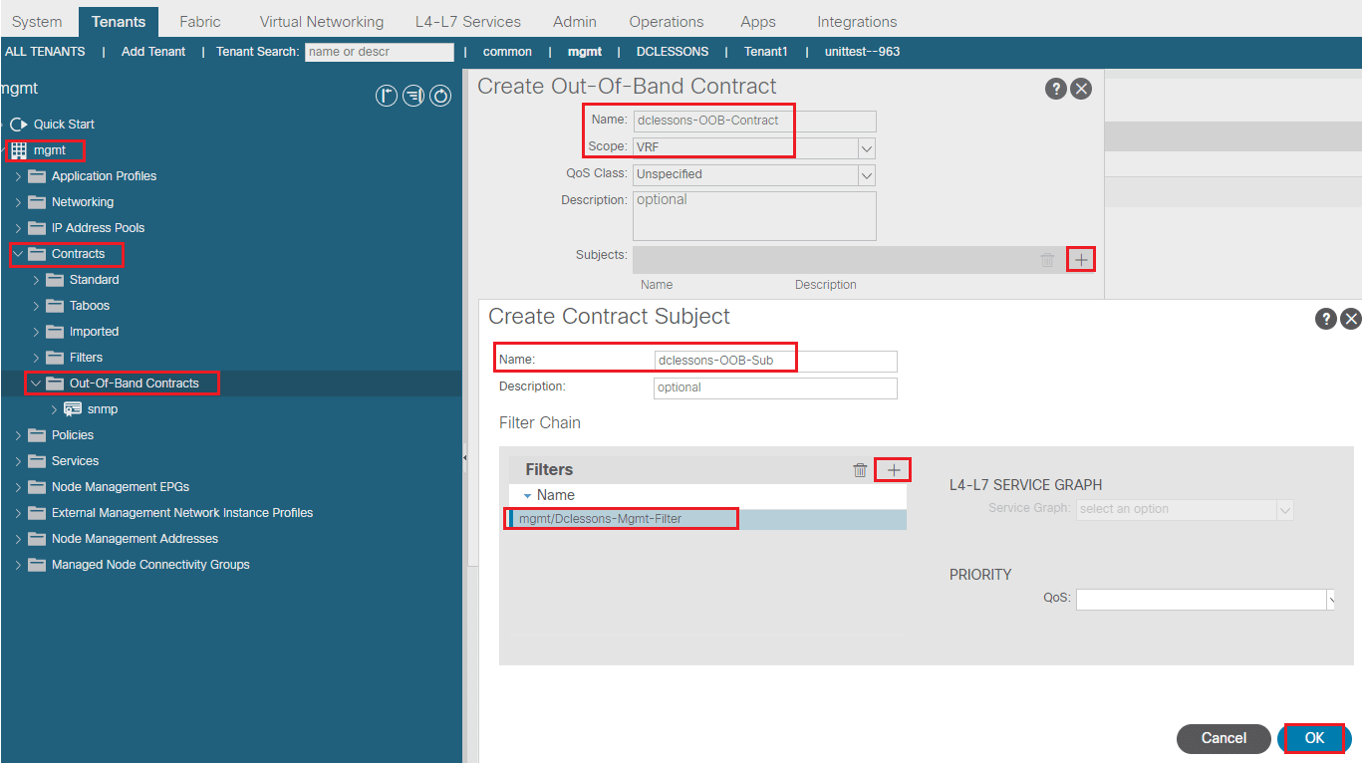 Choose Node Management EPG
To create Node Management EPG, Go to Tenants | mgmt.| Node Management EPG | Select Out-of-band-EPG-default
ON right side of work pane, select, Provided Out-band-Contracts and select + and then select the dclessons-OOB-Contracts | and then Update | and then Submit
Refer below figure to configure OOB Management EPG.

Configure External Management Network Instance Profile
Go to Tenants | mgmt. | External Node Management Instance Profile | Right Click to Create new External Node Management Instance Profile
Use below parameter to configure this Profile
Name: Dclessons-OOB-Ext-Mgmt
Consumed Out-of-band-Contracts: Select dclessons-OOB-Contracts | Update
Subnet |Select + sign | and then enter 0.0.0.0/0 | Update
Finally Submit
Refer below figure to configure these parameters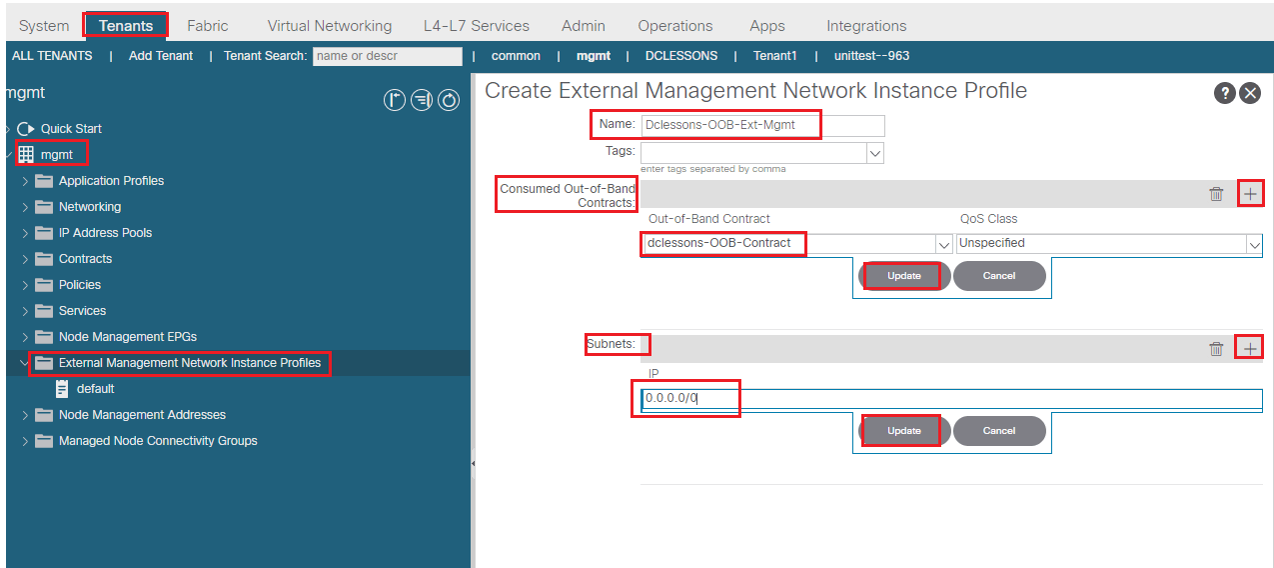 Verification:
GO to Client Laptop | and follow below commands to login to apic

In-Band Management Configuration
If any enterprise don't want to expense extra on OOB infrastructure, then ACI provides facility for In-Band Management. You can configure individual devices under In-band Management Subnet or let APIC assigns the in-band address from management Subnet automatically.
In order to configure In-band Management, below are steps used.
Configure Management Contracts
In order to configure Management Contracts, we will use the same filter which we have configured in OOB section. Now Go to Tenants | Mgmt. | Contracts | right click to create Contracts
Provide following inputs:
Name: Dclessons-INB-Contract
Scope: VRF | Click on Subject + to create Subject
Subject Name: Dclessons-INB-Sub
Choose Filter: Dclessons-Mgmt.-Filter
Refer below Figure to create Contracts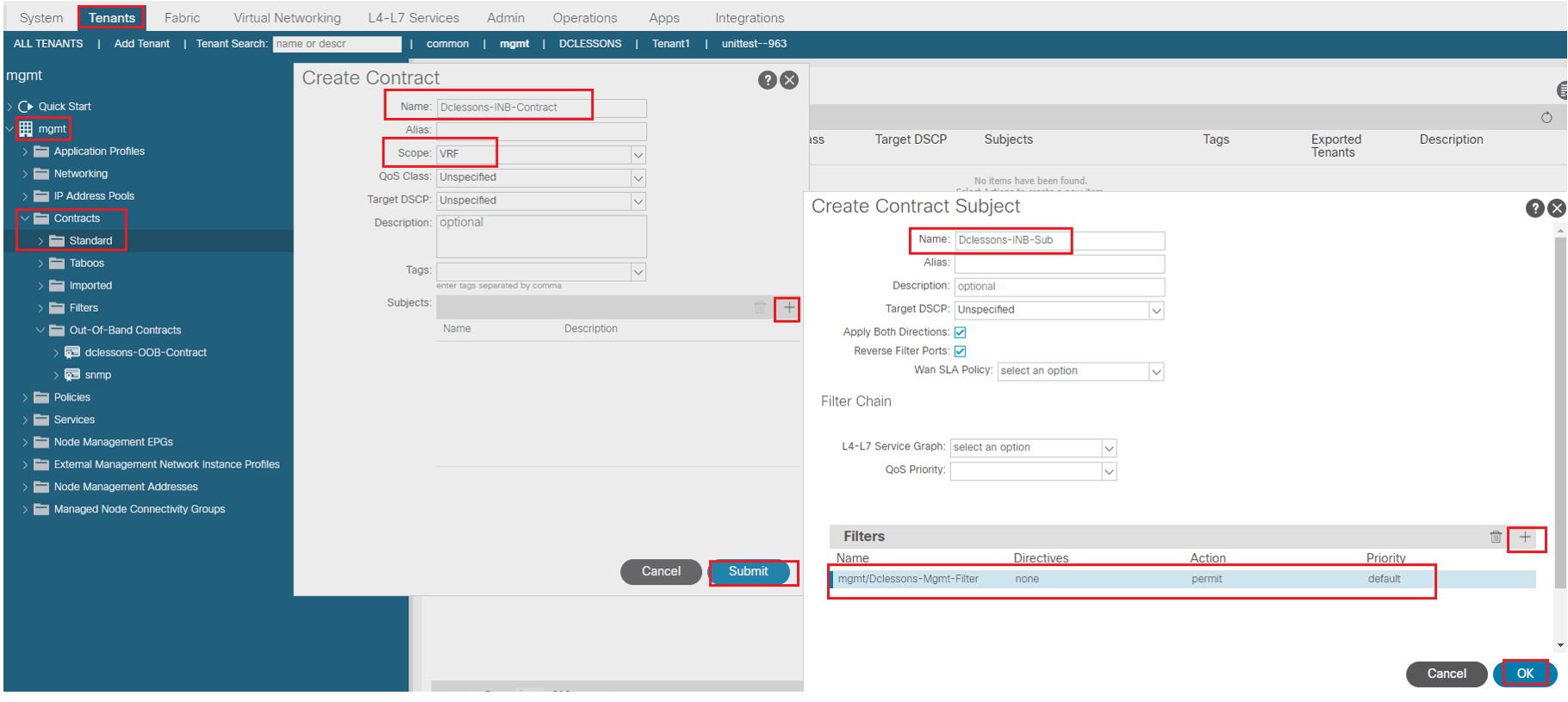 Configure Leaf Interface Access Policies for INB Management
To configure that, let's create Leaf Access Port Policy for following items
Link Level Policy: Auto
CDP Policy: Enable
LLDP Policy: TX and RX both enable
Once these Policies are configured, Go to fabric | Access Policies | Interfaces | Leaf Interfaces | Policy Groups | Leaf Access Port | Right click to Create Policy Group
Refer below figure to create Policy Groups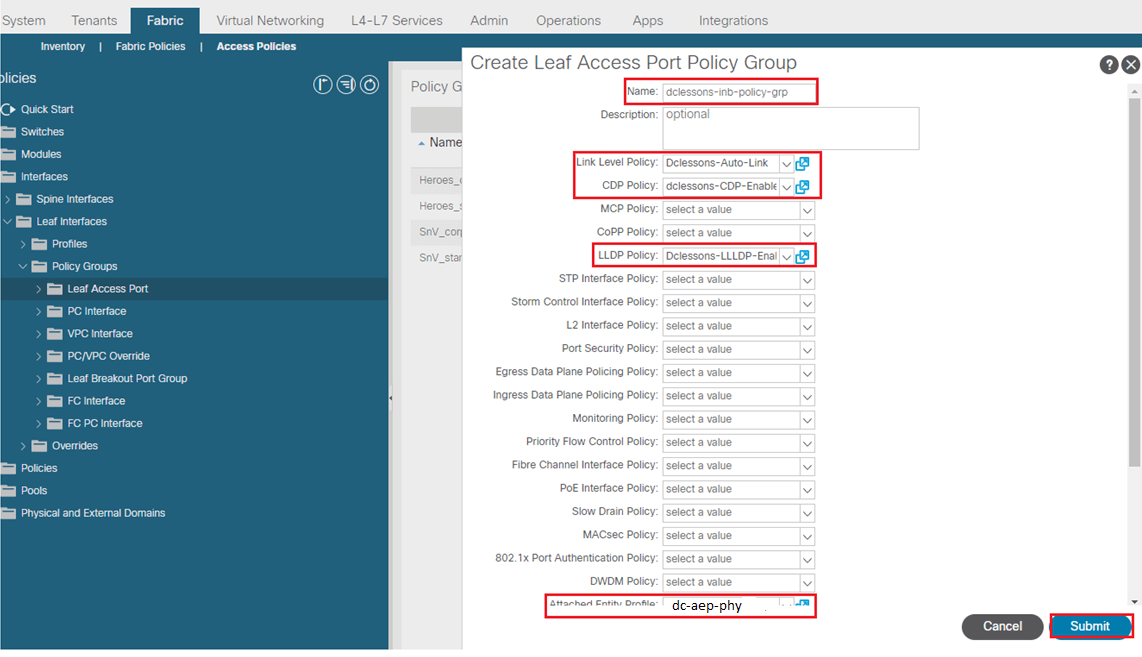 Now we will create the Interface Profile, Go to fabric | Access Policies | Interfaces | Leaf Interfaces | Profile | Right click to Create leaf Interface Profile ---