Remote Leaf Failure Handling Scenarios
Posted on May 24, 2021
(0)
In this section, we will see different failure scenarios and how Remote Leaf network behaves over this.
Spine failure in main DC
Remote Leaf uses the Anycast Ip address of Spine to send Unicast and BUM traffic to ACI Pod. If Anyone the Spine fails, other Spines in ACI main Pod can accept the traffic and forward traffic to final destination.
Below figure Explains Traffic forwarding when any spines fails in ACI DC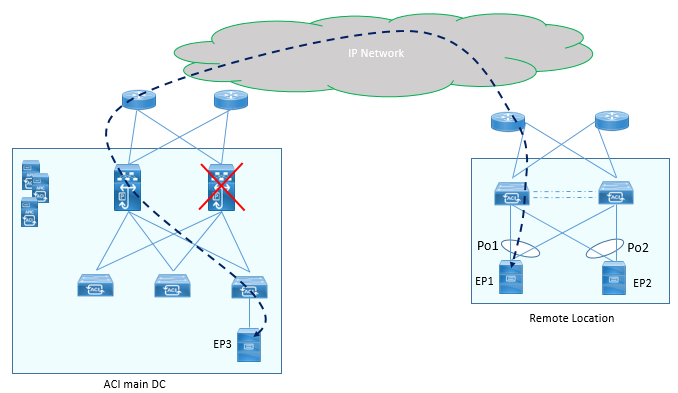 Remote Leaf Failure
In the recommended deign, Remote Leafs should be part of vPC domain, and if any one of the Remote Leaf fails, traffic will be re-routed towards second Remote Leaf that can forward traffic to endpoints.
Below figure explains how traffic forwarding is done when one Remote Leaf fails.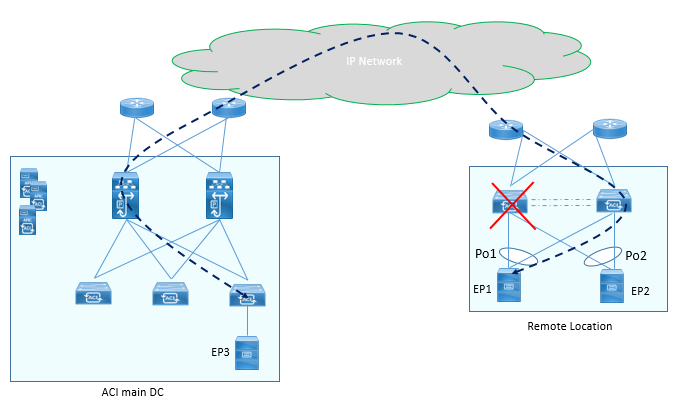 Upstream Router on RL is lost
It is recommends to use the Redundant Upstream Router to connect to Remote leaf and IPN network. When one of the upstream router fails, remote leaf will switch traffic to second redundant upstream router for traffic forwarding.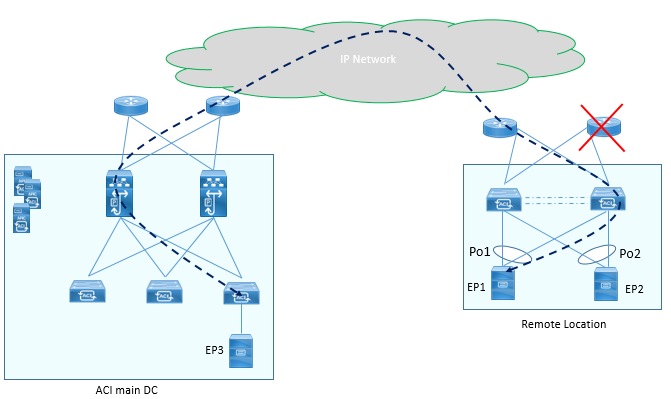 All Upstream Router Connected to RL are Lost
If all Upstream Router are Lost then as RL are connected via vPC, then all Uplink of vPC towards router will also fail, due to which vPC link towards endpoint are brought down to avoid traffic black holing.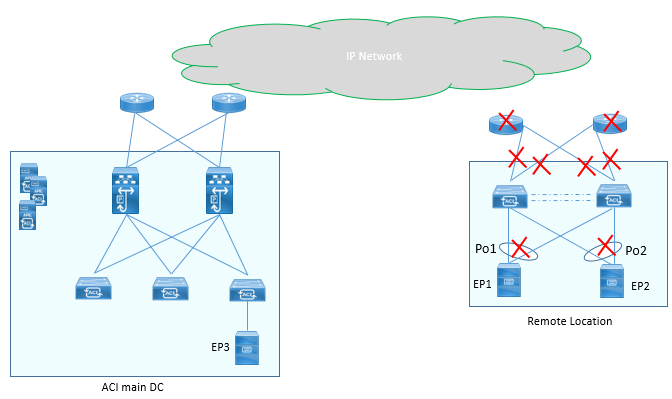 Failure of APIC Controller Cluster of Particular POD
When all APIC controllers in a single Pod are lost, Remote leaf switches will not experience any data-plane or control plane failures. They will continue to forward traffic to all destinations; however, new configurations cannot be applied since APIC controller connectivity is down. Since all APIC controllers are down, operations and visibility to the Remote leaf will be lost; however, users can login to the Remote leaf using an out-of-band or console connection.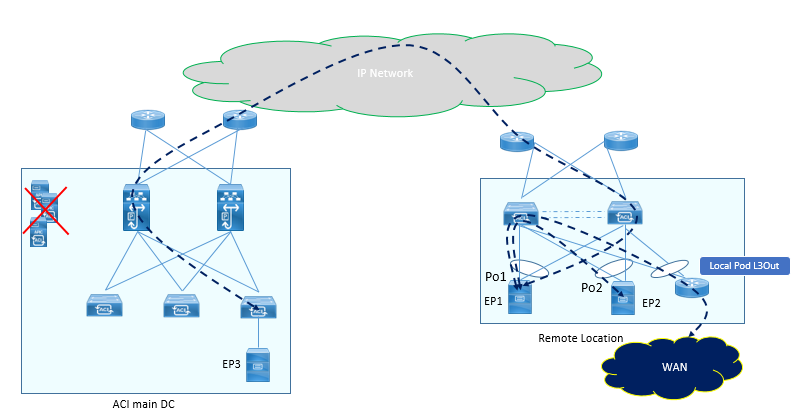 Failure of All Spines in single Pod with RL direct Enabled.
When a Remote leaf loses reachability to its logically connected Pod's spines either due to spine failure or due to reachability failure in the IPN, it will have the following traffic forwarding behavior: ---