Bridge Domain Configuration
Posted on Jan 24, 2020
(0)
Bridge Domain Configuration
A Bridge domains (BDs) provide layer 2 forwarding within the fabric as well as a layer 2 boundary.A Bridge Domain is not a VLAN but it can accommodate multiple subnets.
Each Bridge Domain must be linked to a VRF and it must have at least one subnet.A Bridge Domain can span across switch nodes and MAC address must be unique within Bridge Domain
There are following Forwarding Option for packet Type in BD, a summary is given here.

Subnet: A subnet can be any IP address under Private Network and it must be child of one Bridge Domain
A Bridge Domain can have more than one subnets. Subnets must have unique IP address within their VRF.
More Design consideration of subnets and BD are discussed after LAB section.
LAB:
Configure three different BD along with its subnet as gateway and associate them to single VRF named DClessons_VRF1
WEB_BD: 10.10.10.1/24
APP_BD: 20.20.20.1/24
DB_BD: 30.30.30.1/24
Physical Topology: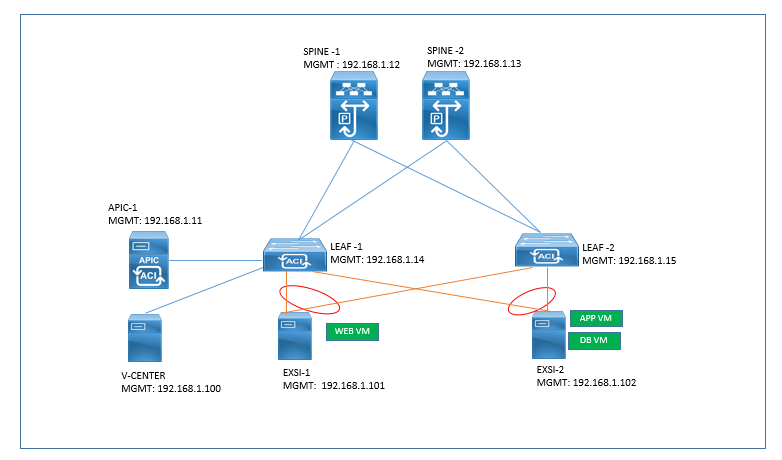 Logical Topology: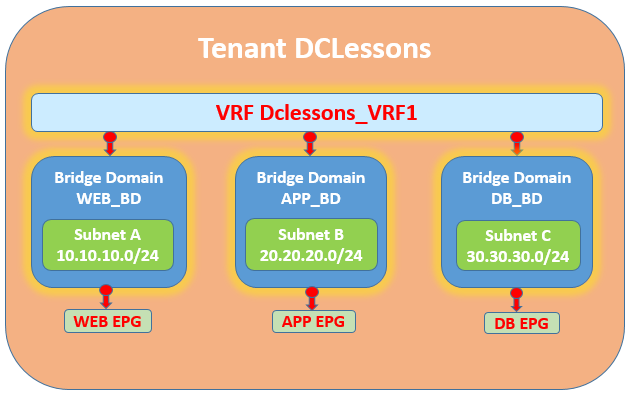 Steps:
Login to APIC Controller

Go to the Tenant Section and select the Tenant DCLessons ---