Compute & Storage Connectivity In ACI
Posted on May 07, 2021
(0)
Compute & Storage Connectivity In ACI
In Enterprise DC, Various enterprise uses different types of compute platforms like, Cisco UCS B series, Cisco UCS C Series, third party blade systems and standalone servers. These all types of servers needs to be connected to ACI Fabric via either VPC method, access Port method or as a trunk method. The connection to a bare metal compute can also be done by FEX. Now let's see how FEX is connected to ACI with some limitations.
FEX provides a method to connect end devices and Host to ACI fabric. Below are some restriction that needs to keep in mind while using FEX in ACI.
On FEX Ports, No External Router Connectivity is possible over L3Out.
As FEX Connects to one leaf only, it supports only Single home connectivity to leaf.
No FCOE Support on FEX except for N9K-C93180YC-FX and N9K-C93108TC-FX Leaf Switches running ACI 2.3(X) and later.
1P CoS value are not preserved when outgoing interface is on FEX port.
With ACI 3.1(X) later, Multicasts source and receiver connected to FX ports are supported.
With ACI release 3.2(X) or later, remote leaf connectivity is supported on FEX.
End Points or Servers can be connected to ACI Fabric over FEX Straight-through VPCs in which FEX uplinks to leaf downlinks connect via regular port channel to a single leaf switch.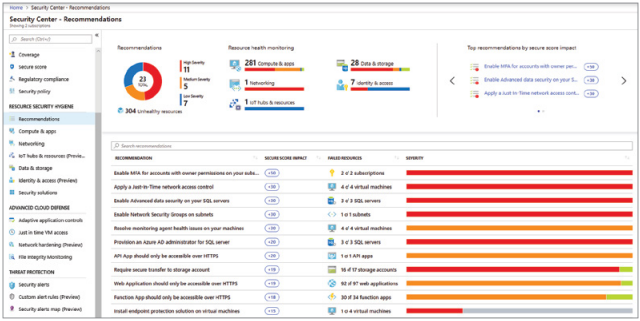 Cisco Blade Chassis Server UCS B Series:
UCS B Series servers connects to ACI fabric via Layer 2 Connection ports on Fabric Interconnect Switches. All the VLAN required for traffic must be trunked to uplink ports of fabric interconnects connecting to ACI fabric. Like Wise you need to configure CDP or LLDP in same way on both UCS fabric interconnects and ACI leafs. In this scenario VPC can be used to connect the UCS fabric interconnects and ACI leaf.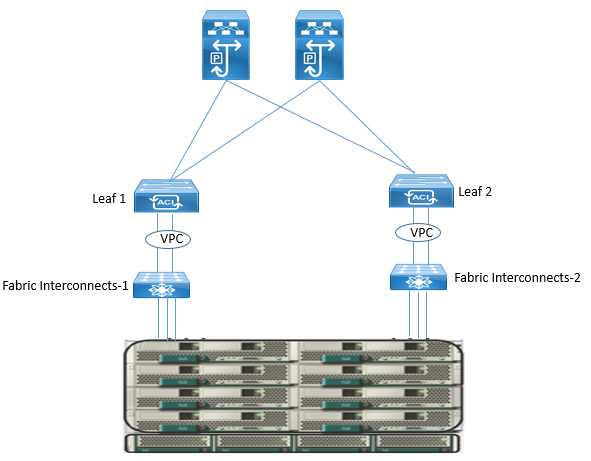 Standalone Rack-Mount Servers:
There are three connection method used to connect the Rack Mount Servers to ACS fabric.
Via VPC
Via Regular Port-Channel
Via Access Ports
In order to provide redundancy and better convergence, VPC connectivity is recommends unless platform does not support LAG or Ethernet bounding technique such as in case of VMware 6.0 and earlier releases. Standalone server connectivity can also be done by FEX ports.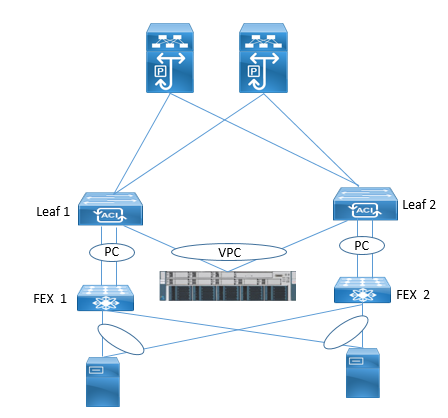 Storage Connectivity in ACI
Cisco ACI provides FCOE connectivity for storage on a cloud scale EX/FX platform. With FCoE support in ACI, the hosts are connected through virtual fiber (F) ports deployed on an ACI leaf switch. The SAN storage switch and Fibre Channel network are connected through a Fibre Channel forwarding (FCF) bridge to the ACI fabric through a virtual network port (NP) deployed on the same ACI leaf switch where the host is connected as a virtual F port. The reason for this limitation is that the ACI leaf switch does not perform local switching between SAN accessing hosts, and the FCoE traffic is not forwarded to a spine switch. In Fibre Channel technology, virtual NP and virtual F ports are referred to as virtual Fibre Channel (VFC) ports.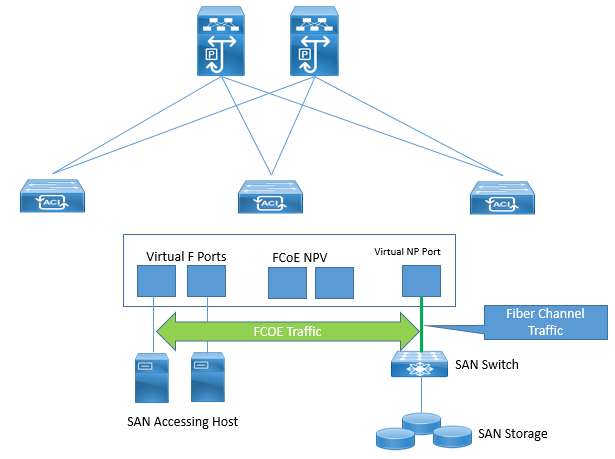 FCoE traffic requires you to configure a separate VLAN connectivity over which SAN-accessing hosts broadcast FCoE Initialization Protocol (FIP) packets to discover the interfaces enabled as F ports. ACI allows one VSAN assignment per bridge domain. You must configure VSAN and VLAN pool allocations as static while configuring FCoE. (Only static allocation is allowed in VSAN configuration.) While configuring VFC interfaces in ACI, F port mode is the default mode on the interface. Therefore, you need to specifically configure NP port mode in access policies.
---