ACI Multipod Overview
Posted on Jan 24, 2020
(0)
ACI Multipod Overview
As ACI has matured, ACI are now able to provide connectivity between multiple Pods and even between multiple sites. There are following design option for interconnecting ACI fabrics.
Single APIC Cluster/Single Domain

Multiple APIC Cluster/Multiple Domain
Let's discuss one by one both design and connectivity scenarios:
Single APIC Cluster/Single Domain: In ACI 1.0 ACI Stretched Fabric connectivity was introduced and which further enhanced to ACI multi-pod design in ACI 2.0 release. In both design leverage a single APIC cluster for policy definition and management for entire network.
These types of design are mostly deployed when DC are in Active/Active fashion. In ACI Multi-Pod, separate instance of fabric control plane like IS-IS, COOP, MP-BGP runs.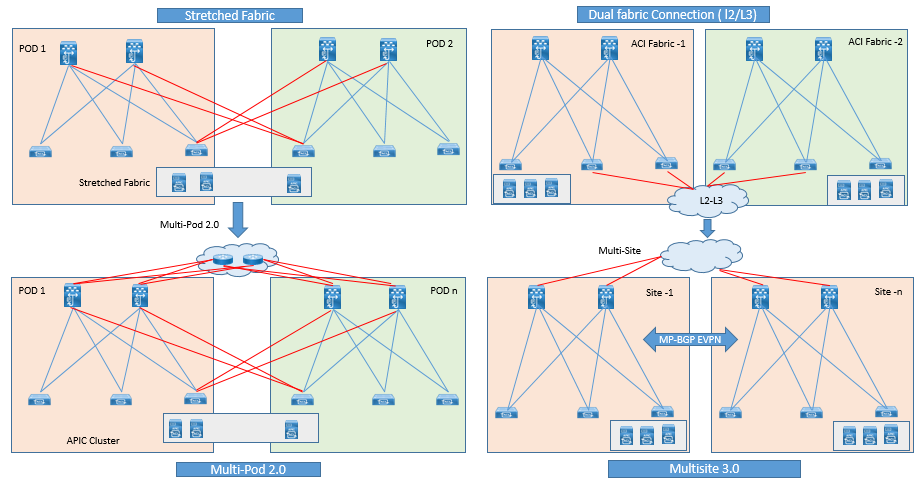 Multiple APIC Cluster/Multiple Domains: This type of design was first achieved by providing Dual-fabric connection via L2/L3 extension across ACI fabric as shown in above figure and later in ACI 3.0 it was further enhanced to ACI Multi-Site design.
ACI Multi-Pod allow to interconnect separate ACI fabric and can be managed by centrally APIC cluster. Same APIC cluster is used to manage several pods and these APIC controller nodes can be deployed across different pods to form a single cluster. All interconnected pods function as a single ACI fabric.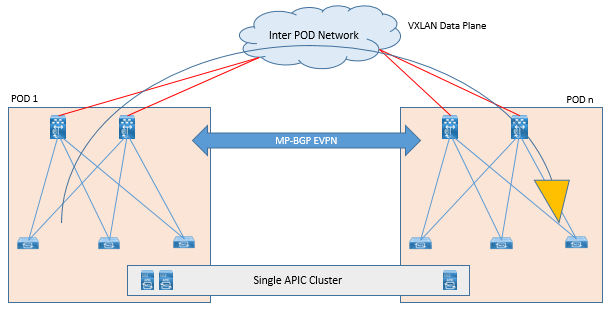 These different Pods are connected to each other via network called as Inter-Pod-Network (IPN) via Spine Nodes.
Following are the different Multi-pod supported typologies and connectivity options: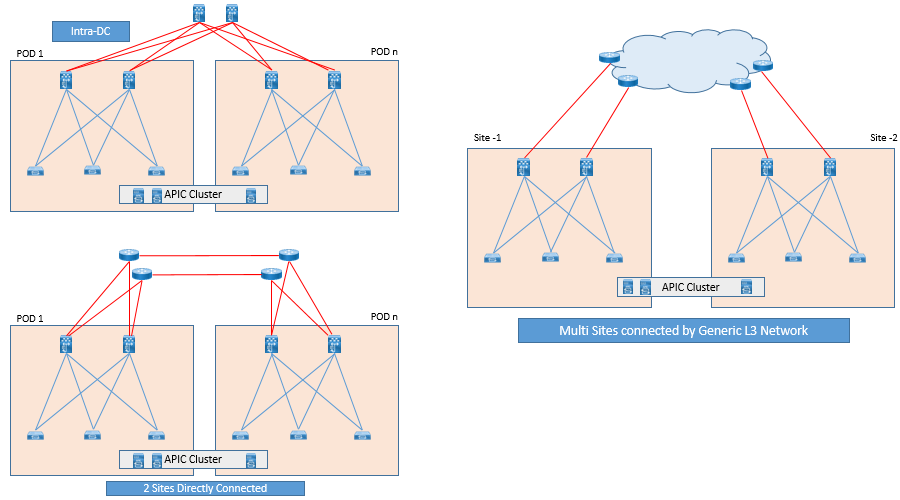 ACI Multi-Pod Scalability Options: ---