Traffic Flow Monitoring
Posted on Jan 27, 2020
(0)
Cflowd Traffic Flow Monitoring
Cflowd monitors the traffic flowing through vEdge and export flow information to collector, the collector in turn process these flow information by IPFIX analyzer.
Cflowd periodically sends template reports (contains about flow and data extracted from IP header of packet in flow) to flow collector.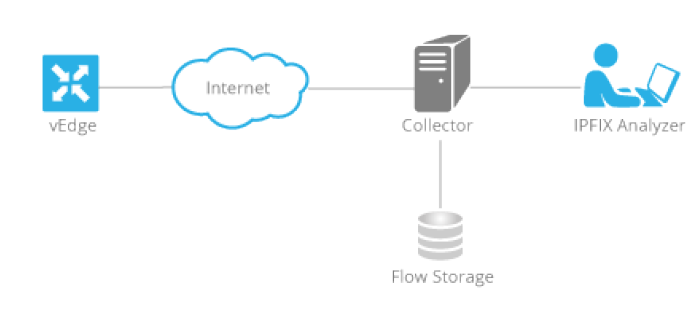 Cflowd performs 1:1 sampling, information about all flows is aggregated in Cflowd records, Flows which are anyhow not sampled vEdge router don't cache any information of records exported to collector.
Components of Cflowd
Cflowd is configured by data policy in which we mention the location of collector and by default flow information is sent to collector every 60 sec.
There are maximum four Cflowd policies which can be configured, and Viptela can export template records to maximum of four Cflowd collectors.
A data policy can also be configured , to collect new flows to be sampled and allow old flows to expire gracefully rather than deleting them all at once.
The vEdge router exports template records and data records to a collector. The template record is used by the collector to parse the data record information that is exported to it. The flow records are exported via TCP or UDP connections. Cflowd can track GRE, ICMP, IPsec, SCTP, TCP, and UDP flows.
IPFIX Information Elements Exported to the Collector
The Viptela Cflowd software exports the following 22 IPFIX information elements to the Cflowd collector. The elements are exported in the order listed. You cannot modify the information elements that are exported, nor can you change the order in which they appear.
We have mentioned some information, for theses not all for just overview.

---