Unicast Routing Overview
Posted on Jan 27, 2020
(0)
Unicast Routing Overview
In Cisco Viptela Solution, the Overlay network is managed and controlled by Overlay Management Protocol (OMP). This OMP protocol establish and maintain the Viptela Control plane and provides following Services:
Orchestration of

Routing and secure connectivity between sites

Service chaining

VPN topologies (Segmentation)

Distribution of Routes

Distribution of data-plane security parameters

Central Control and Distribution of routing policies
OMP is the Control plane protocol which exchanges the routing, policy, and management information between vSmart, vEdge. This Protocol is enabled by default and upon device restart, it establish or initiates the OMP peering between themselves via DTLS, AES-256 key encryption over System IP address. Once the routing, Policy, security services are propagated to vEdge, this are used by vEdge for data plane connectivity and transport.
OMP Route Advertisements
As soon as vEdge learns the routes are services from local site, it advertises these all information to vSmart controller along with its transport location mapping called as TLOC which are further called as OMP routes or routes.
It is due to OMP routes, vSmart learn the topology of the overlay network and services available in that network. As all vEdge devices advertises its imported to vSmart Controller and based on policy decisions the controller further distributes the routing information to other edge devices. The Edge devices will never advertises its routing information directly to another vEdge devices.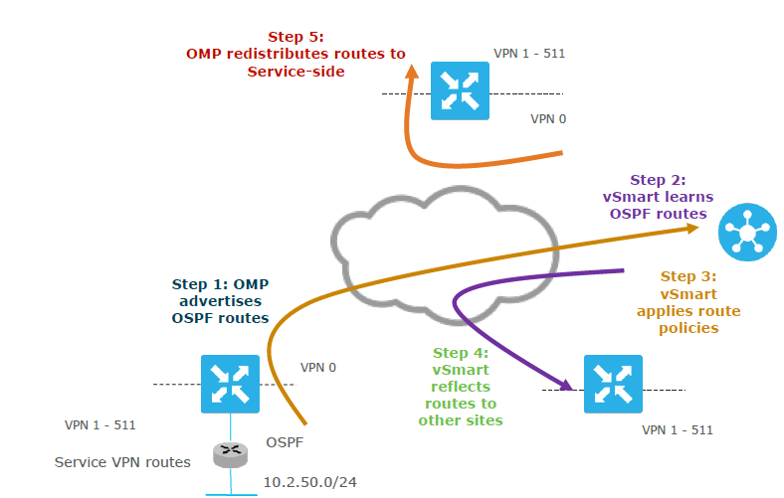 OMP Route Types
There are Three Types of Routes
OMP Routes (vRoutes)
Prefixes learned from site-local (i.e. service side)

Like prefixes of BGP
TLOC's
Transport Locator

Ties OMP route to physical location (i.e. vEdge)

Like next-hop of BGP
Service Routes
Service Chaining

Ties OMP route to an advertised network service ---