SD-WAN Centralized & Localized Control Policy Overview
Posted on Jan 27, 2020
(0)
SD-WAN Centralized & Localized Control Policy Overview
Default Behavior without Centralized Control Policy:
By default, No Centralized control policy is provisioned until or unless it is configured and applied. When there is no Centralized policy, following is the Viptela Control plane device behaves:
All vEdge routers will sent the route prefixes which it will learn from local site network to vSmart controller via OMP protocols. If vEdge has multiple DTLS Connection to multiple vSmart, it will send OMP information to all vSmart.

All vEdge will send all TLOC routes to vSmart controller in domain via OPM

All vEdge Router will send all service Routes to all vSmart via OMP.

vSmart will accept all these three routes types in route table and then further tracks OMP , TLOC and service Routes to determine to which VPN they belong. Further from these information vSmart will create the Network topology MAP and determine the routing path for data traffic

vSmart controller will redistribute all these routes in particular VPN to all vEdge router in same VPN.

vEdge router regularly send route update to vSmart controller

vSmart will recalculates the routing path, will update its routing table and advertises new and changed routing information to all vEdge routers.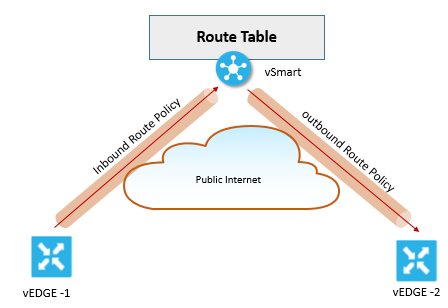 How Behavior Changes with Centralized Control Policy
Following are scenarios where Centralized control policies are required:
When All routes are not planned to advertised to all vEdge Router

If Route information is to be modified before advertising by vSmart controller
Once this policy is configured, it is activated by applying it to specific sites in overlay network either in inbound or outbound detection with respect to vSmart controller.
When we apply in inbound direction, modification or filtration of route is being done before keeping in route table of vSmart controller, Accepted routes are installed on route table of vSmart either as received routes or modified routes by control policy.
When policy is applied on outbound direction, Accepted routes are modified by control policy before they are distributed by vSmart controller, routes that are rejected by outbound policy are not advertised.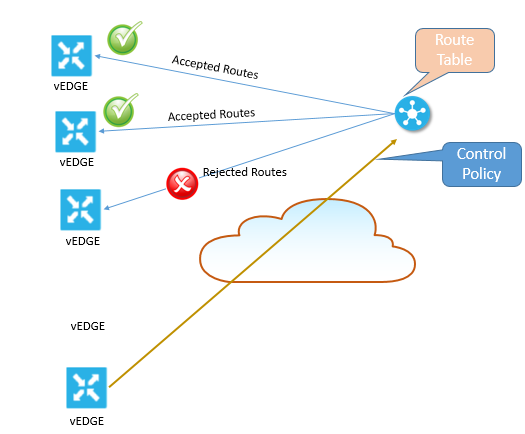 Examples of Modifying Traffic Flow with Centralized Control Policy
Let see some examples of centralized control policy : ---