SD-WAN Solution Overview & Components
Posted on Jan 27, 2020
(0)
SD-WAN Solution Overview
With Cisco SD-WAN Solution, it provide separation in each level like
Separation in Orchestration

Separation in Management Plane

Separation in Control Plane

Separation in Data Plane
With each layer it has specific functions like described below:
The Orchestration layer or plane provides automatic onboarding of SD-WAN routers in SD-WAN enabled Overlay

The Management plane helps in central configuration and monitoring of SD-WAN components and Overlay

The Control Plane is helpful in building and maintaining network topology and based on control plane takes decision for all traffic flows

The Data plane is responsible for forwarding data traffic based on decision taken from control plane
Below is the Overview diagram for Cisco Viptela Architecture solution plane: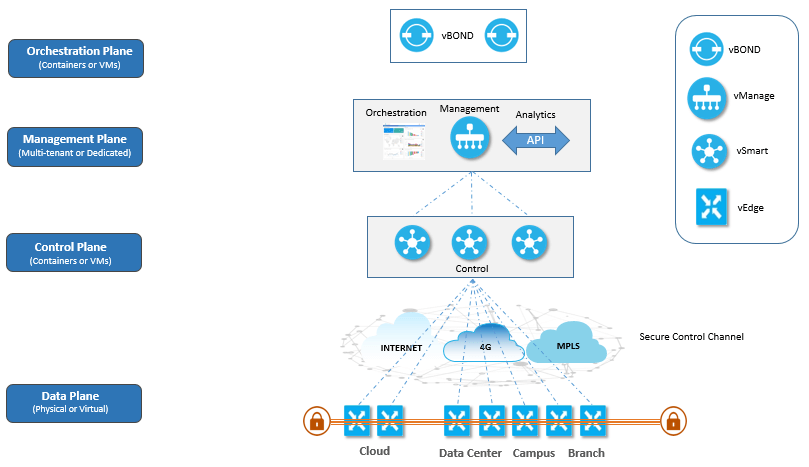 Now let's go in deep dive for each SD-WAN plane and its mapping components:
SD-WAN Components:
In Cisco Viptela Architecture solution, the following are the components used:
vBond (Orchestration plane )
It is the Orchestrates control and management plane that is vSmart and vEdge

vBond is software based components provides first point or initial authentication (white-list model) to all vEdge devices

vBond distributes list of vSmarts/ vManage to all vEdge routers

vBond Facilitates NAT traversal also requires public IP Address [could sit behind 1:1 NAT]

Highly resilient in nature
vManage ( Management Plane )
Single pane of glass for Day0, Day1 and Day2 operations

Multitenant with web scale

Centralized provisioning to configure all Cisco SD-WAN Devices via Policies and Templates

Troubleshooting and Monitoring all Cisco SD-WAN devices

It hepls in Software upgrades

GUI with RBAC

Programmatic interfaces (REST, NETCONF)

Highly resilient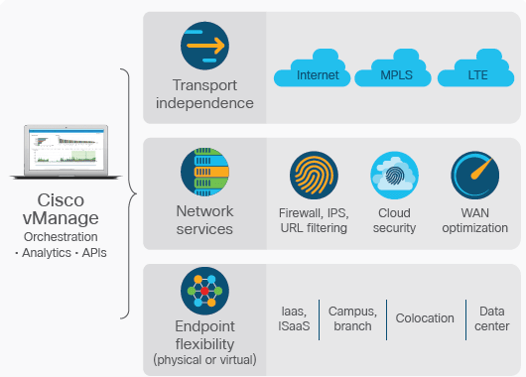 vSmart ( Control Plane )
Facilitates fabric discovery and establish secure connection to each vEdge routers

Dissimilates control plane information between vEdges via OMP

Distributes data plane and app-aware routing policies to the vEdge routers

Implements control plane policies, such as service chaining, multi-topology and multi-hop

Dramatically reduces control plane complexity

Highly resilient
vEdge ( data Plane )
WAN edge router

Provides secure data plane with remote vEdge routers

Establishes secure control plane with vSmart controllers (OMP)

Implements data plane and application aware routing policies

Exports performance statistics

Leverages traditional routing protocols like OSPF, BGP and VRRP

Support Zero Touch Deployment

Physical or Virtual form factor (100Mb, 1Gb, 10Gb)
[pms-restrict subscription_plans="1315, 1316, 1317, 1735"]
The following diagram provides some brief overview of Cisco Viptela Design Solution

In above SD-WAN topology, it has two sites connected via two independent WAN circuit, It has two SD-WAN vSmart controllers, vBond orchestrator and one vManage that resides on internet.
At each site, we have vEdge routers on which the WAN circuits are directly connected, and these WAN circuits or transport are assigned different color such as MPLS, private1, biz-internet, metro-Ethernet.
Here in this topology, biz-internet color is assigned for one of the internet transport and color public internet is used for other internet transport.
The vEdge routers form DTLS (Datagram transport layer security) or TLS (Transport Layer Security) control connection to vSmart controller over each transport. These vEdge routers connects to each other with IPSEC tunnel over each transport.
Over each IPSEC tunnel, Bidirectional Forwarding Detection (BFD) protocol is enabled by default and detects loss, latency and jitter along with path failures.
Cisco SD-WAN Color:
On vEdge Routers , different color is used to identify individual WAN transport and same color cannot be used for two different WAN transport on single vEdge.
The following are different Color to identify different WAN component mostly used for private networks and environment where we don't use NAT addressing:
Mpls

Private 1

Private 2

Private 3

Metro-ethernet
The following are different Color to identify different WAN component mostly used for public networks
3g

Biz-internet

Blue

Bronze

Custom1

Custom2

Default

Gold

Green

Lte

Public-internet

Red

Silver
SD-WAN Product Data Sheet:
Cisco SD-WAN routers provides routing facility for SD-WAN overlay that delivers essential WAN , Security , and Multi-Model Capability
Cisco SD-WAN Routers are present in various Form factors like Hardware , Software , Cloud or Virtual components that are installed on remote site , Data Center , Branch Office , Campus etc
Below are the SD-WAN Product portfolio discussed in brief nutshell.
SD-WAN Software Capabilities:
Below are the vEdge router Software capabilities which takes advantage of LAN and WAN side of Network , The Key capabilities are discussed below: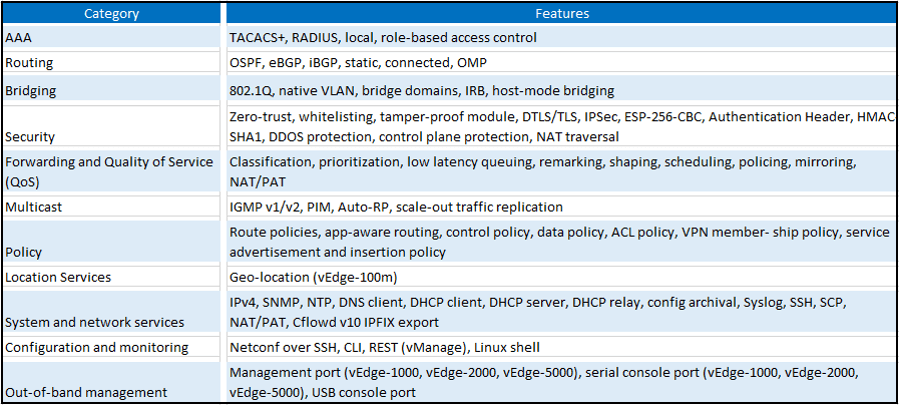 Ordering Information
The Ordering information of vEdge routers are listed below:

Choosing Right Cisco SD-WAN Solution:
To address extensible and diverse requirement across various industries and its Vertical, Cisco SD-WAN provides two leading Cisco Viptela Design solution for SD-WAN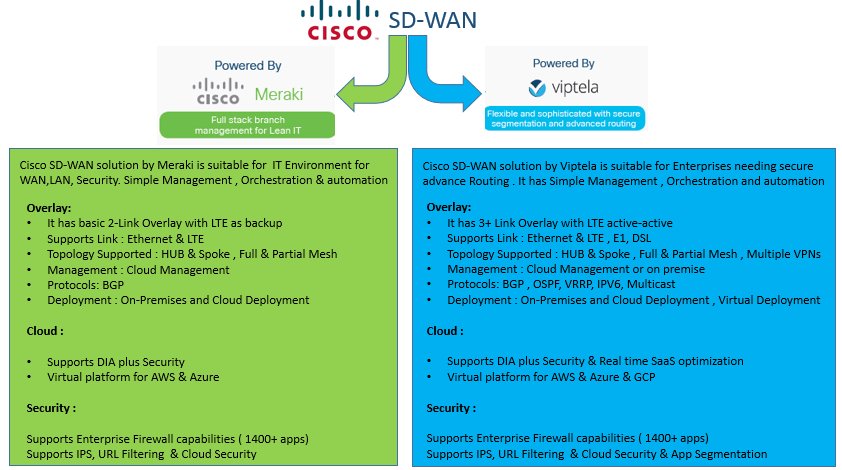 ---
---