Configuring UCS Policies
Posted on Jun 06, 2023
(0)
Configuring UCS Policies
With UCSM, we can configure a number of policies that will be consumed by Service profile associated with Servers. Once Associated with Service profile, these policies provide necessary features and configuration to the physical servers.
We can configure policies for below:
BIOS Configuration
Firmware Versions
Adapter Configuration
QoS Configuration
Local Disk Configuration
Boot Order Configuration
Server data scrubbing
Server Power Utilization
Operational & maintenance Configuration
Server BIOS Policy Configuration
BIOS policy lets you configure a server's BIOS settings including CPU, memory, PCI cards, and other options.
Log in to UCS Manager | Click to expand the Servers tab in the navigation pane.
Click to expand the Policies tab and expand the root tab| Right-click on BIOS Policies and on the pop-up menu that appears, click on Create BIOS Policy: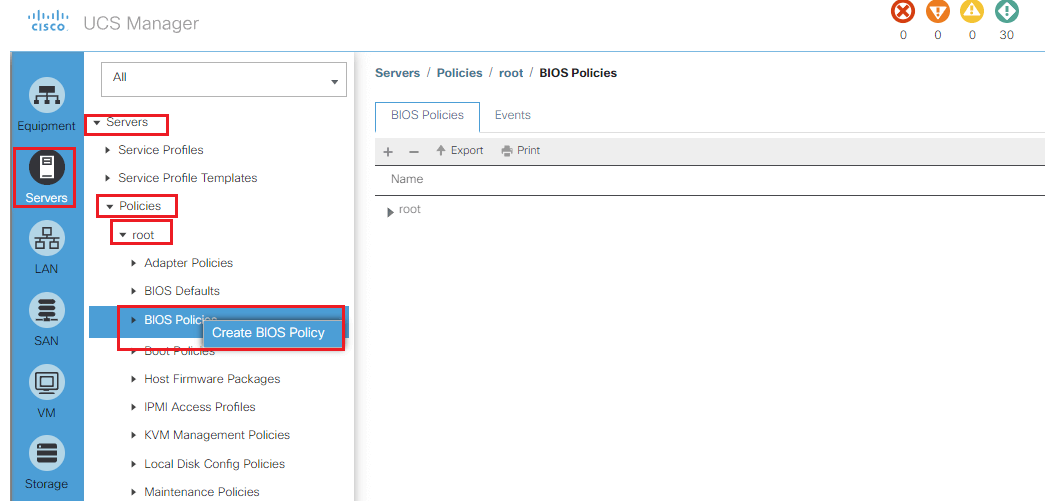 In the pop-up screen on the Main tab, assign a value for Name, and click on the Reboot on BIOS Settings Change checkbox if the server needs to reboot automatically on any BIOS change. It is also recommended to properly configure the maintenance policy in order to achieve the desired reboot response from the server.
Cisco suppresses the POST messages with a Cisco splash screen. It is recommended to make Quiet Boot as disabled in order to see boot messages.
POST Error Pause should be enabled if it is required to pause the system in the event of a critical error. If this setting is disabled, the system will try to boot up.
The Resume Ac On Power Loss field settings show self-explanatory power state settings.
If Front Panel Lockout is enabled, it will block the power and will reset buttons on the front panel of the server; now, the server can only be rebooted or powered on or off from the CIMC. Click on Next.
The next screen shows the Processor settings. A number of CPU settings are available, and it is recommended to check the operating system platform related best practices for CPU settings. As a general recommendation for virtualization, enable Virtualization Technology (VT) and disable Turbo Boost, Enhanced Intel Speed step, and all C-States. Turbo Boost with Enhanced Intel Speed step and Processor C State manages CPU power consumption by slowing down or stopping the CPU cores, which may not be handled accurately by the OS. Again, always consult the OS platform recommendation| Click on Next: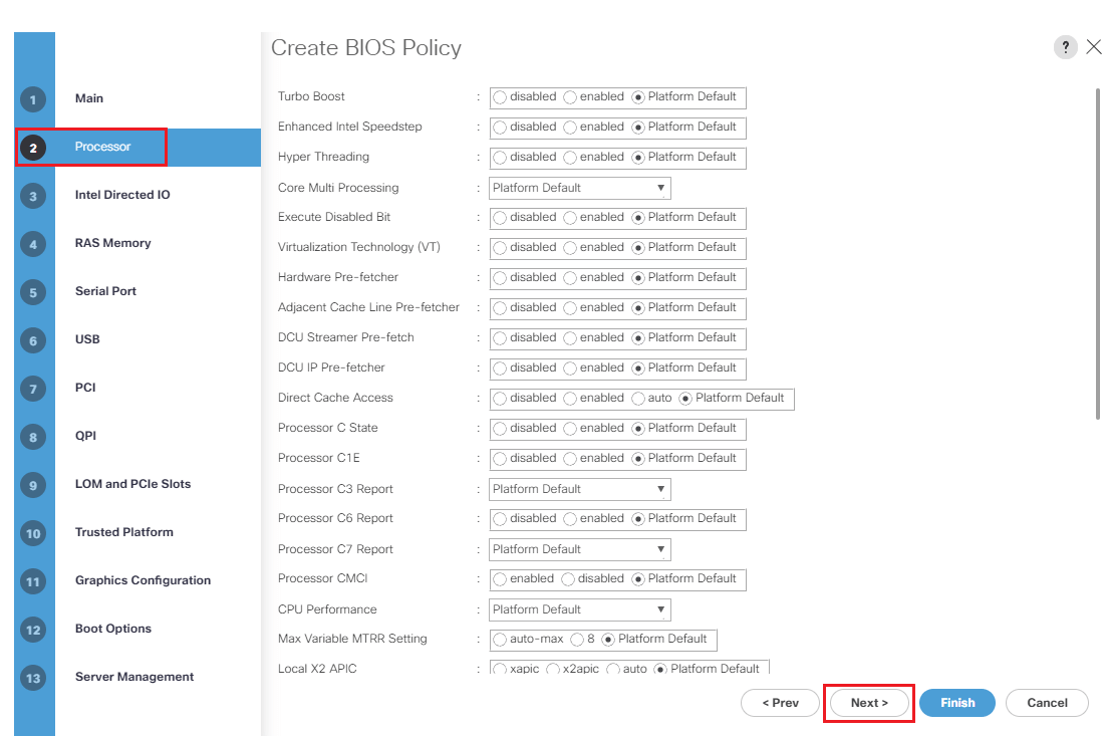 Intel Directed IO settings are pertinent to the processor features used to facilitate virtualization tasks. Configure the recommended settings for your hypervisor platform or leave it as Platform Default: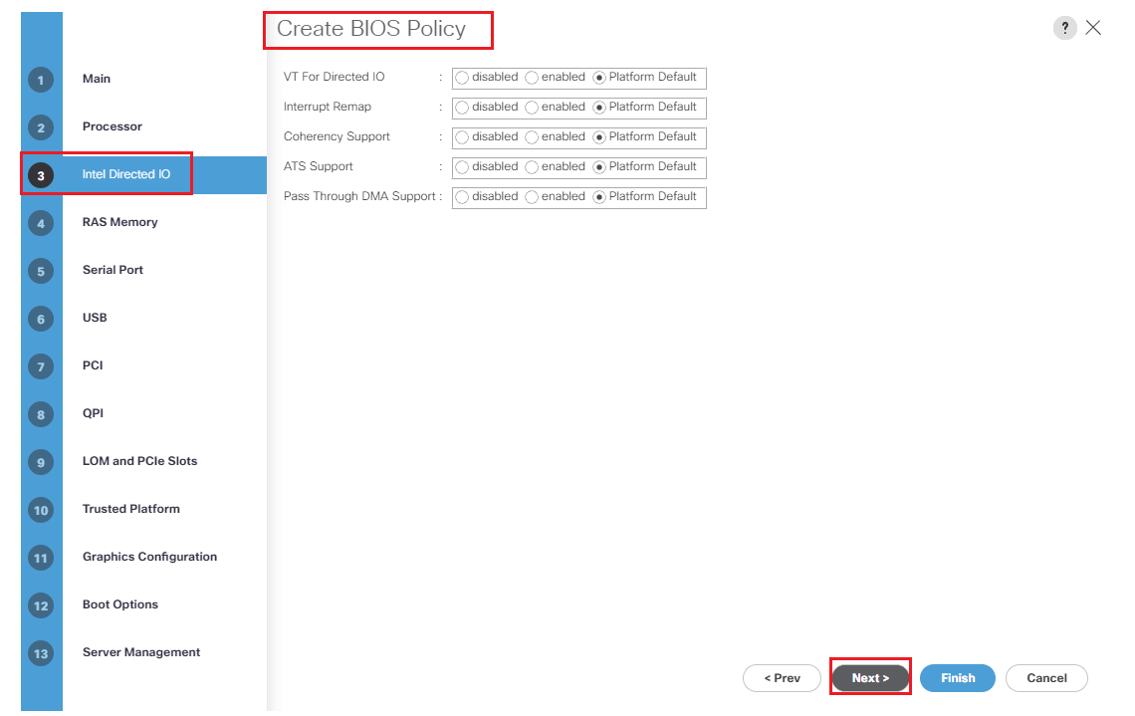 RAS Memory is a configuration for the memory. Memory RAS configuration options include the following:
maximum performance: System performance is optimized
mirroring: System reliability is optimized by using half the system memory as backup
lockstep: For similar DIMM pairs, the lockstep mode minimizes memory access latency
sparing: System reliability is enhanced with reserved memory providing redundancy in case of memory module failure
The other two memory configuration options are NUMA (also known as Non Uniform Memory Access) and low voltage LV DDR Mode: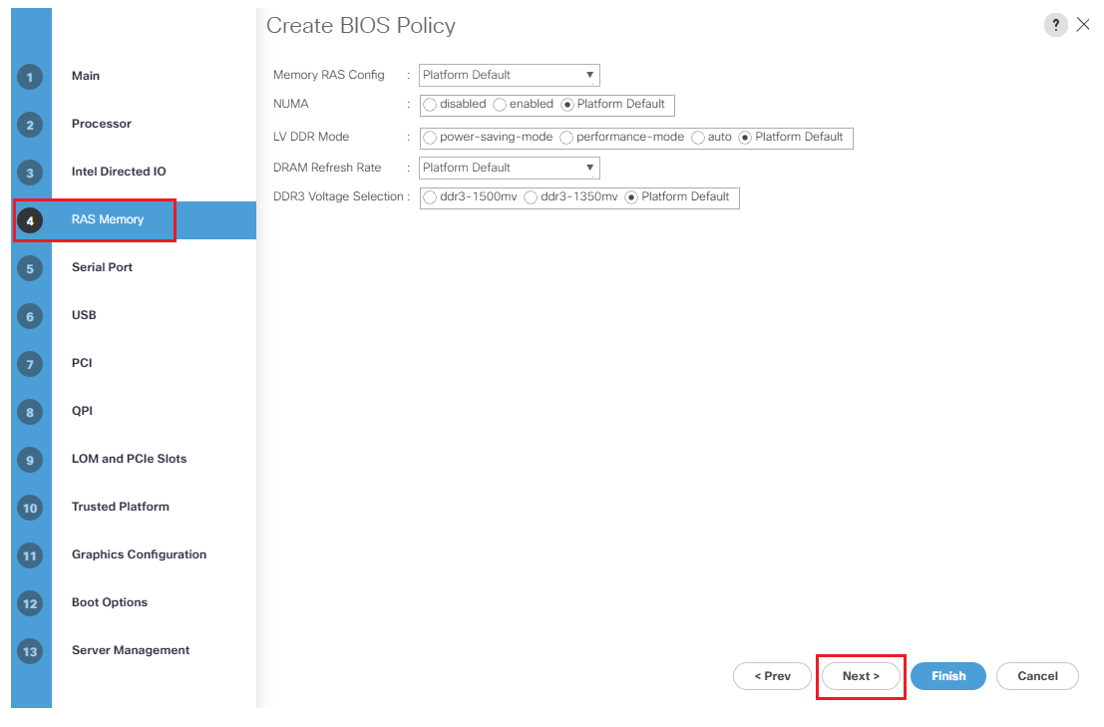 The Serial Port configuration enables or disables a server serial port: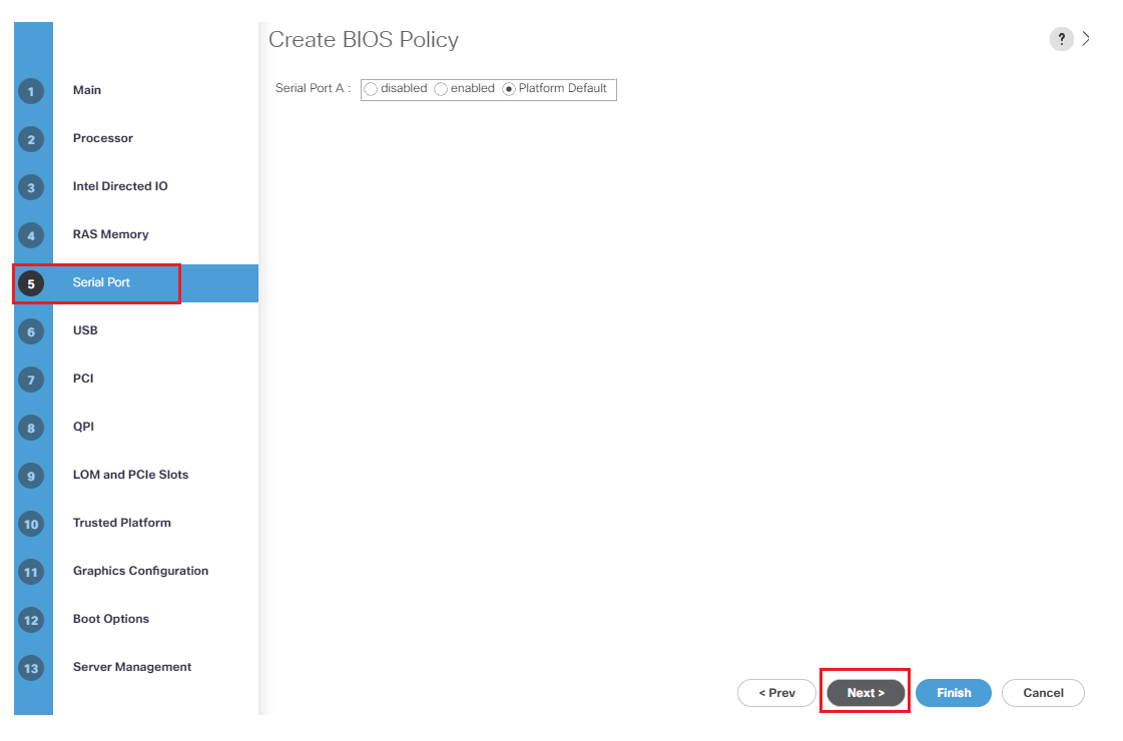 The USB configuration provides options for the server USB ports: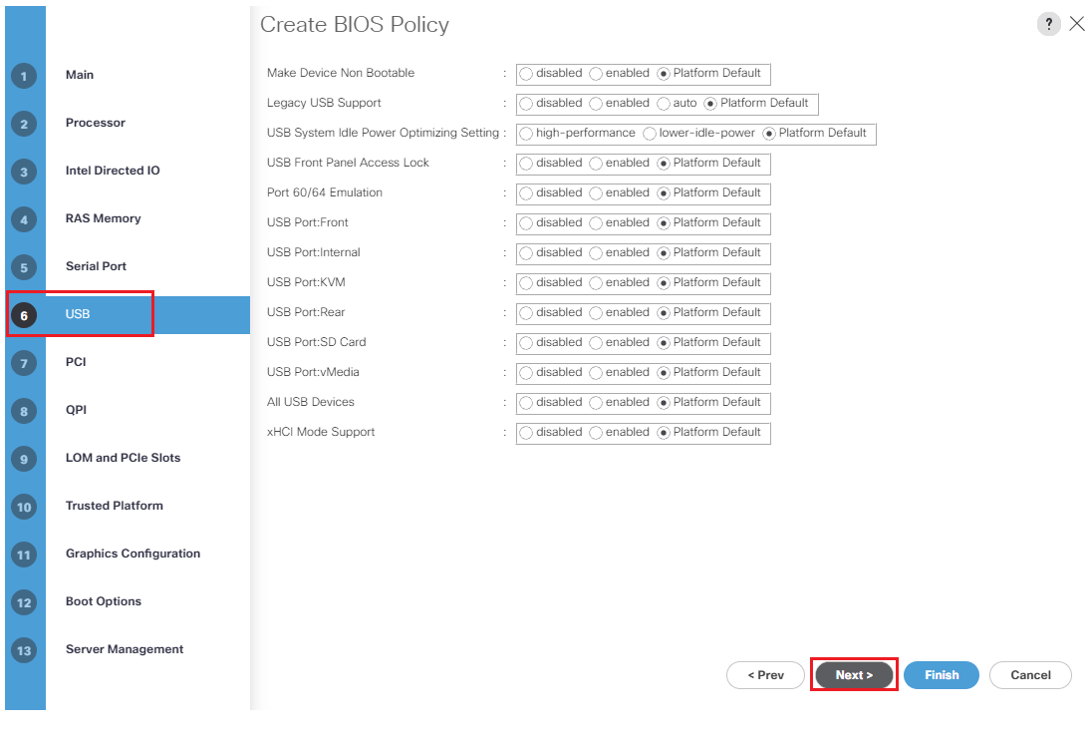 The PCI configuration checks the operating system requirements for the configuration details or leaves it as Platform Default: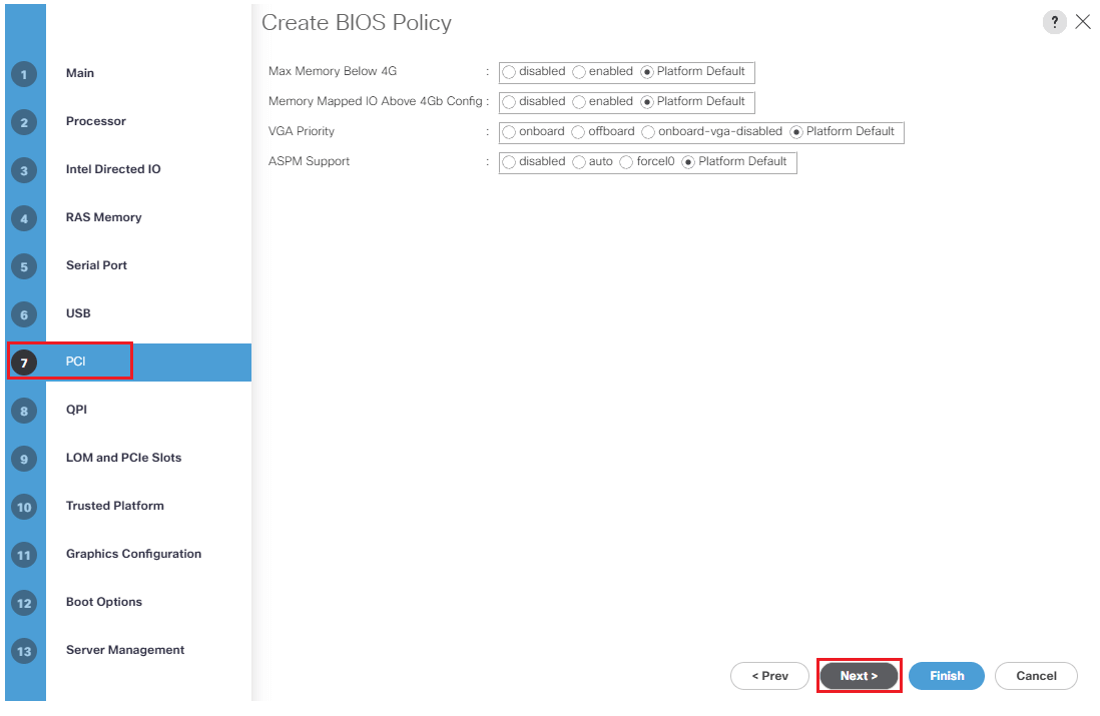 The QPI configuration can also be left with the Platform Default setting to automatically use the default settings for the server platform: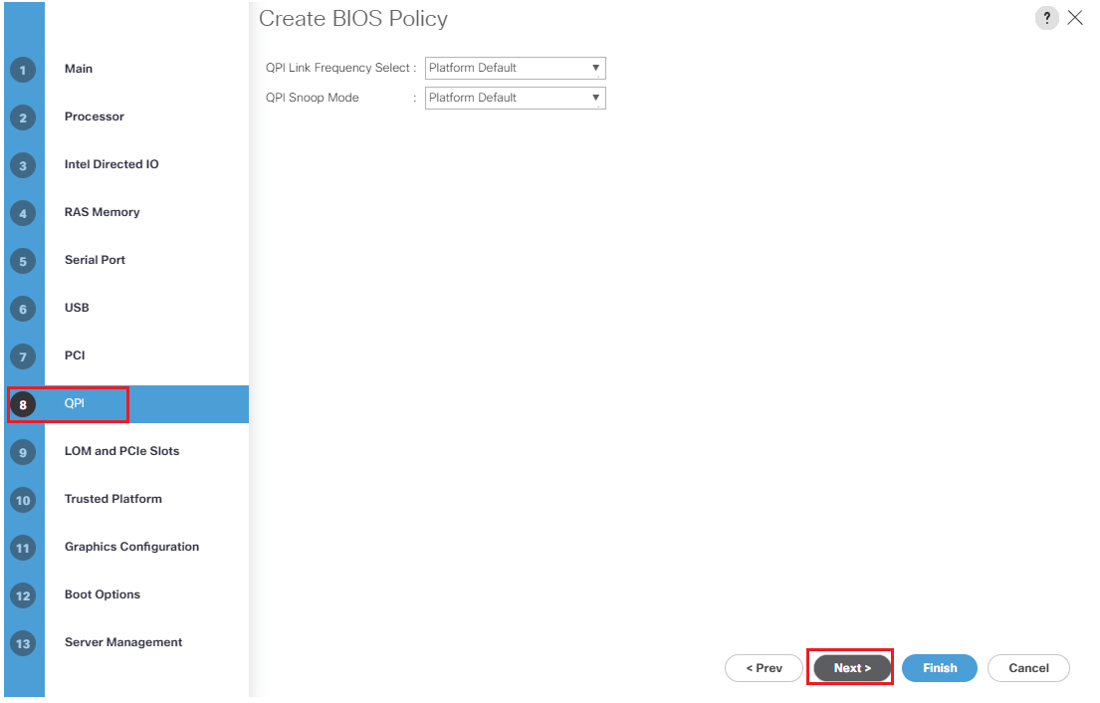 The LOM and PCIe Slots configuration can also be left with the Platform Default setting to automatically use the default settings for the server platform: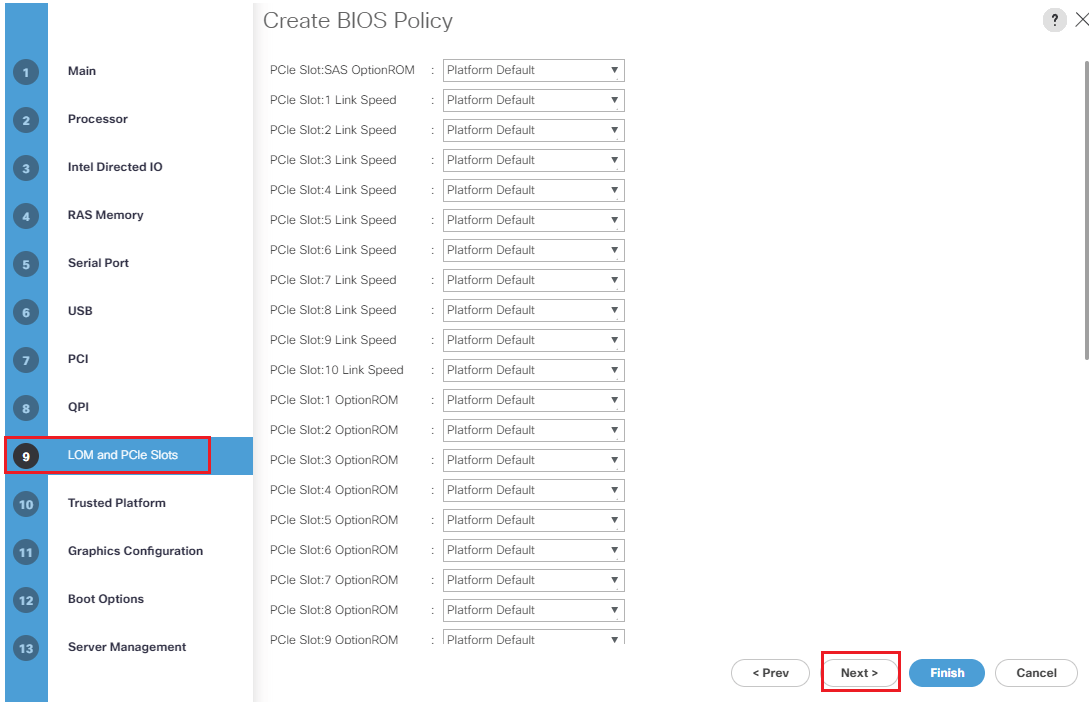 The Trusted Platform configuration can also be left with the Platform Default setting to automatically use the default settings for the server platform: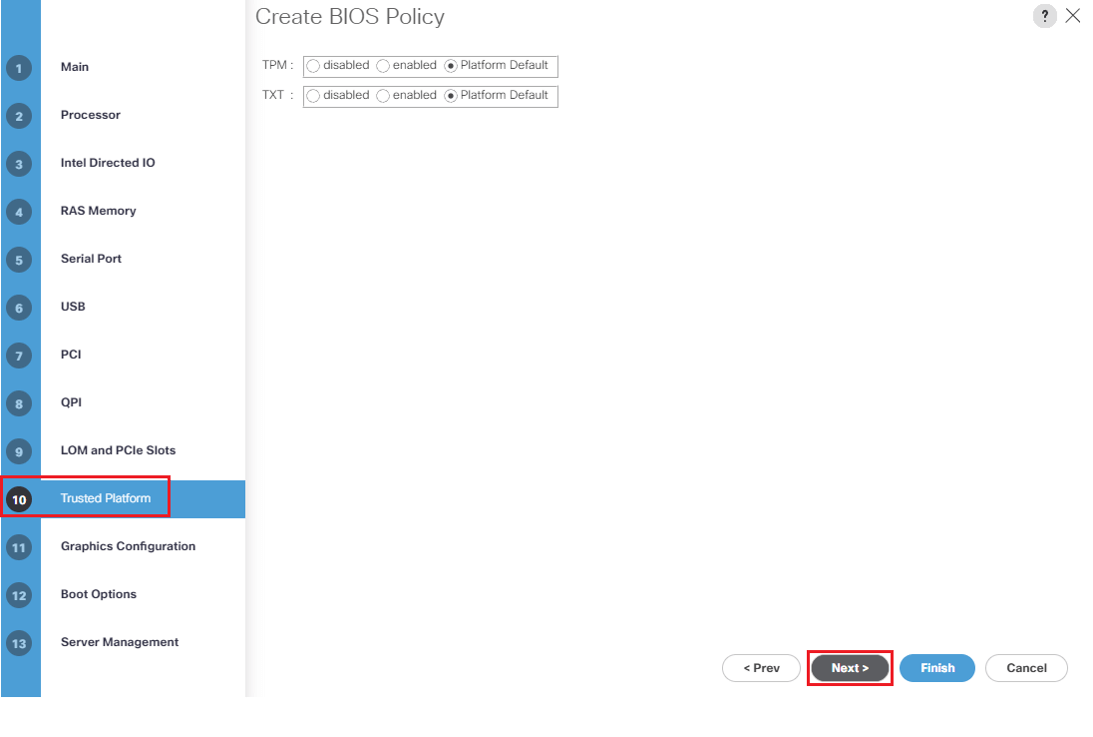 The Graphics Configuration can also be left with the Platform Default setting to automatically use the default settings for the server platform: ---