UCSM Introduction
Posted on May 15, 2023
(0)
Introduction Cisco UCSM
Cisco UCSM provides unified management of all hardware and software components for UCS solution. UCSM also provides both GUI and CLI user interface. UCSM is integrated in to fabric Interconnects.
UCSM manages and control multiple UCS chassis, currently approx. 20 UCS chassis can be managed by one UCSM, but actual member of manageable chassis is dependent upon the model and number of physical uplinks from each chassis IOM or fabric Extender module to FI.
Below is some main function provided by UCSM:
Identity & Recourse pool: These pools are required to abstract the compute-node identities for stateless servers. These Identities and resources include Universally unique identifiers(UUID), media access controls (MAC), Worldwide node (WWN) and IP pools.
Policies: With the help of UCSM, we can create multiple policies that is used to define, how my Services will operate and what actually we want UCS to perform. Like Service policy provides different configuration for UCS servers including BIOS setting, Firmware version, vNICs policies, vHBAs policies, scrub policies, QOS, IPMI policies.
Templates: When we want to provision multiple servers, vNICs, vHBAs with same configuration types, we can use UCSM templates. Templets can be used to quickly create services profiles, vNICs, vHBAs, for the servers.
Service Profiles: It is used to enable stateless computing. It combines information and feature abstracted from identity and resource pool, templates and service policies.
With UCSM 3.1 version release, Cisco added support for HTML5 Interface in addition to java based interface. The HTML5 GUI provides full functionality to manage all UCS hardware components. However, Gen 1 UCS hardware components will be supported with UCSM2.2 versions. Not that we should not upgrade UCS firmware version to 3.1 if you have mix of GEN 1 and Gen 2 UCS hardware components.
UCSM Firmware Version
Currently UCSM Version is working 4.2 release. Below are following major firmware release at time of writing:
Cisco UCS Manager, Release 4.2
Cisco UCS Manager, Release 4.1
Cisco UCS Manager, Release 4.0
Cisco UCS Manager, Release 3.2
Cisco UCS Manager, Release 3.1
Cisco UCS Manager, Release 2.2
Cisco UCS Manager, Release 3.0,
Cisco UCS Software, Release 2.5
Cisco UCS Software, Release 2.1
Cisco UCS Software, Release 2.0
Cisco UCS Software, Release 1.4
Cisco UCS Manager, Release 1.3(1)
Cisco UCS Manager, Release 1.2(1)
Cisco UCS Manager, Release 1.1(1)
Cisco UCS Manager, Release 1.0(2)
Cisco UCS Release 1.0(1e)
When we plan to perform the firmware upgrade, always read the firmware release notes carefully in order to avoid production issues.
UCSM Interfaces
When we access to UCSM interface via GUI, using Cluster IP address or DNS name of Cluster, GUI is divided in to 4 parts. The UCSM GUI is an HTML5 or java-based application. Java Web start (WS) is used to display UCSM GUI. UCSM GUI is divided in to following parts:
Navigation pane
Work pane
Fault Summery area
Status bar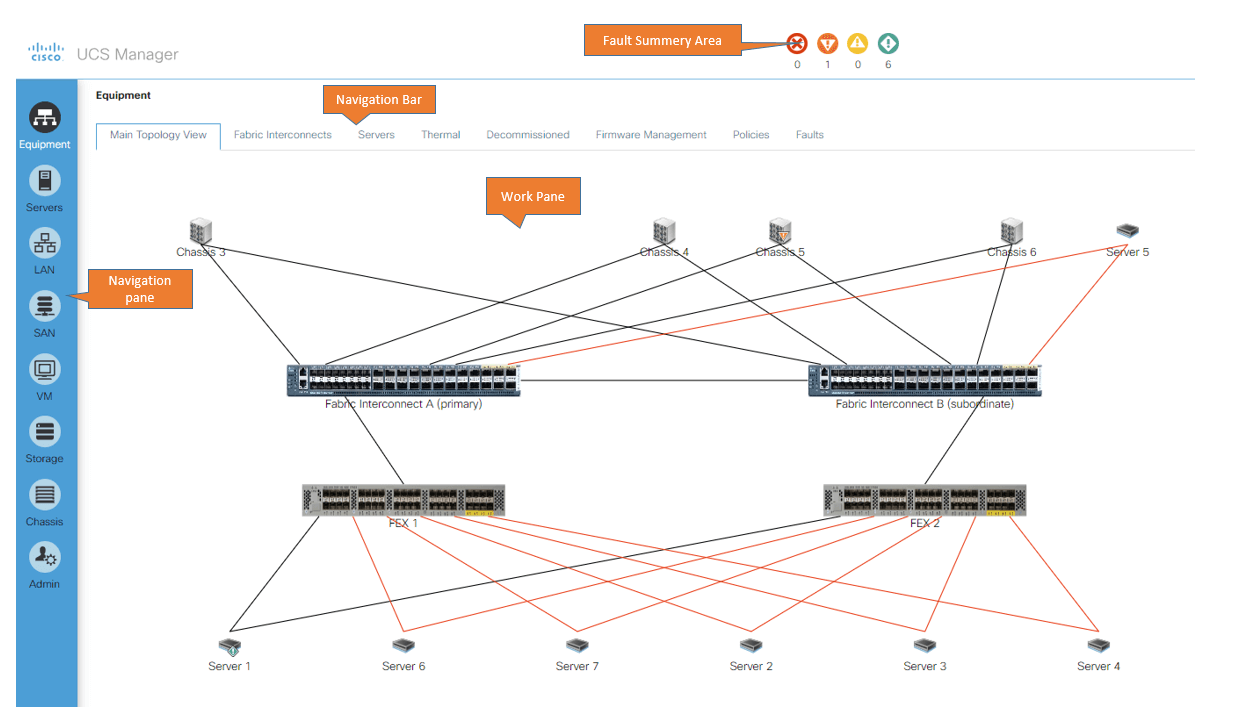 Navigation pane
Navigation pane provides navigation to all equipment and components such as resource pools, policies and so on. It provides access to Server, LAN, SAN, Admin tabs from where all LAN, SAN, Integration with virtualization platform (VMware) and management policies can be configured.
Below figure shows the details of Navigation pane, which as access to Equipment, LAN, SAN, Server, Admin etc.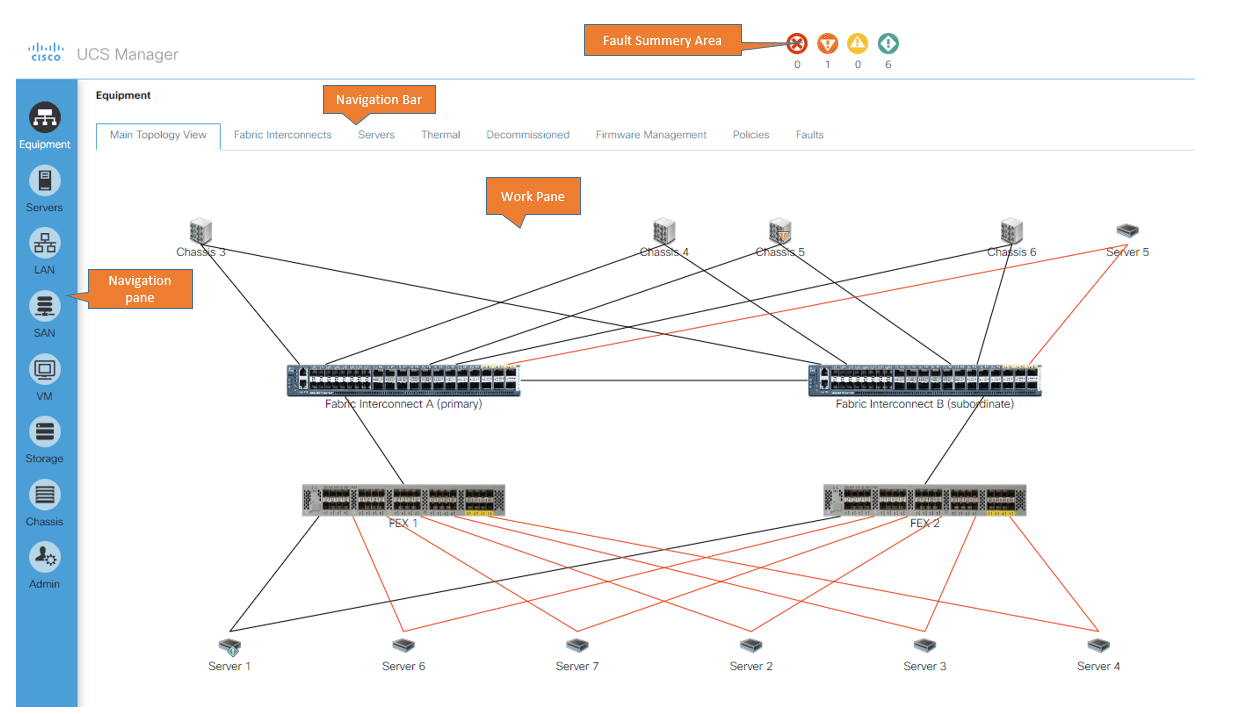 The Equipment Tab
Equipment tab provides list of all Physical hardware of the UCS components including Chassis, FEXs, blade server, rack mount servers, FIs, and other hardware. It also represents how they are connected to each other. If any type of failure happens, it can be easily detected with red, orange, yellow, or blue rectangle on particular piece of equipment.
We can also get details of each hardware, by clicking on each specific equipment. As example, if we click on UCS chassis 3, it will show specific details of Chassis 3 only, as shown in below figure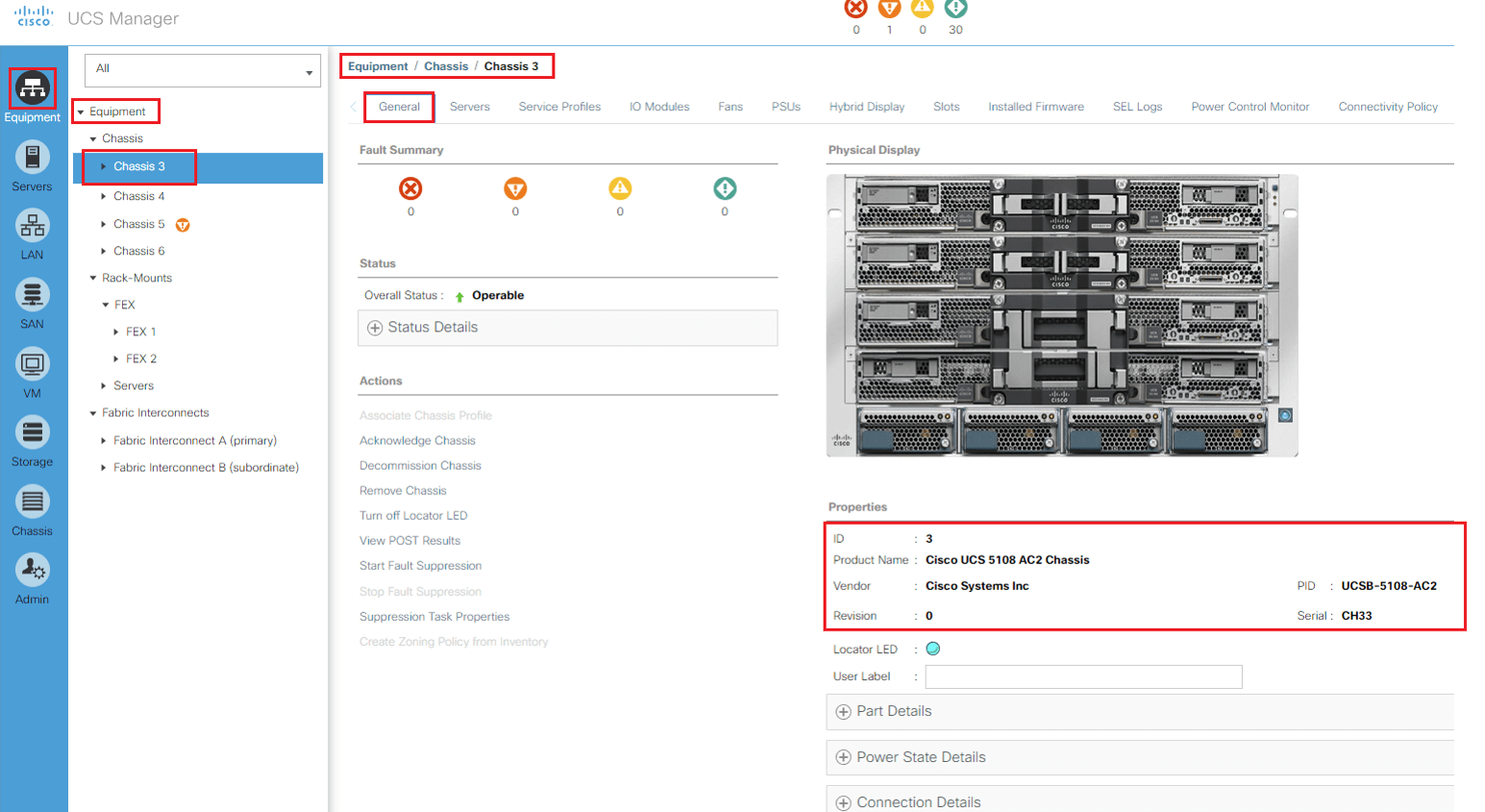 Main nodes under the equipment tabs are listed as follows:
Chassis
Rack-Mounts
Fabric Interconnects
Now when we click on Fabric Interconnects, it will show the details of Fabric Interconnects.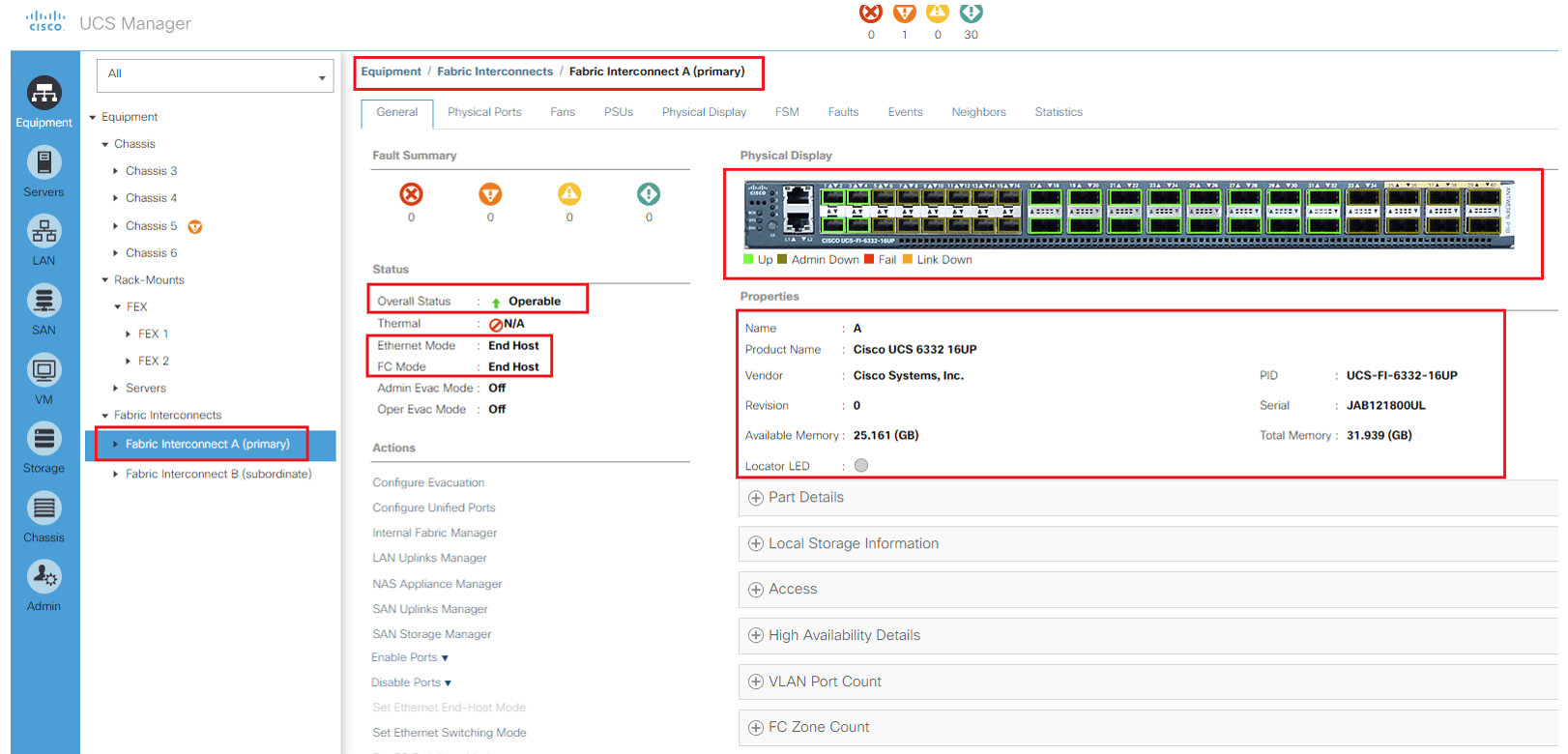 The Server Tab
Server tab provides server-related software configuration and components such as Service profiles, Service profile Templates, Policies, and Pools. All Server software configuration via service profile for physical servers.
The main node under this tab are as follows:
Service Profiles
Service profile Templates
Policies
Pools
Schedules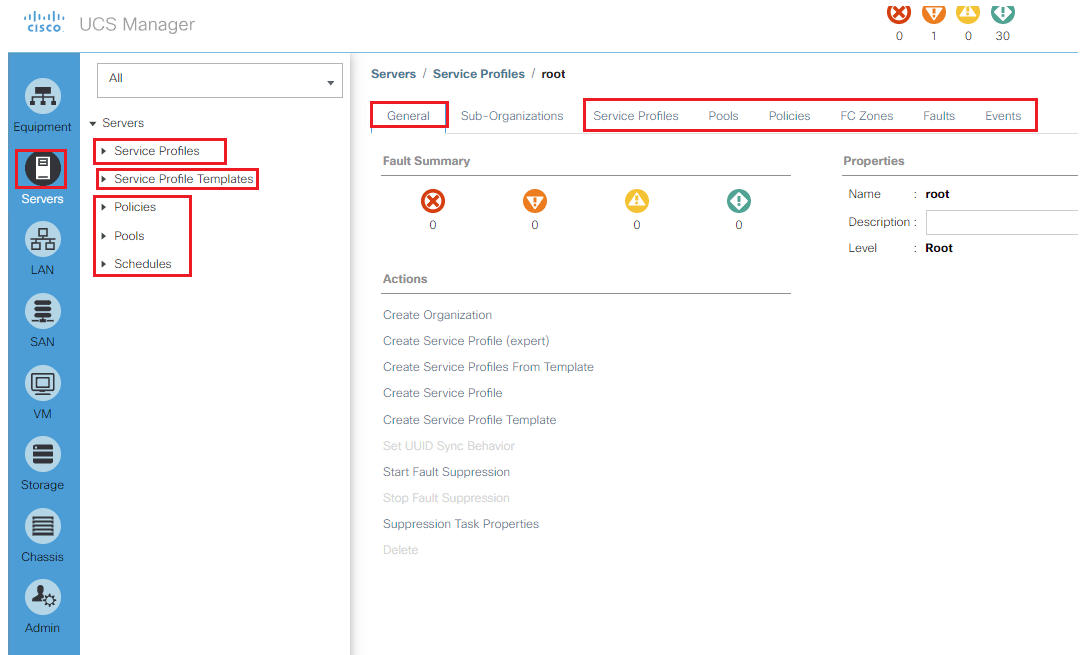 The LAN Tab
With the help of Lan tab, we can configure network related configuration like, VLANs, vNIC templates, LAN policies, pin groups, Qos Policies, Mac pools. vNICs created as templates can be assigned to configure virtual server vNICs for service profiles under the Server tab. Network-related policies configured under the LAN tab are also assigned to Service Profiles
Main Modes under this tab are Listed as follows:
LAN Cloud
Appliances
Internal LAN
Policies
Pools
Traffic Monitoring Sessions
Netflow Monitoring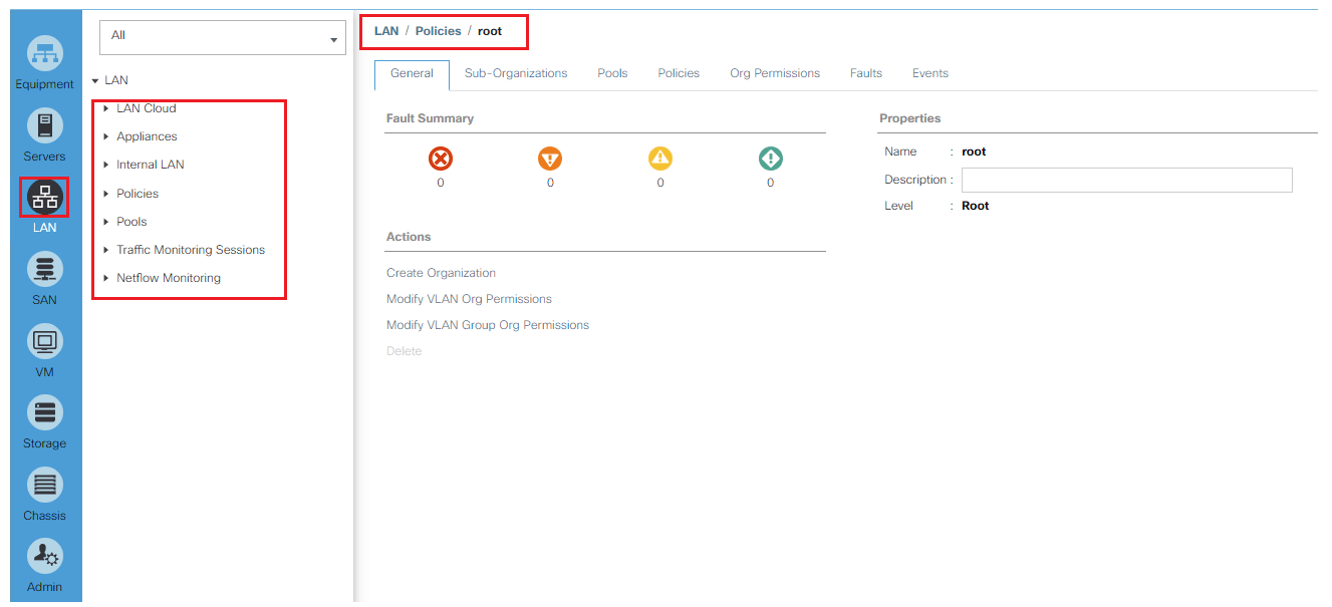 The SAN Tab
With the help of SAN tab, we can configuration, SAN related information and configuration such as VSANs, Policies, Zoning Configuration and WWN pools. ---