UCS Architecture Components
Posted on Mar 23, 2023
(0)
UCS Architecture
As we know that Datacenter are built using different components like Network, Security, Layers of Operating system, Virtualization, backup, storage, compute and many more…
Cisco System around 2008 entered in server market and launched a product called Unified Computing Systems (UCS). It is revolutionary, next-generation, highly integrated platform for providing required computing resources and fulfill storage needs, along with centralized management of these resources. Cisco UCS reduces the total cost of ownership (TCO) and improves manageability, scalability and flexibility.
Cisco UCS servers are available in two categories: Blade Servers (B series) and rack mount servers (C Series). Both flavors are designed using same industry-standard components like Intel Xeon CPU. B Series Servers are Managed by UCSM, whereas C Series servers are managed either individually or can be integrated to UCSM.
Below figure described the physical Architecture of UCS B Series: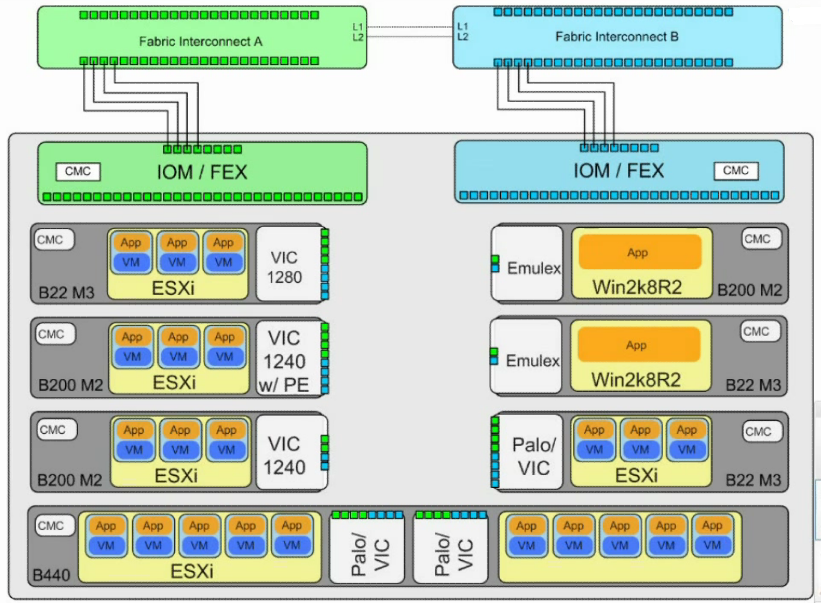 Cisco UCS Components
Cisco UCS has following main components:
Cisco UCS Manager (UCSM)
Cisco UCS Fabric Interconnects
Cisco UCS 5108 Blade Chassis
Cisco I/O Modules (IOMs)
Cisco UCS B Series Servers
Cisco UCS C Series Servers
Cisco Virtual Interface Cards
Let's understand one by one in brief manner, but we will understand these components in details in coming sections.
Cisco UCS Manager (UCSM): This Application is used to manage and monitors all components if Cisco UCS. In the last generation of Cisco UCS, the UCS-X, the UCS manager is replaced by Cisco Intersight managed module(IMM).
Cisco UCS Fabric Interconnects: It the Communication device and Provides community between Cisco UCS, LAN and SAN Infrastructure. Cisco UCS manager also runs on this platform.
Cisco UCS 5108 Blade Chassis: This is the box, that incorporate blade physical form factor and I/O module (IOMs). It also provides the connectivity, power supply, and cooling for blade servers.
Cisco I/O Modules(IOMs): These are said to be connectivity modules, also known as fabric Extenders(FEX) and are installed in blade chassis and provide physical connectivity between servers and FI.
Cisco UCS B Series Servers: These are B series servers that have smaller physical form factor. These series are installed in Cisco UCS blade servers.
Cisco UCS C Series Servers: These are called rack mount servers and are either managed by UCSM software or can also be managed in standalone mode by their own Cisco Integrated Management Controller (CISM).
Cisco Virtual Interface card: These are called as Cisco VIC cards or Mezzanine card, also called as CNA (Converged Network Adapter), used in Cisco UCS servers. It is used for LAN, FC, FCOE communication and also supports the Cisco VM-Flex technology for network connectivity, management up to the level of virtual machines.
UCS Generations
Cisco Has Introduced native end-to-end 40 Gig support in third generation of UCS. IN this it provides high density 40 gig ports in FI and I/O Module along with 80 gig Virtual Interface cards. These are below major changes done in third generation: ---