UCS SAN Connectivity
Posted on May 17, 2023
(0)
UCS SAN Connectivity Options
Cisco UCS also provide raw storage for both Virtualized and non-virtualized Servers. In Most UCS deployment, Virtualized environment, where virtual servers leverage or access many advances features of centralized storage, via FC, FCOE, iSCSI protocols.
Raw Storage is available in three different categories:
Direct-attached Storage (DAS): This type of storage is directly connected inside server through Motherboard. The cost and Performance of this storage depends upon the disks and RAID controller cards inside the servers.
DAS is less expensive, simple in configuration, but lacks in scalability, performance and advance feature provided by high-end storage solutions.
Network-attached storage: NAS is usually an appliance providing file system access. NAS devices are cost-effective devices, but do not provide high-performance, although they are high-capacity appliances.
NAS is moderate expensive, simple to configure and provide some advance feature, but lacks in scalability, performance, and advance feature provided by SAN.
Storage Area Network (SAN): It provides remote raw block-level storage to the connected servers. SAN provide maximum reliability, expendability, and performance. The cost of SAN is highest among other to.
SAN is most resilient, highly scalable and high performance storage.
FC and iSCSI are the two main protocols for SAN connectivity. FC has its own standards and protocols provided by IEEE whereas iSCSI runs on top of standard Ethernet protocols. Both FC and iSCSI encapsulate Small Computer System Interface (SCSI) protocol commands.
iSCSI storage can be connected either with Fabric Interconnect or through network switches to provide enterprise storage capacity to compute servers. UCS Servers can access the iSCSI storage similar through both software and hardware based iSCSI initiator that can be easily created through service profiles on Cisco VICs.
Alternative options for massive storage requirement can be fulfilled by connecting recently launched Cisco UCS S3260 dual node storage servers to Fabric Interconnect. Each server is capable of providing 600 TB data storage and can be expanded up to 3 PB with multiple servers connected to it. The S3260 can be best fit for the scale-out storage requirements of any enterprise.
What is SCSI:
SCSI (pronounced as scuzzy) is an industry standard protocol for attaching various I/O peripherals such as printers, scanners, tape drives, and storage devices. The most common SCSI devices are disks and tape libraries.
SCSI has evolved from parallel, daisy-chained SCSI to serially attached SCSI (SAS). Older parallel SCSI specifications are defined as Ultra-1, Ultra-2, Ultra-3, Ultra-320, and Ultra-640, whereas the new SAS specifications are defined as SAS 1.0, 2.0, and 3.0. These specifications differ in speed and other performance enhancements. SCSI hard disks are superior in terms of performance and reliability as compared with ATA (PATA and SATA) drives. SCSI drives are commonly used in enterprise-grade SANs because of their reliability and speed.
In the SAN world, SCSI is the core protocol to connect raw hard disk storage with the servers. In order to control remote storage with the SCSI protocol, different technologies are used as wrappers to encapsulate these commands
Fibre Channel Introduction
The SCSI protocol was initially used inside computers to connect hard disks at a higher speed. Later, SANs were built where storage was separated from the computers and consolidated. The FC protocol provided the infrastructure to encapsulate the SCSI traffic and provided connectivity between computers and storage. FC operates at speeds of 2, 4, 8, and 16 Gbps.
FC consists of the following:
Hard disk arrays: They provide raw storage capacity
Storage processors: They manage hard disks and provide storage LUNs and masking for the servers
FC switches (also known as fabric): They provide connectivity between storage processors and server HBAs
FC host bus adapters: They are installed in the computer and provide connectivity to the SAN
FC identifies infrastructure components with World Wide Numbers (WWNs). WWNs are 64-bit addresses, which uniquely identify the FC devices. Like MAC addresses, they have bits assigned to vendors to identify their devices. Each end device (such as an HBA port) is given a World Wide Port Number (WWPN or pWWN) and each connectivity device (such as a fabric switch or multiport HBA) is given a World Wide Node Number (WWNN).
An FC HBA, used for connecting to a SAN, is known as an initiator, and an FC SAN, providing disks as LUNs, is known as a target.
What is iSCSI
The Internet Small Computer System Interface (iSCSI) is SCSI over IP that sends SCSI commands using the TCP/IP protocol suite.
FC SANs typically have a very high cost because the FC equipment is specialized. In comparison, iSCSI provides a cost-effective alternative to FCs because of the low cost of Ethernet equipment; also, the abundance of Ethernet experts, as compared to FC, keeps the administration costs low.
Over the years, iSCSI performance and efficiency has improved. In fact, with the latest 10 Gbps implementation and future 40 Gbps/100 Gbps implementation with Data Center Bridging (DCB), it is now a serious competitor to FC.
iSCSI consists of the following:
Hard disk arrays: They provide raw storage capacity.
Storage processors: They manage hard disks and provide storage LUNs and masking for the servers.
Ethernet switches: They provide connectivity between storage processors and server HBAs.
iSCSI host bus adapters: They are installed in a computer and provide connectivity to the SAN. Most operating systems provide software implementation of iSCSI in order to utilize the regular Ethernet NICs, eliminating the need for hardware iSCSI HBAs.
Fibre Channel over Ethernet
Ethernet is widely used in networking. With some advancement such as DCB and Priority Flow Control (PFC) in Ethernet to make it more reliable for the data centre, FC is now also implemented on top of Ethernet. This implementation is known as FCoE.
In FCoE, fabric switches can be replaced with standard Ethernet switches, which are more cost effective. Also, the future development road map for Ethernet provides much higher speeds (40 Gbps and 100 Gbps) as compared to a native FC.
UCS Storage Connectivity Design
Below are some SAN Connectivity design considerations:
Northbound storage physical connectivity does not support vPCs like LAN connectivity, where you can have cross-connected vPCs for redundancy.
Depending on the storage type, port channeling or trunking is possible to combine multiple storage uplink ports that provide physical link redundancy.
Redundancy of storage resources is handled by the storage itself and varies from vendor to vendor including active-active, active-passive, Asymmetric Logical Unit Assignment (ALUA), and vendor specific implantations such as EMC PowerPath.
Storage can be connected through northbound Cisco Nexus, MDS or third-party fabric switches. This is the recommended configuration for better scalability and performance.
It is possible to connect storage directly to UCS Fabric Interconnects, which is recommended for small implementations because of FI's physical ports consumption and increased processing requirements. Prior to UCSM Version 2.1, it was necessary to have a northbound Nexus or MDS switch to provide zoning configuration.
Software configuration including VSANs and zoning is required for providing access to storage resources.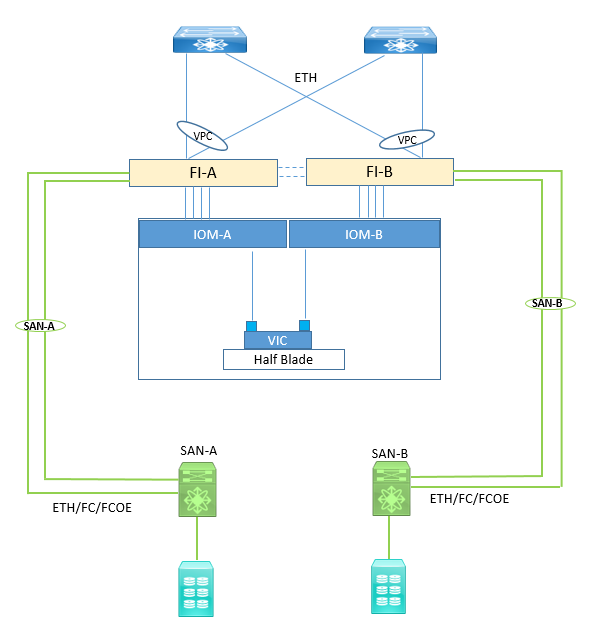 FC Switching Mode
UCS Fabric Interconnects support two types of switching modes: FC EHM and the FC switching mode. The default switching mode is an end-host mode where UCS appears as a number of hosts attached to the upstream switch. This is also known as N-Port Virtualization (NPV) and requires an NPIV-capable fabric switch for providing the fiber login services.
The other option available is the native FC switching mode where UCS Fabric Interconnect appears as a native FC fabric switch. Switching between FC modes is a disruptive process and hence should be arranged in a scheduled maintenance window. ---