Test & Monitor Client Based Access
Posted on Jun 10, 2020
(0)
LAB:Test & Monitor Client Based Access
Topology:
Below is the topology provided to configure in lab

Task:
Access the Network via employee account and this session has been processed for compliance via Cisco AnyConnect Unified Agent
Configure Remediation against your Compliance requirements based on instruction via Cisco AnyConnect Unified Agent.
Solution:
In this lab we will perform client based access, utilizing the previously configured posture compliance configuration and checking for client compliance.
Cisco Any Connect Agent Access:
Navigate to policy | Client Provisioning | Enable AC Employee Win All rule, if not enabled.

Navigate to Work center | Posture | Posture Policy | enable the AD Win 7 Users AV.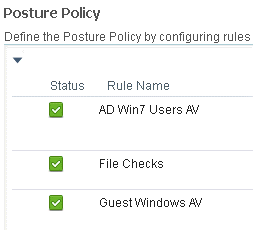 Scroll Down and Save.
Login to Corp-PC, login to demo\employee1 | Open the Web Browser and browse https://www.cisco .com, here you will be redirected to Client Provisioning portal and security notices if presented. | Click Start for any notification for device check.
This will process to detect if any connect posture Agent is installed. Once prompted click this is My First time here.
In the Instruction, Click the hyperlink Click here to download, install Any Connect | Click Save file.
Double click on the file and RUN. ---