Gateway
Posted on Jan 17, 2020
(0)
NSX Edge Service Gateway Firewall Configuration
Task:
Create Rule name DCLessons FW Rule with source 192.168.110.10 and destination Web_Tier_Logical_Switch with action Reject

Test the FW rule

Again Change the action to Accept and again test the traffic from 192.168.110.10

Delete the Rule just created.
Solution:
The NSX Edge Firewall monitors North-South traffic to provide perimeter security capabilities. Whereas NSX Distributed Firewall, where policy is applied at the virtual NIC of every VM.
When rules are created in the NSX Firewall user interface that are applicable to an NSX Edge Gateway, they are displayed on the Edge in read-only mode. When rules exist in multiple locations, they are displayed and enforced in the following order:
User-defined rules from the Firewall user interface (Read only).

Auto-configured rules (automatically created rules that enable control traffic for Edge services).

User-defined rules on NSX Edge Firewall user interface.

Default rule.
Solution: Follow the following steps:
Click Home
Click Networking & Security.
Click NSX Edges.
Double-click Perimeter Gateway-01.

Click Manage.
Click Firewall.
Click to select Default Rule.
Click the pencil icon under the Action column.
Select Deny in the Action field.

Don't revert the changes as we are not going to changes in FW rule configuration.
Adding Edge Services Gateway Firewall Rule
We will add a new edge firewall rule to block the Control Center's access to the Customer DB Application.
Click Green Plus icon to add a new firewall rule.
Hover mouse over the upper right corner of the Name column and click the pencil icon.
Enter Main Console FW Rule as the Rule Name.
Click OK.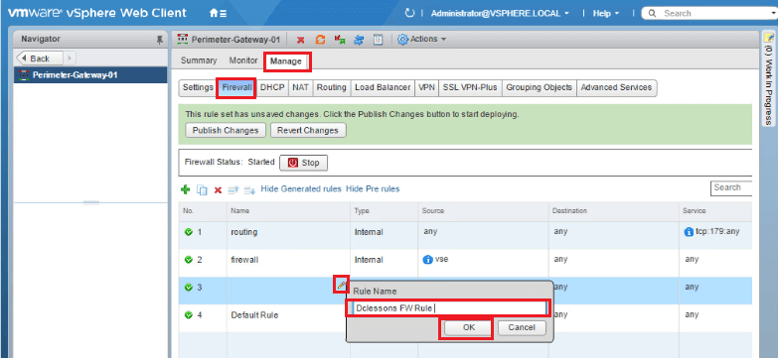 Hover mouse in the upper right corner of the Source column and click Pencil icon.
Click Object Type drop down menu and select IP Sets.
Click New IP Set... hyperlink.
Enter Main Console as the Name.
Enter 192.168.110.10 as the IP address.
Click OK. ---