LAB NSX DFW Configuration
Posted on Jan 17, 2020
(0)
NSX DFW Configuration
Task:
Verify that web-01a is able to reach to web-02a , app-01a and db-01a Subnet for these three servers are

Web : 16.10.0/24

App: 16.20.0/24

DB: 16.30.0/24

Create a 3-tier Security Group named DCLessons-Web-Tier-SG and select object type VM , and then select both web-01a, web-02a

Create Three Tier Access Rule name DClessons-3tier-rule with source any, destination DCLessons-Web-Tier, and enable Service HTTPS, SSH

Create another new Rule, to allow Web Security Group to allow access to App Logical Switch over port 8443.

Create Another Rule to allow App-Logical Switch to access DB-logical Switch DB switch over port 80.

Test the connectivity
Topology: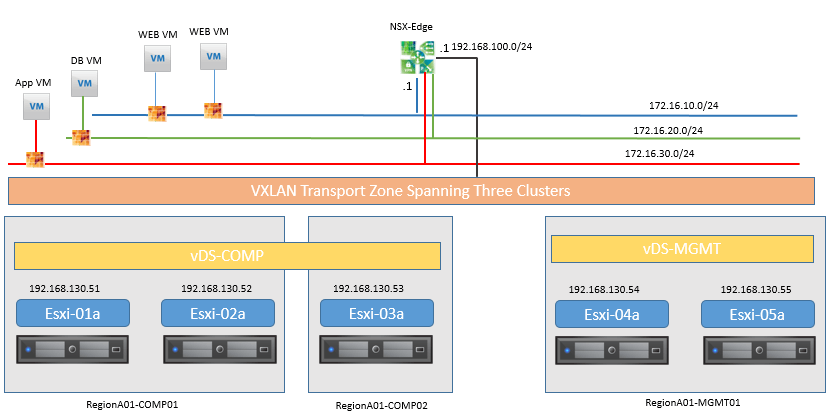 Solution:
Login to the vSphere Web Client
Test 3-tier VM to VM connectivity using Putty | Click on the PuTTY shortcut on the desktop taskbar
Select web-01a.corp.local
Click on Open
First you will show that web-01a can Ping web-02a by entering :
ping -c 2 172.16.10.12
Now test connectivity between web-01a to app-01a and db-01a:
ping -c 2 172.16.20.11

ping -c 2 172.16.30.11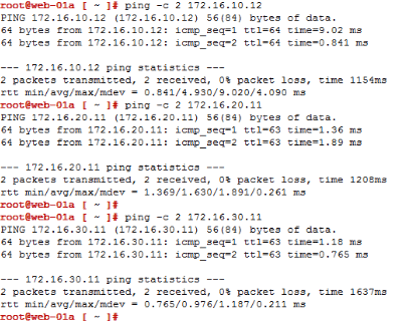 Create 3-Tier Security Groups
Click Home | Networking & Security | Click on Service Composer.
Select Security Groups. Note: there may be existing security groups to be used in another lab module
To add a new security group click the + ADD icon

Once selecting the + Add then choose Name this first group "DClessons-Web-Tier-SG"
Click the "Select objects to include" section
Pull down the Object Types and select Virtual Machines
You can filter by typing "web" into the search widow
Select web-01a
Click the Right Hand arrow to push the VM to the Selected Objects window
Repeat for web-02a
Click Finish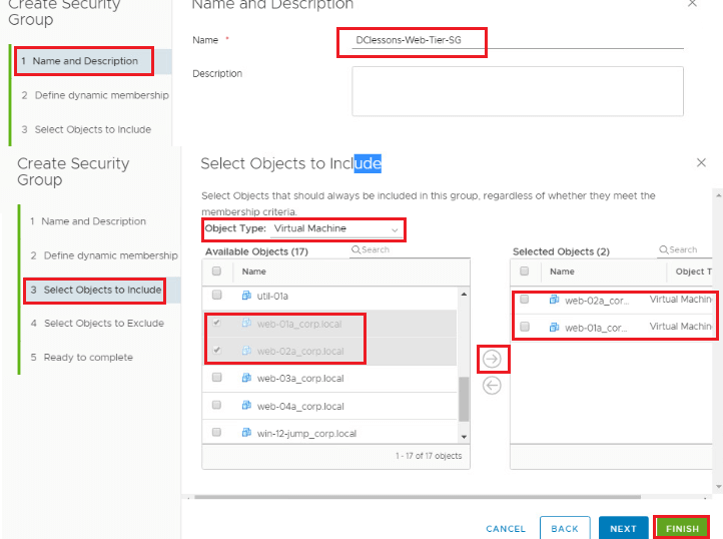 Create 3-Tier Access Rules
On the left hand menu, select Firewall
In middle of screen select the + ADD SECTION button to add another Firewall

section above the "Flow Monitoring & Trace Flow Rules-Disabled by Default (Rule 1)" row
Add New Rule Section for 3-Tier Application
Name the section "DClessons-3-Tier-Rule"
Select Add button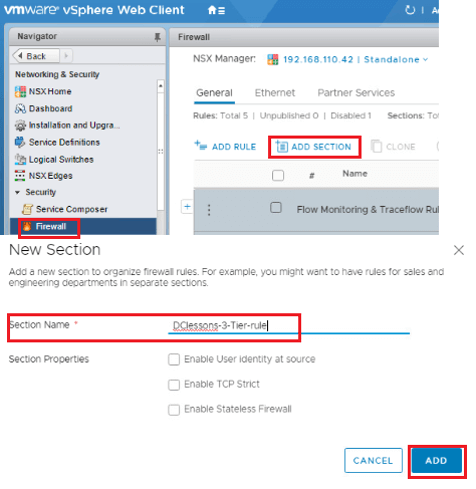 On the new "Dclessons-3-Tier-rule" section please choose the three dot as indicated with the arrow
Click on the Add rule icon
Notice new default rule under the section called "Dclessons-3-Tier-rule"
Click Name area of the new rule "[Enter rule name] to change to new name

Enter "Ext to Web" for the name
Click on Enter Key of your keyboard
Source: Leave the Rule Source set to any.
Hover the mouse pointer in the Destination field and select box to modify
Destination from Any to security Group SG which was created Earlier: DClessons-Web-Tier-SG
Pull down the Object Type and scroll down until you find Security Group
Click on DClessons-Web-Tier-SG
Click on the top arrow to move the object to the right
Click SAVE

Edit Service
Again over in the Service field and click on the box to change from Any
Enter "https" and press enter to see all services associated with the name https
Select the simple HTTPS service
Click on the top arrow
Repeat the above steps 1-3 to find and add SSH.
Click SAVE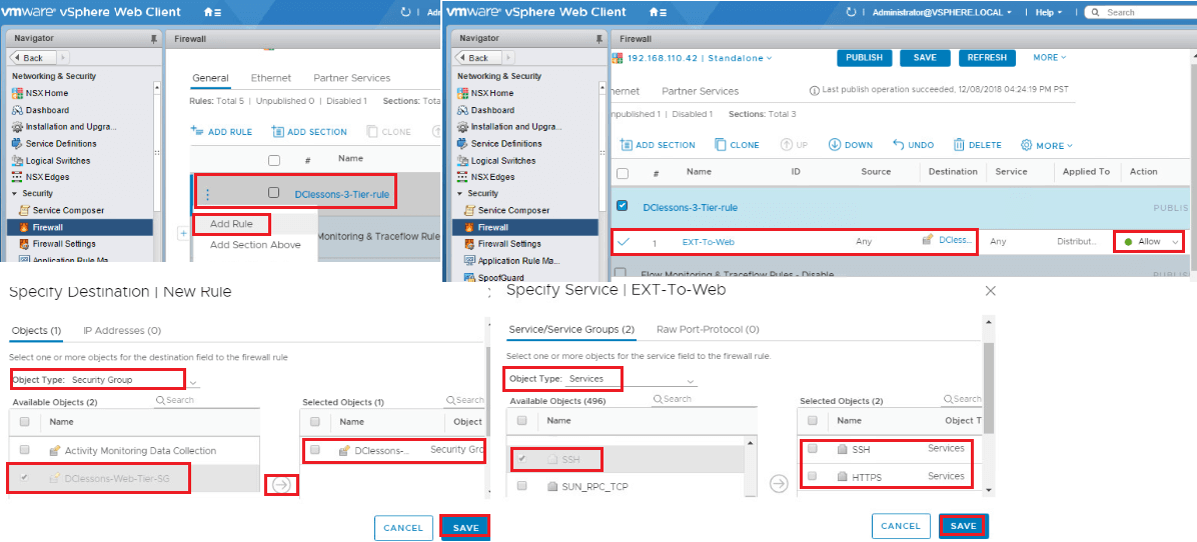 You will now add a second rule to allow the Web Security Group to access the App Security Group via the App port.
Start by selecting the three dots next to "Ext to Web" rule as shown

You want this rule to be processed below the previous rule so choose Add Below from the drop down box
As you did before hover the mouse over the Name field and click the pencil.
Enter "Web to App" for the name
Choose Web-tier Security Group for the Source field
Hover over the Destination Field - Click the Destination to edit from Any
Scroll down in the Object Type drop-down and click on Logical Switch choice
Select App_Tier-Logical_Switch
Click on the top arrow to move the object to the right
Click SAVE
Click the "Service Field" to edit from Any Click on New Service
Enter MyApp for the new service name
Select TCP for the Protocol
Enter 8443 for the Port number
Click ADD
Click Save finally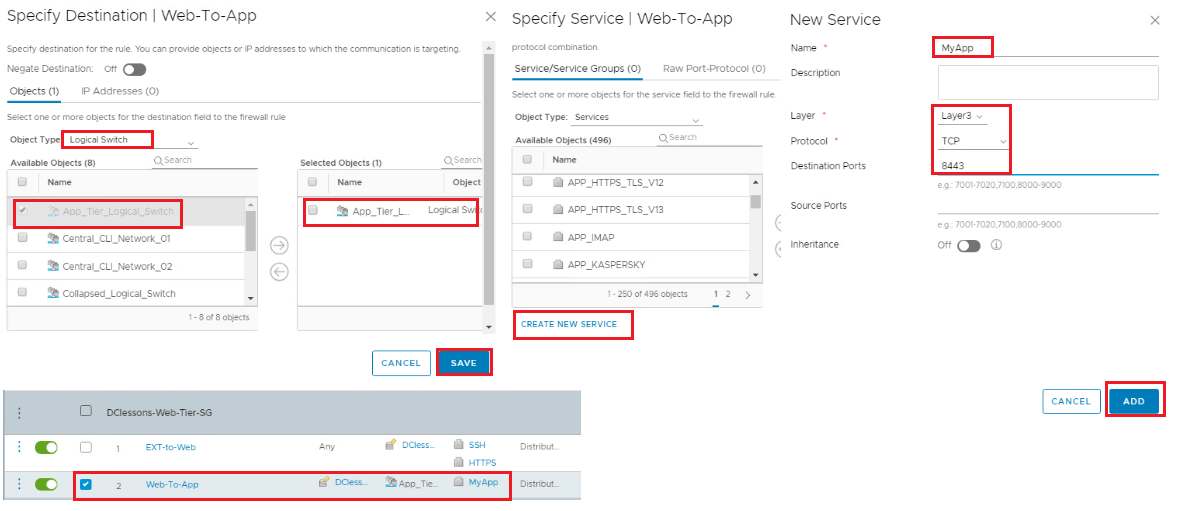 Create Third Rule: Allow Logical Switch App to Access Logical Switch Database
Repeating the previous steps: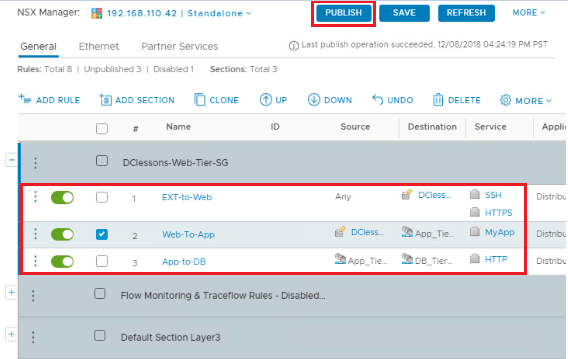 Your new rule should look like the one listed in the above example.

Publish Changes
Verify New Rule Allow 3-Tier Application Communication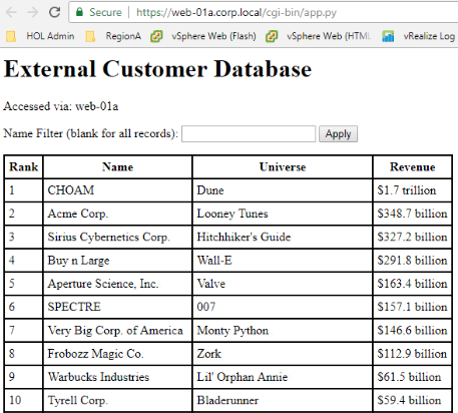 Ping Test between Tiers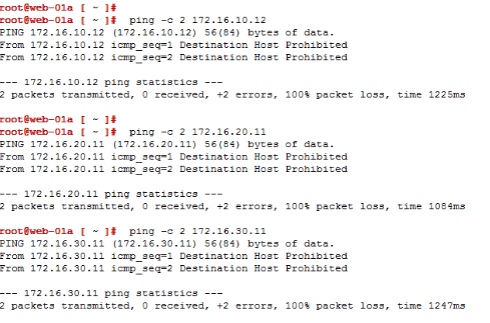 ---
---