LAB NSX Dynamic Security Group Configuration
Posted on Jan 17, 2020
(0)
NSX Dynamic Security Group Configuration
Task :
Create a Dynamic Security Group named DCLessons-DY-Web-SG and match the condition definition based on Platform VMware , VM which has name starting Web , comes under this Security Group.

Now restrict the web-01a to talk to wab-02a by creating Security policy and by Appling it to above Security Policy Group.
Solution:
Click the Service Composer on the left panel
Ensure Security Groups tab is selected
Select +ADD to create new Security Group
Enter "Dclessons-DYWeb-SG " Security Group in the Name dialog box
Click Next
Open the Object Drop Down box
Select VM Name from the first Criteria Details drop down list
Verify Contains is selected in the middle drop down of the page
Enter web in the dialog box
Click Finish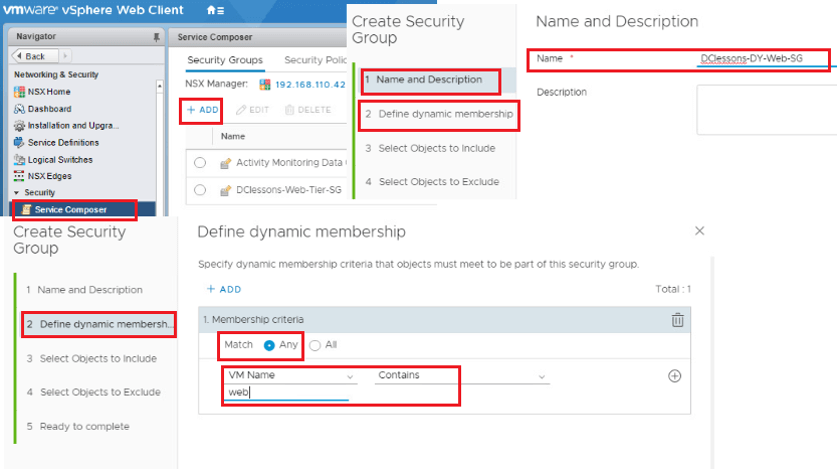 Validate Dynamic Security Group Membership
Select Groups and Tags
Notice newly created Security Group with NO Static Members

Dynamic Security group has been defined with criteria

Double click on "1 Criteria" to see the logic for this dynamic security group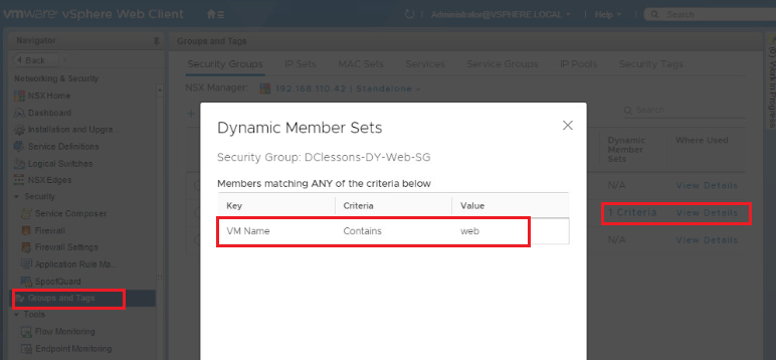 Create a New Security Policy
Select Service Composer
Select the Security Policies tab in the Service Composer panel
Click +ADD to create Security Policy
Type in "Block Web-to-Web Traffic" in the Name field
Click Firewall Rules in the left panel
Click the +ADD icon to add a New Firewall Rule
Type in "Block Web-to-Web Traffic" in the Name field
Select Block from the Action list
For the Destination field, change Any to Policy's Security Groups
Services select Any
Select State - Enabled
Log - No
Select OK for New Firewall Rule

Click Finish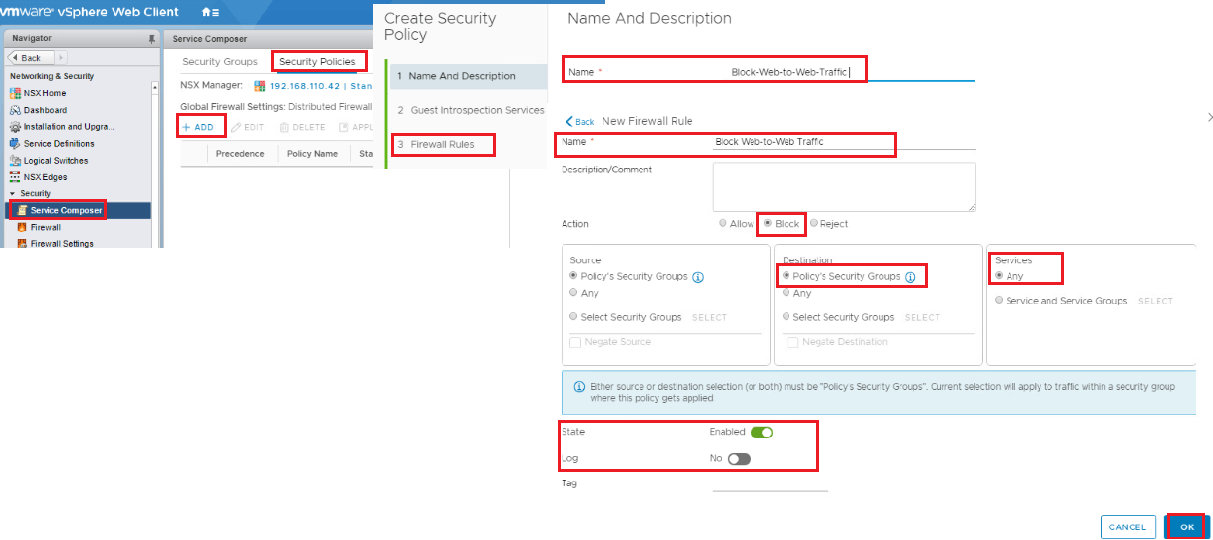 We are going to apply this Security Policy to the Policy's Security Group, which is now defined as the Source and Destination for our Firewall rule.
Apply the Security Policy to a Security Group
Highlight the Block Web-to-Web Traffic security policy
Click the Apply Security Policy icon
Select the Dclessons-DY-Web-SG
Select Arrow to move over to Selected Objects
Click APPLY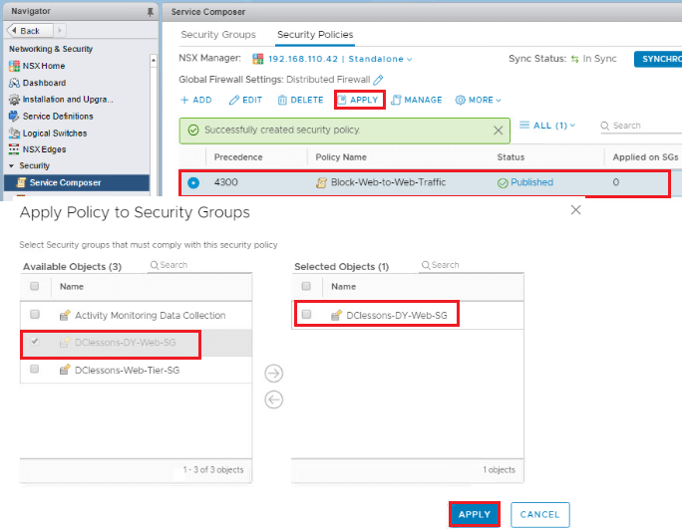 This information verifies that our rules have successfully synced with the Firewall rules in NSX, and are being correctly applied to the Security Groups
Click on Firewall
Expand the firewall section "Block Web-to-Web Traffic" and verify the rules Creation
Test Web VM to Web VM connectivity using Putty

---
---