LTM Initial Access & Installation
Posted on May 26, 2021
(0)
LAB: LTM Initial Access & Installation
Topology: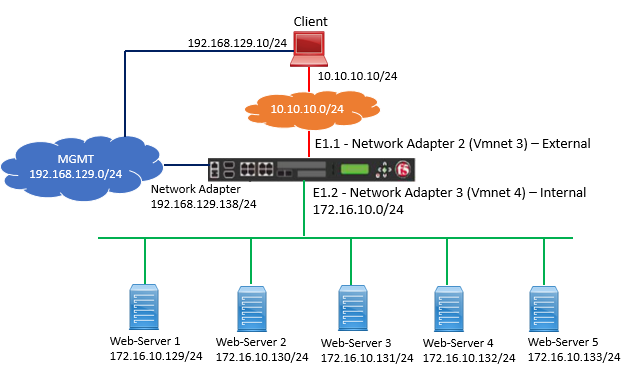 Task:
Deploy the VM LTM in ESXi or Workstation
Install License on F5 VM appliance
Configure networking and other settings as per topology described.
Solution:
Configure the Setting of F5 VM as per Diagram shown in Topology either in ESXi or Workstation.
Now let's go to each configuration one by one as described.
Access the BIG-IP LTM System
Login to Client Device and Click on Web Browser and Access F5 on following IP Https://192.168.129.138
With Username admin and Password XXXXXX (Set by admin).
By Default below password are used:
CLI:
Username: root
Password: default
GUI:
Username: admin
Password: admin

Here you will see that F5 Device is Not Licensed and is not Operational.
Licensing the F5 System
Under Setup Utility | Click Next
You will get License page, Click on Lisence | Activate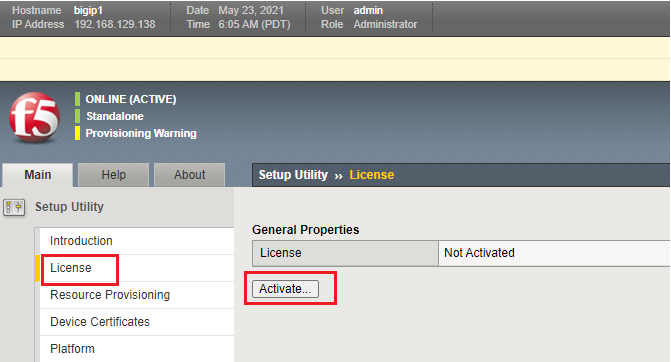 Under Base Registration key: Enter your Trail License Key, Select Activation method | manual
Here you will see Under General Properties | Step1: Dossier | Copy the Dossier | Click on Click here to access F5 Licensing Server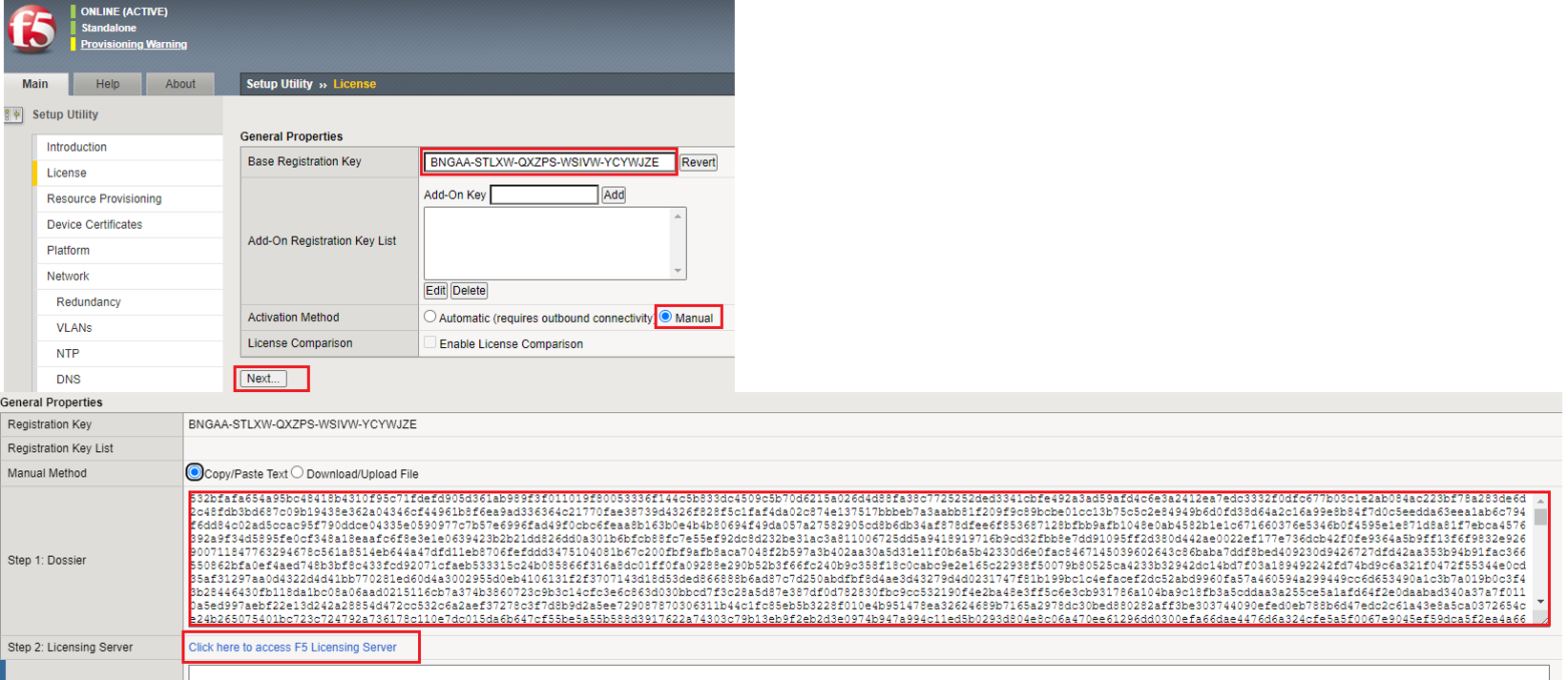 You will go to Activate F5 Product on F5.com page, here Paste your Dossier and Select | Next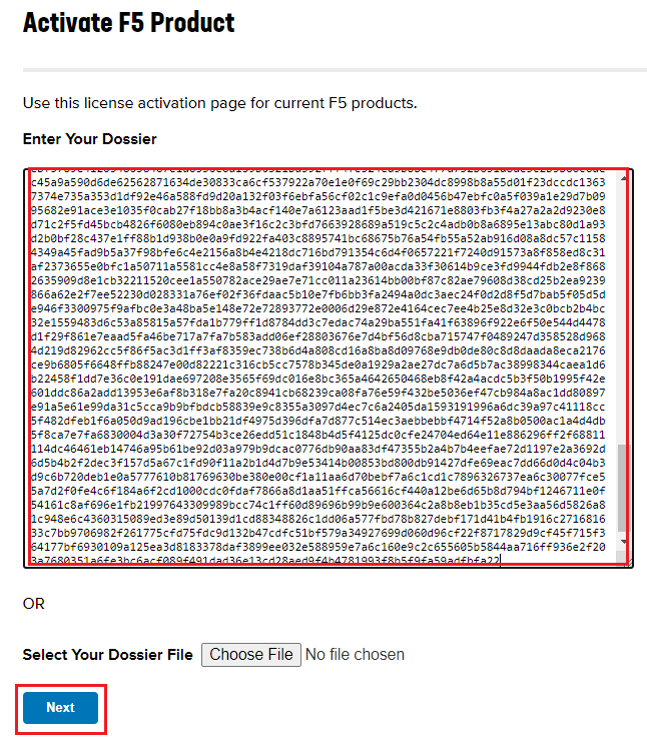 You will get the Actual License on F5.Com page, Copy that License and Paste it to Step3: License on F5 GUI | Next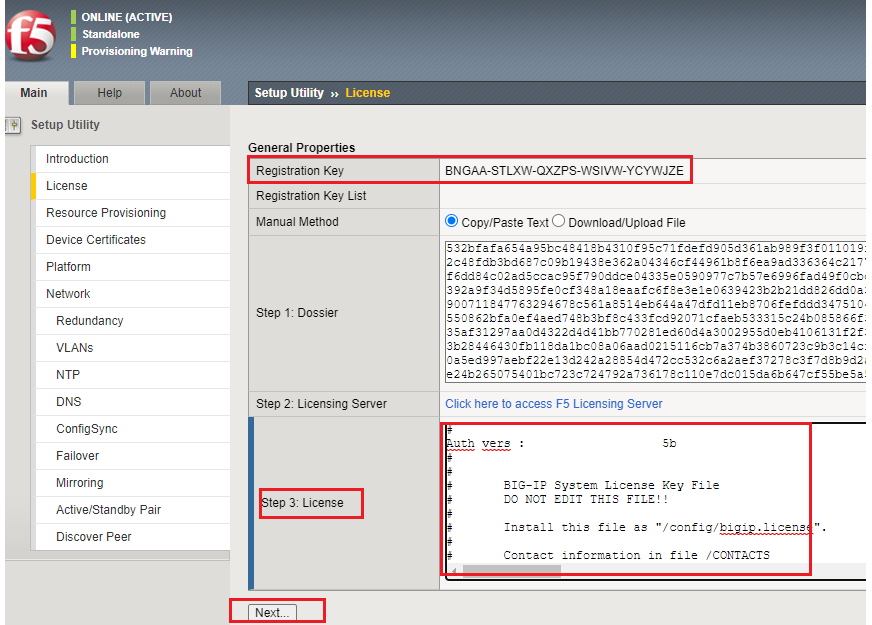 Now you will see, your F5 Virtual Appliance is licensed as shown in below figure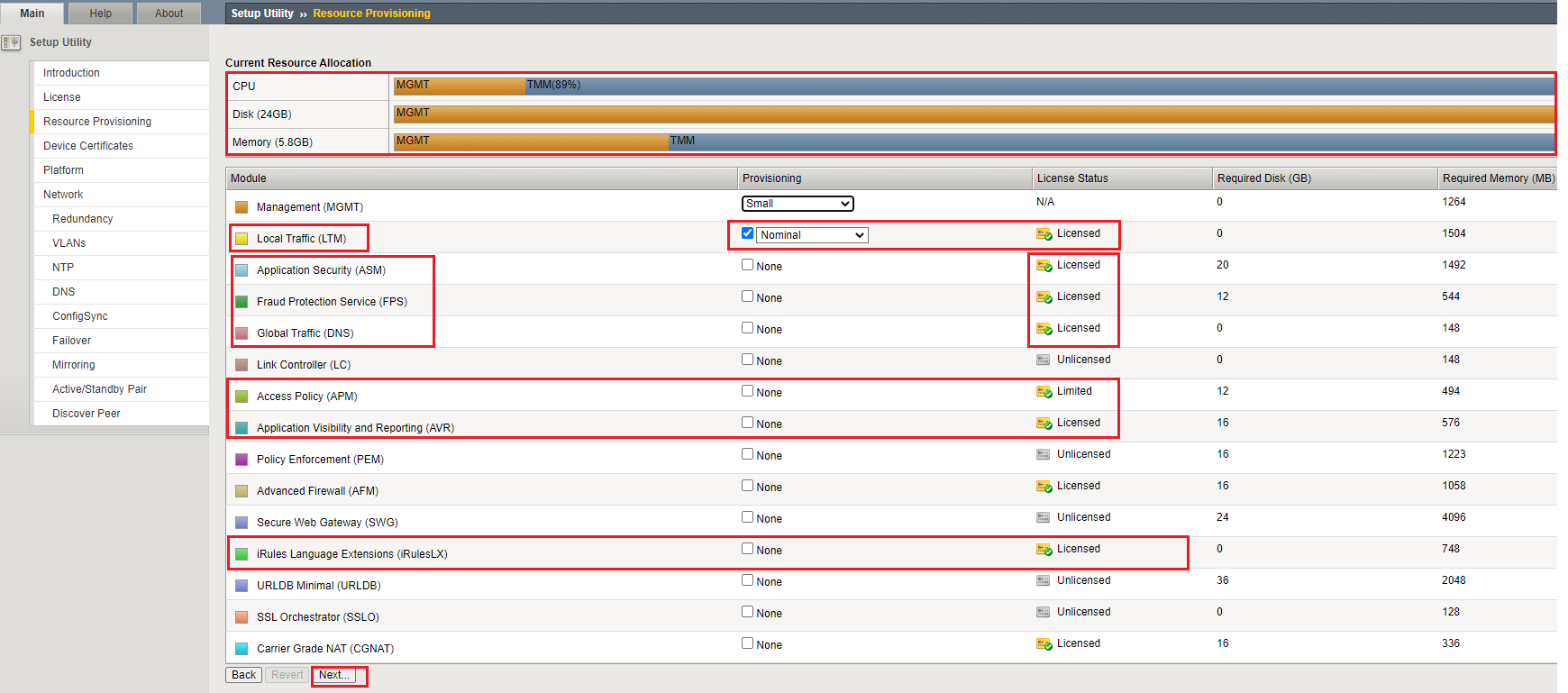 Network Setting Configuration on F5
Under Setup Utility configure following setting as being asked in below figure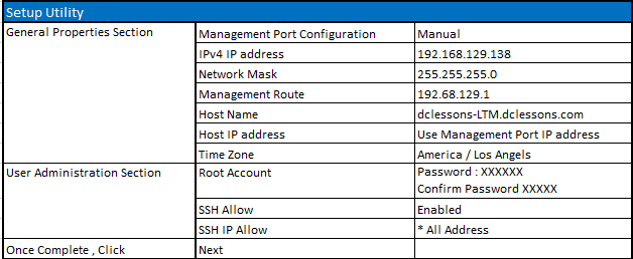 Refer Below figure to configure above task correctly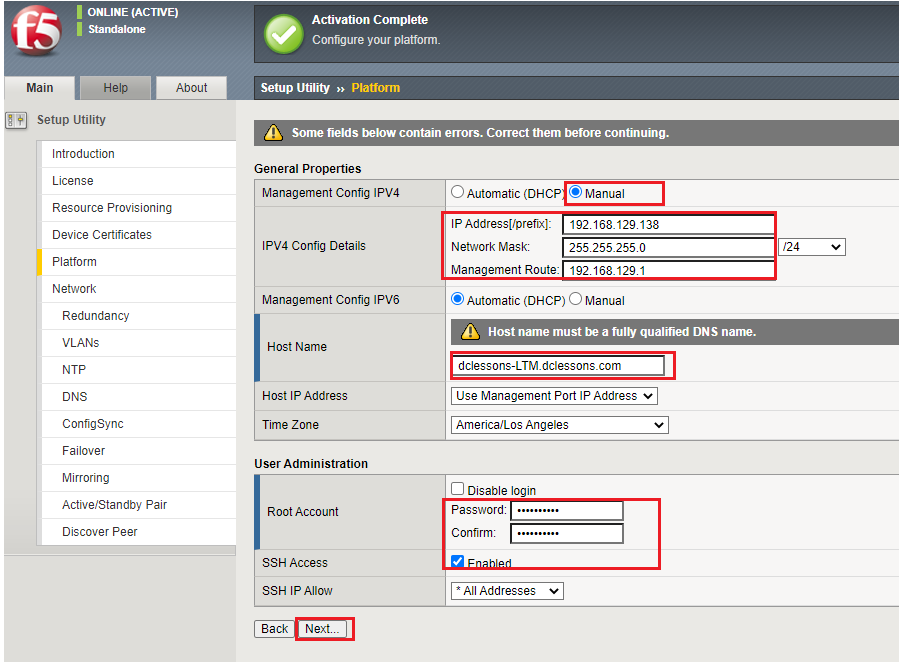 Once you click Next, In Standard Network Configuration Section, Click Next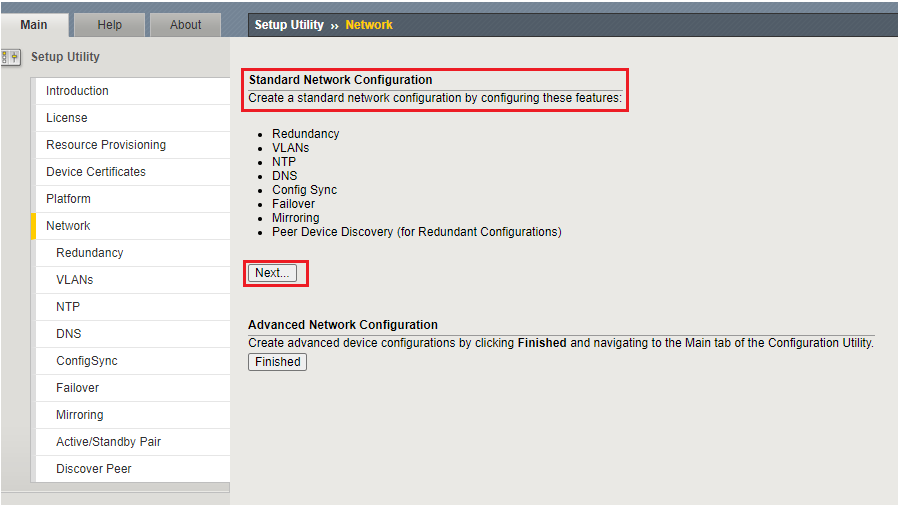 Under Redundant Device Wizard Options | Click on Both Option and Select HA: Failover Method: Network and Click Next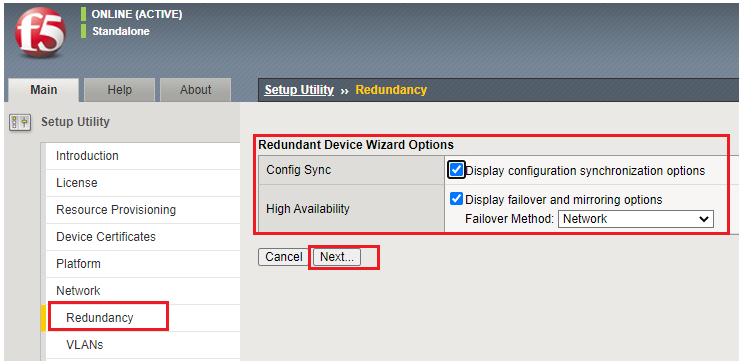 Configure Self-IP, VLANS, and High Availability
Configure Internal Network & VLAN by using following Setting:

Refer Below figure to configure above task correctly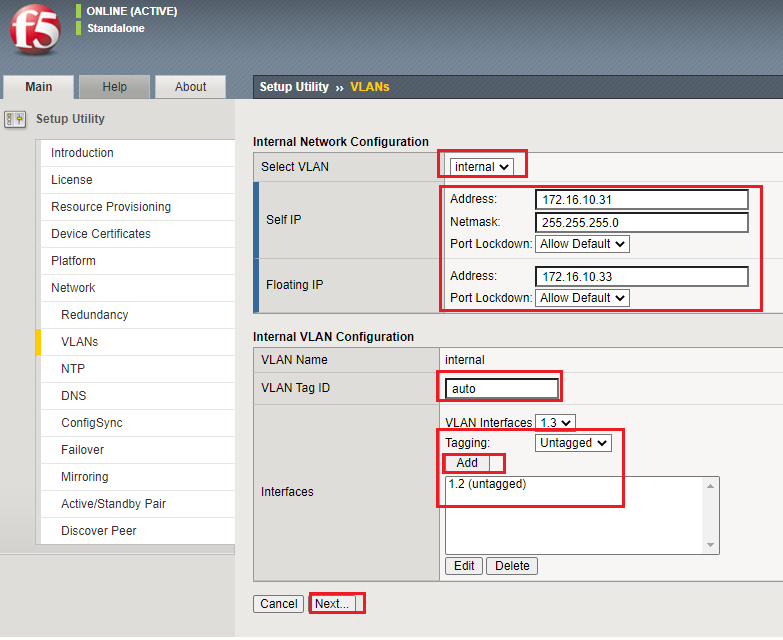 Configure External Network & VLAN by using following Setting:

Refer Below figure to configure above task correctly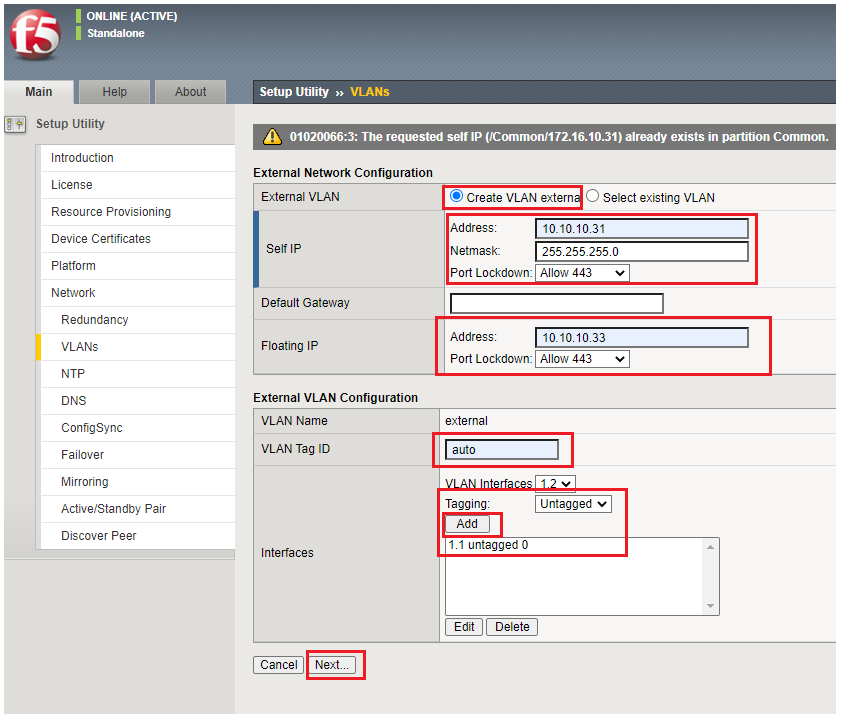 In next Setting, We will configure High-Availability Network to use existing VLAN – Internal , by using below setting

Configure ConfigSync, NTP, DNS ---