SD-WAN Connectivity with Azure Virtual WAN
Posted on Nov 28, 2022
(0)
SD-WAN Connectivity with Azure WAN
Azure Virtual WAN is designed in such a way that Enterprise can connect Branches based on SD-WAN and SASE Technologies.
Enterprises that are transforming their Private WAN to SD-WAN have the option to interconnect their SD-WAN with Azure Virtual WAN.
Below are some options available , which can be used to interconnect Enterprise SD-WAN to Azure Virtual WAN.
Direct Interconnect Model

Direct Interconnect Model with NVA-in-VWAN-hub

Indirect Interconnection Model

Managed Hybrid WAN Model
Direct Interconnect Model
Below Figure describes the Direct Interconnection Model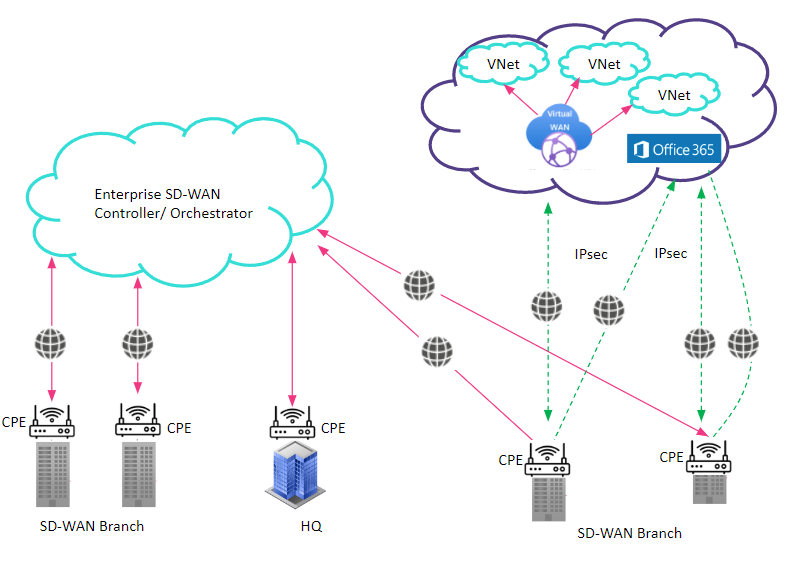 SD-WAN Branch CPE Equipment directly connected to Virtual WAN Hub via IPSec Connection

Branch CPE may also be connected to other branches via Private SD-WAN or Virtual WAN for Branch-to Branch Connectivity.

Branch need to access workload in Azure will directly and securely access to Azure via IPSec tunnels , which are terminated to Virtual WAN ( Hubs).

SD-WAN Vendors implement the most optimal path to Azure , based on traffic policies set by their policy engines on CPE link.

On Azure End all connections coming in are treated Equally.
Benefits:
SD-WAN CPE can be also used for Traffic Optimization and Path Selection

Dynamically best Link identification based on Traffic Priority

( Azure Path Selection ) Policy based path Selection across multiple ISP links from Branch CPE to Virtual WAN VPN Gateways.

Virtual WAN allows you to set up multiple link paths from the same SD-WAN branch CPE.
Limitation:
IPsec BW Limitation

Complex Routing

Vendor based traffic optimization techniques on real time traffic may not be supported because Connectivity to Virtual WAN is over Ipsec and IPsec VPN is terminated to Virtual WAN gateway.
Direct Interconnect Model with NVA-in-VWAN-hub
Below Figure describes the Direct Interconnection Model ---