Azure Virtual WAN and Remote Work
Posted on Nov 22, 2022
(0)
Azure Virtual WAN & Remote Network Connectivity
Nowadays , Enterprise scrambles to provide connectivity for remote users . Enterprises suddenly see the need to support a surge of users beyond what is planned. Now due to the current scenario, users need to connect from home and need to access the cloud application and also need to reach to On-Premises.
It is also required for users to access infra at cloud resources without having to set up connectivity between regions.
Solution to these requirements is Azure Virtual WAN - a networking service that includes networking , Security , and routing functionality together to provide a single operational interface.
These functionality include Branch connectivity via SD-WAN or VPN CPE , Site-to-Site VPN connectivity , Remote User VPN (Point-to-Site ) Connectivity, Private ( ExpressRoute ) Connectivity, Intra Cloud Connectivity ( Transitive Connectivity for Virtual network ) , VPN ExpressRoute InterConnectivity , Routing , Azure Firewall, Encryption for Private Connectivity.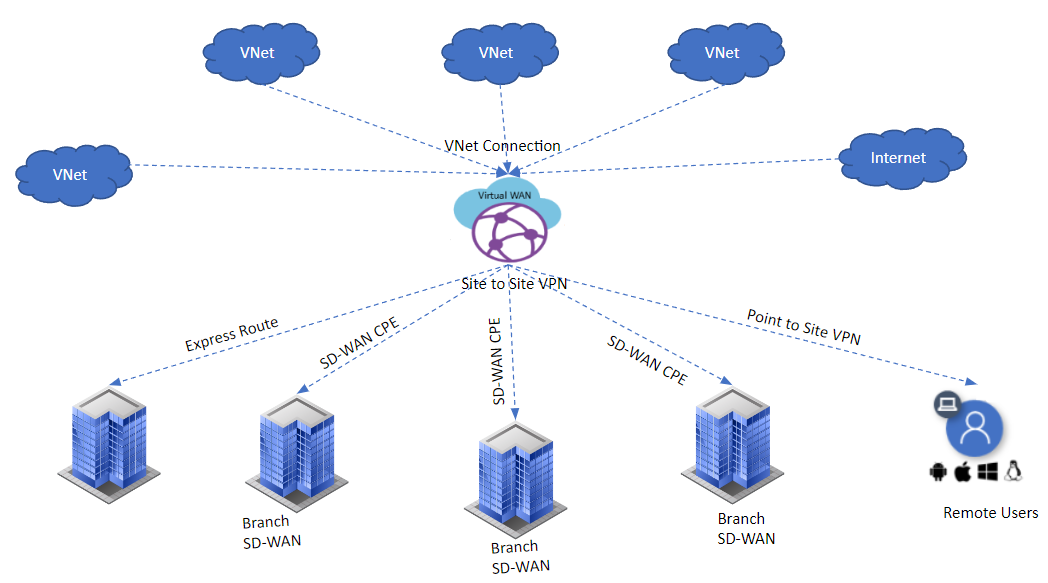 Remote user Connectivity Setup
Enterprises can connect to Azure resources over an IPsec/IKE(IKEv2) or OpenVPN connection.
For this to achieve , it requires a VPN client to be configured for the remote user. This client can be an Azure VPN Client or Open VPN Client or any other client that supports IKEv2. ---