ExpressRoute Checklist & Circuit Peering
Posted on Nov 12, 2022
(0)
Express Route Prerequisites & Checklist
Inorder to connect the Microsoft cloud via Express Route , below are some checklists and Prerequisites that need to be followed.
Azure Account
A Valid and Active Azure account is required , in order to set up the Express Route Circuit.

An Azure Microsoft 365 subscription is required if using Microsoft 365 Services.
Connectivity Provider
Enterprise can connect the Connectivity provider to connect to th eMicrosoft Cloud. If the provider is not an Express Route Connectivity Partner , Enterprise can still connect to Microsoft Cloud via Cloud Exchange Provider.
Network Checklists
Redundancy at Peering Location:

Microsoft requires redundant BGP sessions to be set up between Microsoft 's routers and the Peering routers on each expressroute circuit.

Redundancy at DR:

It is strongly recommended that Enterprise should set up at least two Express Route circuits in different peering locations to avoid a single point of failure.

Routing:

Routing needs to be set up and Enterprise should manage the BGP sessions for routing domains , in order to connect to Microsoft Cloud.

NAT:

Microsoft only accepts public IP addresses through Microsoft Peering . If an Enterprise uses the Private IP address in an on-premises network , the Enterprise provider needs to translate the Private IP address to public IP address using NAT.

QoS:

Various Services like Skype for Business , video , Voice , text that requires differentiated QoS treatment , Enterprise Service Provider must follow QoS requirement and configuration.

Network Security:

Security in all aspects must be considered , in order to connect to Microsoft Cloud.
Express Route Circuit
Express Route Circuit connects your on-premises infrastructure to Microsoft via connectivity provider. Below figure shows the logical representation of connectivity between your WAN and Microsoft.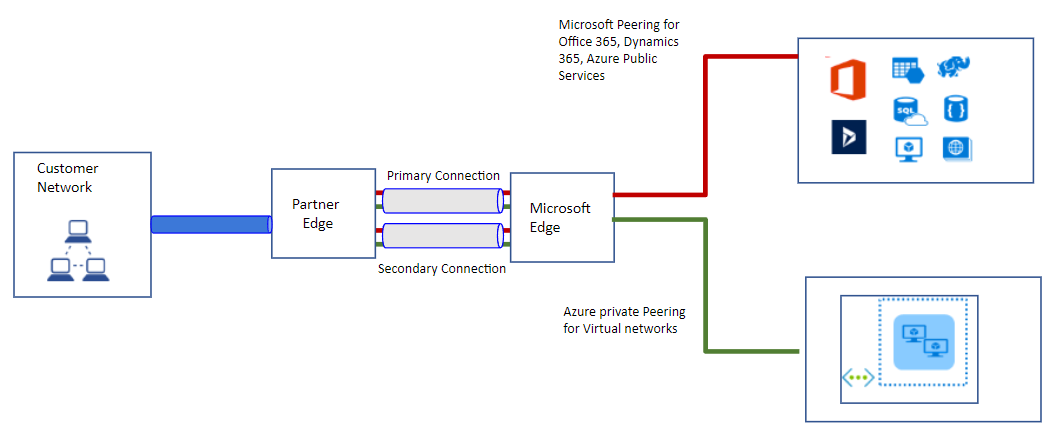 Microsoft Edge are the edge routers on the Microsoft side of the Express Route circuit. After this point you can enter the Microsoft network.
Azure Public Peering has been deprecated and is not available for new Express Route circuits. All new circuits support Microsoft Peering and private Peering.
An Express Route Circuit represents a logical connection between Enterprise On-Premises infrastructure and Microsoft Cloud Services via Connectivity provider.
Enterprise can order multiple circuits that can be in the same or multiple regions and can be connected to Enterprise Premises through different connectivity providers. Express Route Circuit is uniquely identified by a standard GUID called service-key (S-key). This is the only information shared between Microsoft and Connectivity provider. There is 1:1 mapping between Express Route Circuit and S-key.
New Express Route Circuit supports two types of peering : Private Peering and Microsoft Peering. Whereas Existing Express Route Circuit supports three peering : Private Peering , Public Peering , Microsoft Peering.
Each peering is a pair of independent BGP sessions , and each of them is configured redundantly for High Availability. ---