On-Premises Network connectivity to Microsoft Azure VNets
Posted on Oct 06, 2022
(0)
Cross-Premises Azure Virtual Network
A Cross-Premises Azure Virtual Network is connected to your On-Premises Network, extending your network to include subnets and virtual machine hosted in Azure.
In Order to connect your On-Premises network to Azure Virtual Machine, you should configure a cross-Premises Azure Virtual Network.
Below diagram shows the components required to deploy the Cross-Premises Azure Virtual Network with a Virtual machine in Azure.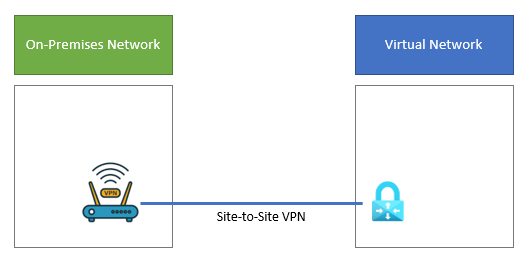 In above figure, Two networks are connected via Site-to-Site VPN Connection over Public Internet. VPN is terminated on VPN Device on On-Premises Network and Azure VPN gateway on Azure Virtual Network.
In Order to set up the VPN Connection between your Azure Virtual network and On-premises network, you must follow the following steps:
On-Premises: Define and Create an On-Premises Network route for subnets of the Azure Virtual network that points to your On-Premises VPN Device.
Microsoft-Azure: Create an Azure Virtual Network with a Site-to-Site VPN Connection.
On-Premises: Configure your On-Premises Hardware or Software VPN device to terminate the VPN Connection, which uses Internet Protocol Security (IPsec).
Once Site-to-Site VPN is established, you can add Azure Virtual machine to subnets of the Virtual network.
How to Plan your Azure Virtual network
Prerequisites:
You must have an Azure Subscription.
An Available IPV4 address Space (Subnets) for Azure VNet.
An Available VPN device in your On-Premises network to terminate the Site-to-Site VPN Connection that supports requirements of IPsec.
Change your Routing Infrastructure so that traffic routed to the address space of Azure Virtual network gets forwarded to VPN device that hosts the Site-To-Site VPN Connection.
A Web-Proxy that routes On-Premises Computers and Azure VNet access to Internet.
Solution Architecture Design Assumption
This Solution uses Single Azure VNet with Site-to-Site VPN Connection. Single VNet uses a single subnet that host multiple Virtual Machine.
You should use Routing and remote Access Service (RRAS) in Windows Server 2016 or Windows Server 2012 to establish an IPsec site-to-site VPN connection between On-Premises network and the Azure Virtual network. You can use other option like Cisco, Juniper VPN device.
On-Premises Network might have services like Active Directory domain service , Domain Name System, Proxy Servers. Based on your requirement , it can be useful to place some of the these service in Azure VNet.
Plan Routing for Azure VNet
On-Premises Network must be configured to route traffic destined for Azure Vnet Subnets towards VPN device hosted on On-Premises Network. ---