Campus Wireless LAN Overview
Posted on Apr 16, 2020
(0)
Campus Wireless LAN Overview
Campus Wireless LAN network provides connectivity for data, Voice & Internet, traffic to their employees, users and Guest.
Following are the benefits for campus wireless LAN connectivity:
Provides Secure and location-independent network access
Provides network flexibility between wired and wireless network
Wireless network is easy to manage and operate from Single pane of Management GUI
Automatic provisioning of wireless network when AP is connected to Ethernet Switch.
Support for BYOD devices
Wireless network provides full compatibility for multicast traffic.
Campus Wireless Solution Component:
Below are the solution component used for Campus Wireless network deployment.
Cisco WLAN Controllers
Cisco Lightweight Aps.
Cisco Prime Infrastructure
Cisco Mobility Services Engine (MSE) / Cisco Connected Mobile Experiences (CMX)
Cisco Wireless WLAN Controllers:
WLC is used for Wireless LAN management, and also acts as a centralized mode for Configuration and control of wireless APs. Below are the some benefits of Controller-based design.
WLC helps in zero-touch configuration by using Light weight Aps, design of channel, power setting, and real time management.
WLC helps in Identifying RF holes to optimize RF channel, helps in seamless mobility across different APs within same mobility group.
WLC can also be deployed in virtual mode, vWLC thus reduces the cost of hardware and reduces investment.
WLC enables non-disruptive connectivity to wireless client during WLAN Controller failover
It is also used for system-wide functions like securities policies, Intrusion prevention, RF Management, QoS, and mobility.
Below table provides the Cisco WLAN controller Platform and its capabilities.

Cisco Lightweight AP:
Cisco Lightweight APs cannot act independently and needs direction from WLC. When AP communicates with WLC, it downloads its configuration and synchronizes its software and Firmware Image. These Lightweight AP can also be converted as an autonomous mode and in this mode AP management can only be done individually.
Below are the Cisco Lightweight APs platform and its capabilities.

Below are two key technologies that differentiate APs selected for Campus deployment.
Cisco Clean Air: It provides performance protection for 802.11 network which further creates Self-Healing, Self-Optimizing wireless network which further mitigates impact of Wireless Interference.
802.11ac: 802.11ac Wave 2 specification provides enhancement to wireless network performance.
Mobility Services Engine / Connected Mobile Experiences:
Cisco MSE/Cisco CMX helps to deliver mobile services through increased mobility in to network. It also provides customized location-based mobile services and also strengthened wireless security.
MSE/CMX is available in following form factors:
Cisco MSE 3365 appliance
Virtual machine running VMware ESXi 5.1 or later
CMX Cloud.
There are currently two version of MSE/CMX provided by Cisco and for more details refer Cisco WLC website on this.
Wireless Design Models
Below are the three design models provides and are used for Campus wireless connectivity.
Centralized (Local Mode) Design Model
Flex Connect Design Model
SD-Access Wireless Design Model
Centralized (Local Mode) Design Model:
This mode is used for large Site and below are some benefits for using this mode.
IP address Management
Simplified Configuration Management
Roaming at scale
In this Mode, WLAN Controller and AP are located within same site, This WLAN Controller can be connected to DC service block or Campus Service Block or LAN Distribution Layer. Wireless traffic between WLAN clients are tunneled by CAPWAP protocol between controller and AP.
Below is the Local-Mode design Model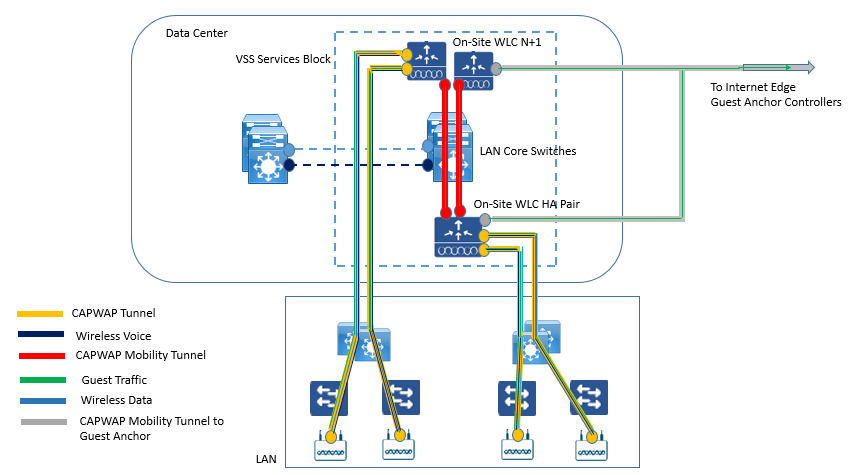 This Local mode design model, meets following customer demands.
It helps in fast , rapid and seamless roaming across campus between different floors , buildings with changing subnets.
It supports voice traffic with call admission control and Multicast traffic like Cisco Video stream technology.
It helps in intelligent inspection via Firewall also Network access control, Policy Enforcement and accurate traffic classification. ---