Aruba SD-Branch Solution
Posted on Jan 13, 2020
(0)
Aruba SD-Branch Solution
Aruba's SD-Branch integrates SD-WAN, WLAN, LAN, and security together with common policy and management for simplified branch management.
With Aruba's SD-Branch, cloud applications and cloud services are more easily accessible.
Aruba SD-Branch Architecture
With the traditional branch architecture which is slow and requires experts to configure. And all branch traffic has to be routed through the datacenter to get to the internet, unified communication and collaboration (UCC) tools, and SaaS apps.
With Aruba, customers can replace the legacy branch infrastructure with a cloud gateway, Aruba APs, and Aruba switches. Using this branch gateway, customers can connect directly to the internet to access cloud apps and to the data center through a headend gateway. ClearPass Access Management enables policy based routing and Aruba Central overlays over the whole solution to make management easier and simpler.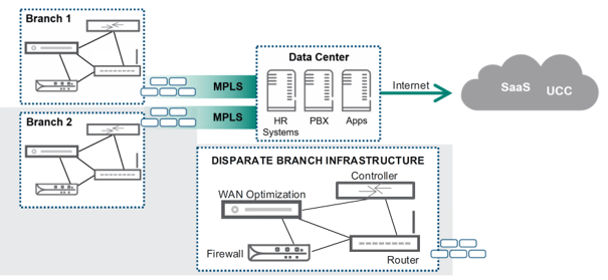 Aruba SD-Branch Solution:
Following are the Aruba SD-Branch Components described in below figure: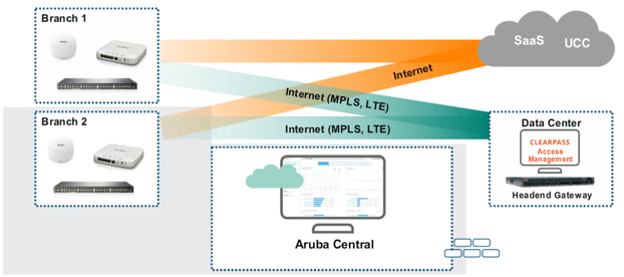 The Aruba solution begins with Aruba Central Cloud management that provides a single pane of glass for wireless, wired, and WAN management. ---