Aruba Network Analytics
Posted on Jan 13, 2020
(0)
Aruba Network Analytics
Many customers will get the monitoring, visibility, and insights they need to ease network management and improve network performance with Aruba Airwave or Aruba Central. Other larger customers will be looking for an augmented approach for core management with in-depth analytics that includes the network and user perspectives. These customers will want to build on their Aruba management with the ability to extract data from their expansive network infrastructure and to gain insights from it.
IT needs to use this data to be proactive with automated detection before problems can impact users. The customer will also want to use AI and machine learning to be adaptive with ongoing validation to changes in the environment.
Aruba Network Analytics Solution:
Net Insight

Connectivity Health (Included in Airwave & Central)

User-Centric Service Assurance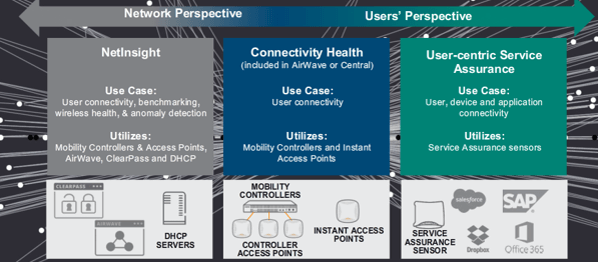 Aruba Net Insight:
Aruba offers three solutions that incorporate this new approach to help make IT operations adaptive, proactive, and prescriptive. These analytics tools offer insights from the network to the users' perspective and right in between. The solution provides in-depth, phase-based connectivity awareness to help customers discover if a connectivity problem is due to an association, authentication, a problem accessing the DNS server, or more. It gathers data from mobility controllers and instant access points.
NetInsight gives customers a data-driven approach to networking by collecting data from all over the network. Data collection is comprehensive thanks to deep integration into network devices, management, policy, profiling, and access.
NetInsight gathers all of this data via a data collector that is deployed in the customer data center. NetInsight analyzes this data for network connectivity and performance issues by leveraging machine-learning-based models, Aruba Wi-Fi expertise, and the latest cloud technologies.
The result of this analysis is comprehensive high quality insights. With 24/7 data, NetInsight produces unmatched benchmarking and performance scores for Wi-Fi.
IT also gets proactive anomaly detection, which shows network performance deviations, inconsistent trends, and data anomalies that machine learning identifies as potential issues.
These issues can be turned into automated action with configuration recommendations based on Wi-Fi activity and impact validation that occurs both before and after comparisons.
NetInsight can transform Network Admins from detectives chasing down problems into heroes who solve them and have the results to prove it.
User-centric Service Assurance
The Service Assurance sensors continuously test network and connectivity performance to ensure a consistent level of performance for all users. The service assurance solution then uses cloud-based data processing to provide this 24/7 visibility on an easy to learn web-based administrative dashboard that can be accessed from anywhere.
The purpose-built sensors are easy to install and get running in less than five minutes, and they can be placed anywhere user or IoT devices are located to emulate these devices.
The User-centric Service Assurance solution is a best fit for customers whose business depend on consistent, reliable, and high-quality end user experiences.
With User-centric Service Assurance, customers can reduce the time spent on troubleshooting and deliver the consistent user experience their customers require.
---