Aruba Security Solution
Posted on Jan 13, 2020
(0)
Aruba Security Solution
Aruba 360 Secure Fabric has two solution available:
Aruba Clear Pass

Aruba Introspect.
The Aruba 360 Secure Fabric is an analytic-driven security framework built for mobile, IoT, and cloud. It starts with the Aruba Secure Infrastructure that includes embedded security in wired infrastructure as well as the security features in the WLAN with Aruba OS.
Network access control (NAC) with Clear Pass adds role-based policy management. Aruba Introspect adds machine learning security analytics that mines data not only from the Aruba Secure Infrastructure and Clear Pass but also from a wide range of IT security products and workflow solutions to surface anomalies about user, system, and IoT behaviors. With this user and entity behavior analytics (UEBA), security operators get early detection and integrated remediation.
Aruba security software can work on any vendor's network, but works better on Aruba's analytics-ready infrastructure. The solution also integrates with over one hundred third-party infrastructure vendors through the 360 Security Exchange. These vendors include McAfee, Palo Alto Networks, and more.
Aruba has invested in a wide range of security technologies to make its access points, controllers, and switches the most secure in the industry. It is called the Aruba Secure Infrastructure.
Trusted traffic
Trusted Traffic reduces the likelihood that traffic can be intercepted by using:
Centralized encryption

Deep packet inspection and application-layer firewall
Analytics-ready insights
Analytics-ready insights increase the precision and effectiveness of technologies such as Introspect machine learning by providing:
Packet-level visibility

Analytics-ready traffic summaries to the supervised and unsupervised models
Device assurance
Device assurance ensures devices have not been modified or tampered, and prevents device impersonation or disablement with following capabilities
Hardware-enforced protection

Hardware-based secure boot
Clear Pass + Introspect = Integrated Protection
The combination of ClearPass and IntroSpect with the secure infrastructure delivers 360 degree protection to help customers discover and authorize devices, monitor the network and alert security teams of potential threats, as well as decide and act on the response.
The core value proposition for ClearPass Policy Manager is its unmatched ability to detect, profile, authenticate, and authorize users and devices identically for both wired and wireless networks.
Using the information collected by ClearPass, IntroSpect's UEBA solution knows about and monitors the ongoing use of IT resources for every user and device connected to the network. It establishes a baseline behavior, looks for anomalies, puts them into context, and raises an actionable alert when the Entity360 Profile Risk Scoring reaches predetermined levels.
When these alerts are passed to ClearPass in either a manual or automated process, they can trigger policy-based actions designed to respond to the severity of the alert and the potential business impact.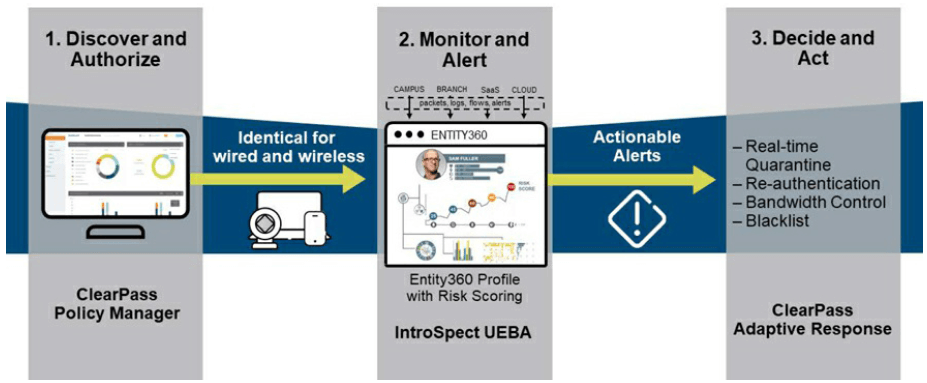 ClearPass can send a message to the device's user, the user's supervisor, or to other designated individuals. In the case of IoT, the notification goes to the designated device owners to let them know there is likely a security issue and what ClearPass action was taken.
ClearPass Secure Network Access Control
ClearPass is Aruba's Secure Network Access Control (NAC) solution, and with over 8000 customers, it is a leader in the NAC market. Aruba ClearPass offers customers a rich set of functions that give them better visibility, authorization, authentication, and enforcement. ---