LAB Configuration Fortigate in Transparent Mode
Posted on Jan 13, 2020
(0)
LAB Configuration Fortigate in Transparent Mode
In the Transparent mode all interface of the Fortigate are on same network and appliance does not do routing or NAT, It just act as L2 Firewall. The Fortigate unit acts as bridge between different network segments.
Task :
Set the IP address of the Fortinet in your management LAN 10.10.11.0/24

Create a policy to allow from Internal Interface to External Interface with Source All and Destination All

Power off and Power on the Device.

Solution
Step :1 Configure Management IP address :
Go to the Dashboard and enter the following command into the CLI console widget, substituting your own IP addresses where necessary:
config system settings
set opmode transparent
set manageip 10.10.11.30 255.255.255.0
set gateway 10.10.30.1
end
You can now access the FortiGate using the new Management IP address (in the example, https:// 10.10.11.30).
Go to the Dashboard. The System Information widget shows the Operation Mode is Transparent.

Step 2: Creating a policy to allow traffic from the internal network to the Internet

Configure the policy as per task and below figure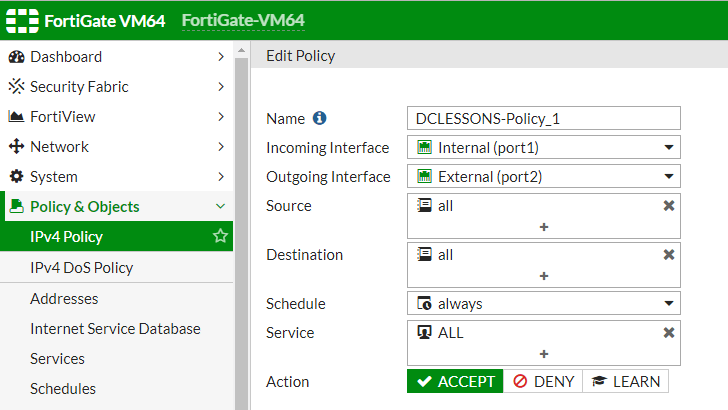 Step3 : Connect to the Networks
Go to the Dashboard and locate the System Resources widget. Select Shutdown to power off the FortiGate unit. Alternatively, you can enter the following command in the CLI Console:
To view that the traffic is passing from Fortigate or not by going to FortiView > All Sessions and selecting the now view.
---
---