ODL Installation & Deployment
Posted on Jan 10, 2020
(0)
ODL Installation & Deployment
In this chapter we will learn how to deploy ODL Virtual appliance as standalone server on VMWARE.
Following are the prerequisites to install ODL as virtual appliance.
VMWARE Workstation or Oracle Virtual Box

SCP or FileZilla client

Web-browser

Postman API ( Chrome integrated )
When we are going to install the ODL as virtual machine then each VM must have following configuration.
vCPU : 4 GB

RAM 8 GB

Storage 60 GB
As ODL is based on JAVA so we will be almost using Linux-based OS to host and run ODL. You can use Ubuntu Server 16.4 LTS as OS for running ODL.
Java Runtime Environment JRE needs to be installed on VM , Minimum Java version 1.8 is required for Boron release.
Now download the latest version of ODL from https://www.opendaylight.org/downloads
Select version: distribution-karaf-0.5.1-Boron-SR1 and download. iyt can be zip or .gz file.
Standalone Installation:
Create the Virtual Machine for Ubuntu Server and enable SSH as well. You can even download the Ubuntu machine from https://www.osboxes.org/ubuntu/ and use following credential to login:
Username: osboxes
Password: osboxes.org
while creating the new VM and select to use existing Virtual disk and select the VMDK downloaded file and after setup is complete, power on virtual machine.
Access to terminal for CMD and check the IP address and also check if you are able to ping to gateway and internet.
If needed you can edit the network setting commands with help of following commands:
sudo nano /etc/network/interfaces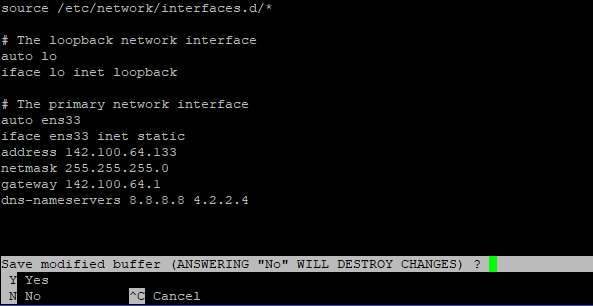 now ping the gateway and Internet. You have another option to use dhcp if you are not willing to use static IP address, Please see below.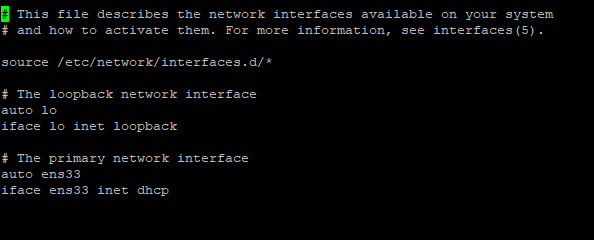 Once change is done on the network setting then press ctr+Z and Y and Enter now you have to restart the network setting
sudo service networking restart
Once you are able to reach to internet then you have to update the linux files and upgrade all new version patches.Run following commands:
sudo apt-get update
sudo apt-get upgrade
sudo apt-get install openssh-server
Once ubuntu is updated check the Ubuntu version from following command:
osboxes@ubuntu:~$ cat /etc/issue
Ubuntu 16.04.4 LTS \n \l
osboxes@ubuntu:~$
Now we will go for java installation by following step , run the following command
sudo apt-get install openjdk-8-jdk
Once it is installed verify the JDK version by following fig and its must have java 1.8 version or higher.

Now we have to setup the JAVA_HOME environment variable, do this by following command:
sudo update-alternatives --config java



The preceding command provides the full path to the Java executable file. We don't need the section highlighted in yellow but the one in red.
Copy the path marked in yellow and edit the /etc/environment using following command:
sudo nano /etc/environment
At the end of file add the following line which you have copied, see the below figure as shown.

Enter the following command to reload the environment file:
You can now test whether the environment variable has been set by executing the following command:

It will return the same path which you configured.
Now its time to install the ODL file for which you already have downloaded the distribution-karaf-0.5.1-Boron-SR1 file. ( either zip or distribution-karaf-0.5.1-Boron-SR1.tar.gz. file ) as internet is already running on your Ubuntu server.
Now we will install this file to our ubuntu server by creating the file as shown below:
Now copy the downloaded file to odl folder as shown in below figure

Now its time to unzip the file by following command:
cd /opt/odl/
sudo tar -xzf distribution-karaf-0.5.1-Boron-SR1.tar.gz
The preceding commands unzip the ODL instance in /opt/odl/ distribution-karaf-0.5.1-Boron-SR1/. To make our operation easier.

Now let's create a symbolic link to this directory:
sudo ln -s distribution-karaf-0.5.1-Boron-SR1 boron
The below screen short will provide the result what we have done above step.

From now on, we can use /opt/odl/boron to access our ODL instance.
Running our first Boron Instance:
To run boron we have to run karaf which is the small OSGi-based runtime that provides a lightweight container on which various components and applications can be deployed
sudo /opt/odl/boron/bin/karaf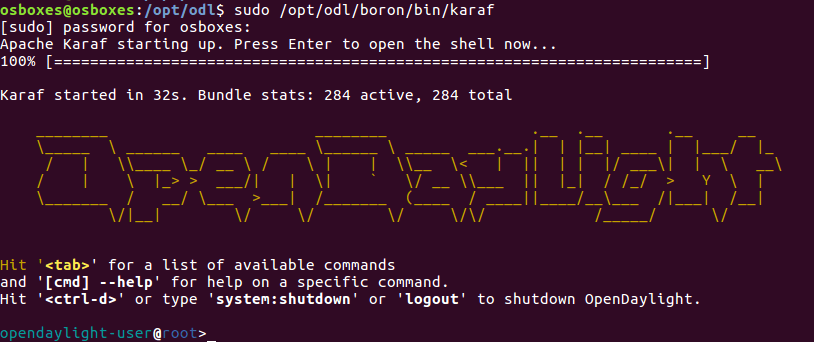 This ODL command allow you to deploy ODL to the machine. After launching karaf the VM will start binding some TCP ports as follows:
44444: JAVA RMI

1099 JAVA RMI

8010 Karaf SSH shell Port.
Now you will get the ODL command interface but you will not be able to enable WEB GUI. For this you need to enable dlux which is web interface of ODL.
In order to check the specific command for dlux enter following command:

Now to start the WEB interface of ODL run following command:
Feature :install odl-dlux-all
Once you enable this command DLUX will be enabled and your VM over which ODL is installed will be listening on some additional ports:
8181: Web UI and MD-SAL RESTCONF

8185: Authentication Authorization Accounting (AAA)

8080: Web UI and MD-SAL RESTCONF
Now open the ODL in web-browser : http://142.100.64.133:8181/index.html
Username: admin

Password: admin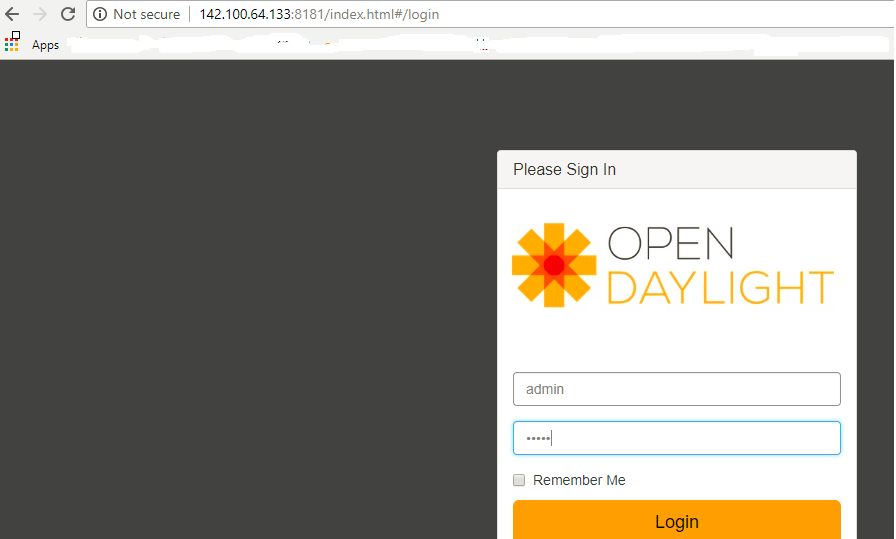 Once you log in, you will find the basic ODL web interface: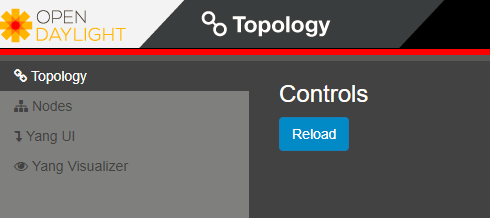 Now let's learn the options available on the web GUI:
Topology: It helps in providing the network topology. It creates the virtual graph of the network showing how router and switches are connected to each other. Any new device is added in to system, it will discover and add to the topology.
NODE: It contains the list of nodes or devices managed by ODL controller.
YANG YI: This section has multiple subsection like API, History, Collection and parameters.
---
---