VMware SD-WAN Architecture and VeloCloud Components
Posted on Jan 08, 2020
(0)
SD-WAN Architecture
VMware SD-WAN solution is transport independent, SD-WAN solution which provides secure overlay by using any transport medium like Broadband, LTE, and MPLS, to access all the application hosted on cloud and datacenter. All the component of SD-WAN VeloCloud can be managed by central orchestrator which also helps in automation and virtual service insertion.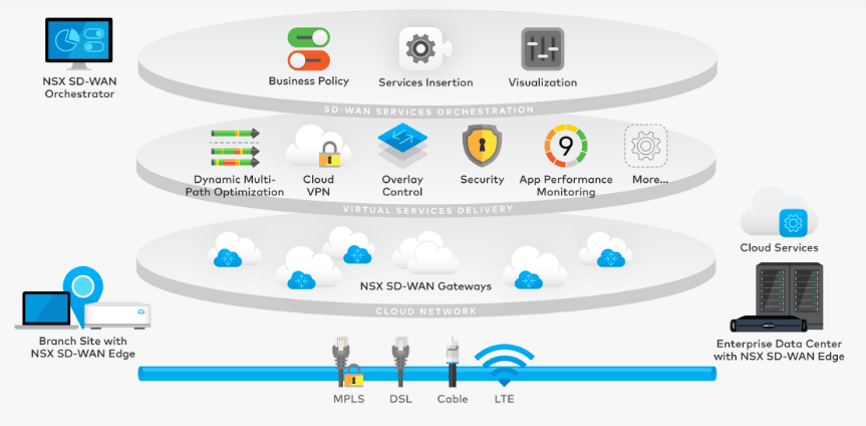 VeloCloud Components:
There are three components of SD-WAN VeloCloud as mentioned below:
NSX SD-WAN Edge:
It is also said as Virtual Edge comes in Virtual as well as in Hardware provided by Dell
It can be deployed at customer perm or cloud and datacenter
It provides flexibility in deployment like Virtual Edge on cloud and insertion of various service platform for VNF
Below figure describe how different NSX Edge can be installed in different environment
For Micro to Small Branch: Edge can be Hardware CPE, with no local apps and cloud security embedded. There are 6-7 Models, each have same functions only number of ports is different
For Small to Mid-Size Branch: Edge with VNF integrated, for Security, URL/Content filtering, IDS/IPS Currently Palo-alto has been integrated as VNF and roadmap is Checkpoint and Fortinet.
Large Branch and DC: CPE device with local apps and Many VMs including network services are integrated.

These NSX Edge is used to optimize traffic between Branch, datacenter and on cloud locations. It is a thin device and is deployed on –premises which is zero-touch provisioned from cloud to provide secure and optimize connectivity to applications and data. It can also be used as Virtual network function (VNF) for instantiation on Virtual CPE platform.
Edge has feature called dynamic path Optimization (DMPO) and Deep application recognition (DAR) through with it aggregates multiple links and distributes traffic over best optimal link dynamically. ---