LISP Host Mobility Solution
Posted on Jan 08, 2020
(0)
LISP Host Mobility Solution
Now let's see how LISP host mobility solution works. This solution allows End point to move from one location to another location or site without impacting routing, Now as soon as end point move is detected, mapping between EID and RLOC are updated by new xTR and as soon as the mapping is done, traffic for that specific host gets redirected to new Location without injection of host based route in network.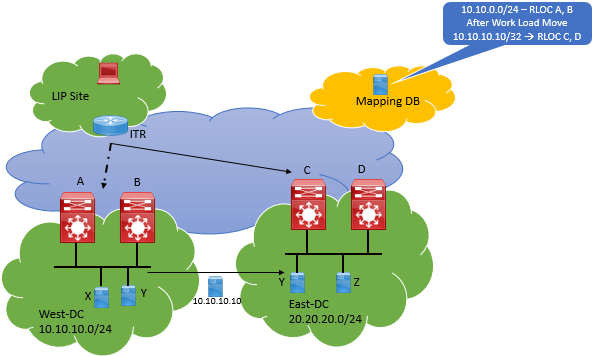 LISP Host mobility Solution:
Following are two Host mobility Solution available.
LISP Host mobility with Extended Subnet
LISP host mobility across subnets.
Map-Server & Map-Resolver Deployment:
MS and MR used to store and resolve the EID to RLOC mapping information to route traffic for EID in LISP Sites.
Map-Server which learns the EID to RLOC mapping, which it received from ETR registration message.
MAP-Resolver is one which accepts LISP encapsulated Map-Request mostly from ITR and find or search for EID to RLOC mapping by checking with Map-Server.
It is recommended to deploy standalone redundant MS/MR function collocated on same device, in this case all xTR must register to both Map-server to get consistent view of registered LISP EID namespaces.
For Map-Resolver by using any cast IP address is used to send map-request which improves the lookup performance.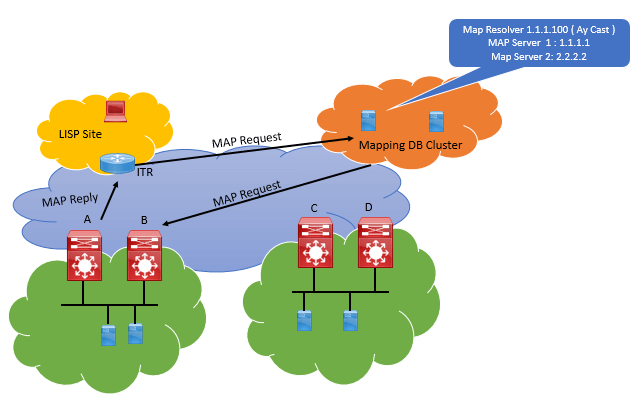 ---