Cisco Smart Licensing Policy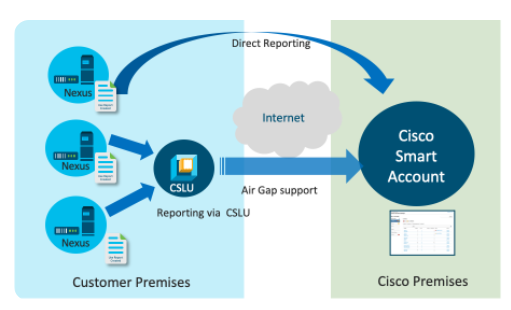 Cisco NX-OS Smart Licensing Policy
Cisco has nor moved towards smart Licensing model starting from NX-OS 10.2(1) release. In this Cisco follows Smart Licensing along with Policy (SLP), which simplifies License activation, Mobility, Visibility and deployments.
In Traditional Method, we use PAK kay to generate the Licenses and these PAK are mapped to Device Specific Serial number. Also, network operator must know each device capability in advance and its specific licensing requirements to generate the License from PAK.
Also, if the License has to be moved from one device to another, New License files has to be generated. Customer has to install these licenses manually on each device and keep monitoring and making inventory manually.
To over come this Cisco has introduced the concept of Smart License in 2020 in NX-OS 9.3(3) , which has very much improved Customer Experience.
In Smart Licensing with Policy, it supports a variety of deployments modes and has eliminated product registration and evaluation mode.
Smart Licensing with policy establishes a pool of License entitlements, in which customer can now
Consume Entitlements across their entire organization
Add Entitlements during purchase to their smart account in Cisco Smart Software Manager.
Provides flexibility to turn ON any feature on any device, whenever they want.
Report License consumption to CCSM by the device
Customer without Smart account can easily register to https://software.cisco.com/. Existing PAK licenses can be converted to Smart entitlements in CSSM as well.
On NX-OS, SLP can be configured so that it can directly report to Cisco Smart Software manager (CSSM) via Internet. Or via mediated access through Cisco Smart License Utility (CSLU) or Smart Software Manager (SSM) On-Prem.
Below figure shows Smart Licensing using Policy Deployment Options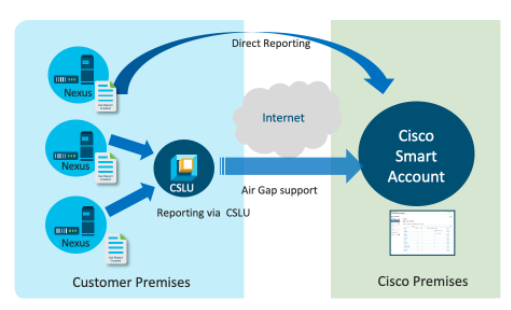 SLP provide information like how often license consumption should be reported. When the Policy is configured on Device , it controls first time report of License consumption ( default 90 days ) , reporting frequency ( Once a year )
As we all know that NX-OS License are honor based , and even if device does not report it consumption to cisco or license expire , Device functionality will not be affected and all features will operate optimally.
For Existing NX-OS Customers , When device with PAK is upgraded to NX-OS 10.2(1) , Software recognize the PAK and automatically trigger "device led License Conversion " to SLP.

---