SASE vs SD-WAN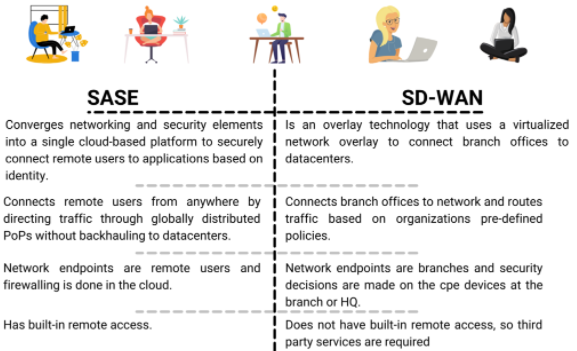 SASE and SD-WAN are two distinct technologies used to connect geographically endpoints to Applications hosted centers.
SD-WAN is an application of SDN, provides an overlay network to connect all remotely managed branch offices to Data Centers or central private network. How ever now SD-WAN is also being adapted to connect to cloud but is not much cloud focus.
SASE is cloud focused technology and has distributed Architecture, SASE connects to individual endpoints like branch office, individual user, or single device to service edge and these service edge consist of network of distributed Pop's where SASE software stack runs.
SASE uses private Datacenters, Public cloud and colocation facilities, and these POP forms a Service edge SASE stack Runs. These POPs are also often present in public cloud or in close to public cloud gateways for secure low-latency access to cloud resources. SASE determine optimal routes for traffic to use while heading to its endpoint.
Main, Aim of the SASE is to provide secure access to distributed resources, which can be in private datacenters, Colocation facilities or in cloud. SASE have security tools that resides in a user device as a security agent as well as in the cloud as cloud-native software agent.
Whereas in SD-WAN, Security is often delivered via secondary features or third-party vendors. Some SD-WAN product have some built-in Security but Is not so educate to provide enterprise level security. In SD-WAN Security tools are usually located at offices in CPE rather than on device itself.
In SASE , traffic is opened up one time and inspected by multiple policy engines at once. The engines run in parallel without passing the traffic between them. This saves time because the traffic isn't repeatedly accessed as it is passed from one security function to the next as is the case in an SD-WAN. Additionally, these policy engines do as much, if not more, than the security tools in an SD-WAN.
A SASE network is focused on providing cloud-native security tools and has the cloud at the center of the network.
SD-WAN technology is focused on connecting offices to a central headquarters and data center, though it can also connect users directly to the cloud.

---